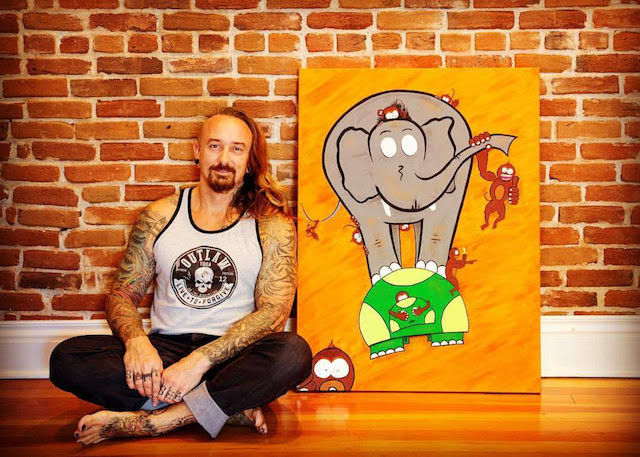 If you grab a pair of binoculars in Denver and swing them almost any direction, chances are you will spot its fastest growing species, "Yogi-Non-Domesticus."
The Yogi-Non-Domesticus is not native to Colorado, but Colorado has proved a highly adaptable environment for this unique and united tribe. If you dial right, above the shoulder of the Yogi-Non-Domesticus and zoom in, behind them you will spy an elephant.
I'm a Yogi. I'm writing for elephant journal and drinking my cuppa joe straight from an EJ mug. Ganesha's watchful eye is peering over my right shoulder to make sure I don't mess it up. See what I mean?
To the outside eye, elephants might seem like a dime a dozen. A keychain or mug here. A mural or statue of Ganesha there. A tat of a Yogi kneeling before a mural of Ganesha holding a key chain in one hand and a statue in the other. Just don't tell that to the Yogis.
But alas, don't let watered down, cultural stereotypes dissuade you from reading further. With the growth of this non-native species comes a vibrant community of individuals willing to consistently engage the practice of recognizing their comfort zone, taking one of those deep yogic breaths you always hear about, and getting the hell out of it as fast as possible. And, that is how I get to introduce you to Babu.
Babu is not just any elephant.
Our beloved Babu of "The Adventures of Babu—From There to Here" fame, is the wide-eyed and precocious brainchild of my good friend and fellow Yogi, Justin Kaliszewski, co-founder of Outlaw Yoga, reformed meat-head, and self-taught artist. If you already know Justin, you know he is good at any number of things, including word-smithing, empowering people to step up and into their potential and playing like a child. I mean, of course, maintaining a lens of wide-eyed innocence. Yeah, that.
When Justin first approached me about reviewing his art show and book, (the paintings comprise the book's illustrations), it was an easy, "Yes." I have witnessed the evolution of this offering first-hand and I saw what he was cooking up. I saw him pull down the old pot from the cupboard, the one with the story seasoned right in. I listened as he told me about grabbing this spice, but then more of that one along with a few he didn't expect to use. I watched the slow-food approach and consistency of discipline; the pinch of heart that is simmered into the offering of "The Adventures of Babu—From There to Here." I can tell you, the smell in the kitchen is divine.
Babu packs a trunk-load of curiosity and adventure. The bouillon cube is Justin's take on the Thai creation myth, wherein Babu, who lives in a jungle that at first seems worldly and big, begins to feel a little snug in his surroundings. Propelled by a feeling of discomfort, Babu makes the bold decision to move away from his beloved jungle, only to learn he lives not in a jungle at all, but on the back of a turtle.
Without light, we know not dark. So many great creative endeavors are born of necessity; out of darkness. Dear Babu is no exception.
"I was in a dark place around Christmas, two years ago. I really just wanted to paint something to make me smile each time I saw it. That was it. Really joyful. My mom took one look at it and said, 'That looks like a kids' book.' I meditated that night and the whole story came out."
Moms always know.
Thus, began Justin's most productive two years as a painter, to date. One of the most striking aspects of each painting in this reviewer's humble opinion, are the backgrounds to the paintings. They are vibrant and textured and seem to breathe along with you as you gaze. Interestingly, each is correlated to a chakra color that corresponds to the action depicted in the painting.
I asked Justin about his technique for the backgrounds and as it turns out, serendipity was the muse. Serendipity is a great muse. Just ask the guy who invented the Post-It Note.
"I had been painting backgrounds before Mom threw out the idea of the book. I made a mistake and used a rinse on the acrylic to fix it and suddenly the backgrounds had this quality where they almost meditate at you. I had about 10-12 backgrounds painted and suddenly realized why."
Babu is more than a kids' book, but rather, an all-ages adventure. When we sit quietly, we realize that the questions we asked ourselves about the world as kids as to "Why?" and "How?" and "Why?" again didn't go away. They got covered up and piled over. If anything, they are more poignant than ever as grown-ups.
With a light and whimsical touch both visually and energetically, Justin pens a fun, simple and clear story that indeed will make all who read it smile each and every time. From Monkey Galaxy to Coyote Universe and back, Babu will capture your heart. Just sit quietly and listen for the answer inside of you.
Explore Babu's adventures here or here or download an e-copy at Amazon. The hardcopy (endorsed by none other than Rich Gasparian, Oscar Winning Animation Director of The Simpsons) is due to release at the Outlaw Studio in Littleton, Colorado on December 16th and will also be available on Babu's website and Amazon.
100 percent of proceeds will go to charities doing good things for kids and elephants, which is Justin's favorite part of the story.
~
Justin Kaliszewski is an award-winning artist, avid adventurer, and the renowned creator and co-founder of OUTLAW Yoga. Author of "The Outlaw Protocol – how to live as an outlaw without becoming a criminal", and "The Adventures of Babu – from there to here", he creates connection by delivering transformational yoga-experiences across the country, and at the Outlaw Yoga Littleton studio. Find him online on Instagram, at Facebook, on the Outlaw Yoga YouTube channel, and at his website. 
~
~
~
Author: Nicole B. Hagg
Image: Courtesy of Author
Editor: Travis May