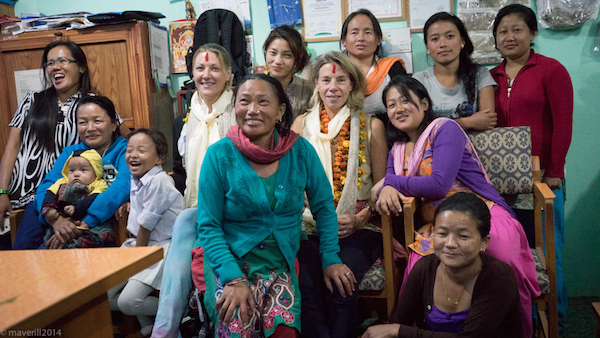 During a trip to the Amazon Jungle, the concept of unseen energies from plants was introduced to me through a beautiful and bold tapestry.
I always loved foreign travel. My initial perspective was learning about various cultures through the paradigm of food and language.
However, after my two year immersion at California School of Herbal Studies in clinical herbalism and a Permaculture Design Program at Occidental Arts & Ecology Center, a new passion started growing within me. I desired to learn about cultures, all over the world, through their use of plants in food, medicine and fiber.
The women who gave me the tapestry explained that the bold colors and geometric patterns woven in the cloth were the songs of the plants, which they considered had medicinal properties.
I had learned about the tradition of Ayurvastra (healing cloth) in India, to the practices of Chromotherapy from minerals in Egypt, but this gift made the world of "wearing your medicine" a reality to me.
During this time of exploration and research, a dear designer friend of mine sent me a booklet on nettle fiber in Nepal. This was the first time I had ever had an awareness of nettle being used for fiber, and I was instantly curious. After much reading, researching and reaching out to my plant mentors, I came to discover that the Nepalese villagers believed nettle fiber had curative properties for the skin. Combining this paradigm with the knowledge that I had from the Indian, Egyptian and South American cultures, I decided I needed to go experience this healing fiber first hand.
In some northern areas of Nepal, one of the most treasured raw materials besides bamboo is the nettle plant. This indigenous nettle grows naturally as undergrowth in forests, on land unsuitable for food crops, and often on steep slopes where its wide spreading root system plays an important part in soil conservation.
My trek was initially centered around how I could turn clothing made from healing nettle fibers into a business. My mission quickly shifted to focus on how I could empower the villagers and help preserve a culture that was in danger of losing its beautiful identity.
Once I arrived, and the villagers were aware of why I was there, I was welcomed with open arms, flowers and food. I was also educated on current issues.
Harvesting crops is a community activity, but many of the younger children are no longer participating as they're leaving to pursue more Western-type jobs in cities. The elders were concerned about this and did not understand the need the younger generation had to buy cellphones that are carried around as a status symbols, but have no reception.
Additionally, climate change issues like fungus are affecting harvest yields and also putting the villagers' ability to support themselves and preserve their culture in danger.
The head of the village told me that at one time they were able to harvest around 200 pounds of lychee fruit per year—their most profitable crop. But, in 2014 after the fungus took out many of the trees, they ended up with a harvest of only 20 pounds.
Supplementary income is now urgently needed to buy food since the small farms can provide sustenance for only part of the year.
Despite their challenges, these resilient people of the Kosi Hills are gifted weavers and knitters. They have the ability to make a range of artisan products to supplement the loss of these crops. If linen, once considered a low-status cloth, can rise to prominence outside of Nepal in the fashion world, so can nettle.
Dr. Brian Durrans, in the preface to The Nettle In Nepal writes:
"As things are, producers can only benefit if their creativity finds consumer support. If that happens, time-honored skills can be saved from oblivion, communities re-energized and minds opened. But the starting point is to safeguard the interests of current producers and their successors."
This saying has never been more important than now, in 2017:
 "Every dollar you spend is a vote for the kind of world you want to live in."  ~ Anna Lappé
Because we are part of a vast eco-system that is sick, this kind of conscious spending has large ripple effects that are showing up more quickly.
Enabling villages worldwide to be self-sustaining can enable craft to stay intact, and help preserve ancient wisdom and traditions that we can not only tap into at a museum, but as consumers who wish to live a more conscious and supportive life.
Please consider it essential in not doing "for the people," but with the "people."
~
Author: Mary Wutz
Images: Courtesy of the author, taken by Mary Averill 
Editor: Deb Jarrett
~