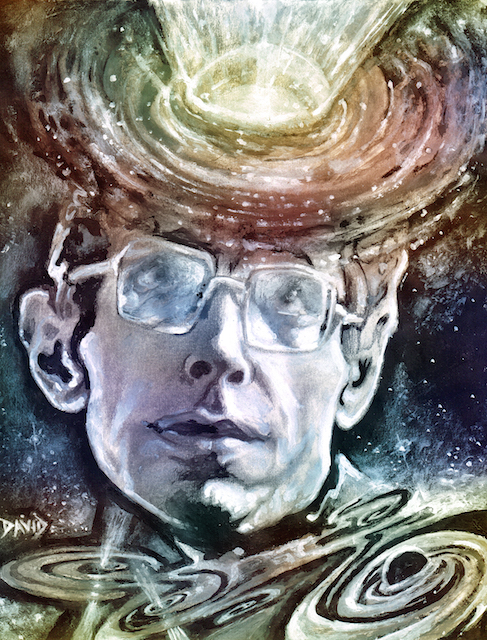 "I have said in the past, 'Look up at the stars and not down at your feet,' but I believe that 'looking up' will no longer be a requirement to see the universe in all its glory." ~ Stephen Hawking
At the age of 75, Stephen Hawking, author and world's most renowned cosmologist and physicist, has confirmed that he is going to travel to outer space in one of Richard Branson's spaceships.
Yesterday, Professor Hawking said in an interview on Good Morning Britain that he never dreamed he would go to space: "I thought no-one would take me, but Richard Branson has offered me a seat on Virgin Galactic, and I said yes immediately."
The Virgin Galactic SpaceShipTwo that Hawking will travel on can carry six passengers and two pilots on a brief journey to suborbital space at a cost of $250,000 per passenger. Following the explosion of the previous model, which resulted in the pilot being tragically killed and the co-pilot being injured, SpaceShipTwo has taken 700 engineers 18 months to build.
After Hawking's complimentary journey on the spacecraft, he will be granted official astronaut status.
During the flight, Hawking will witness the curvature of the Earth against the blackness of space and experience the sensation of weightlessness.
Last year, Hawking unveiled the name of Virgin's spaceship in a four-minute live recording, which can be viewed here.
Hawking is a great supporter of this project, explaining in the video, "We are entering a new space age, and I hope this will help to create a new unity. Space exploration has already been a great unifier—we seem able to cooperate between nations in space in a way we can only envy on Earth."
Hawking added, "It will help bring new meaning to our place on Earth and to our responsibilities as its stewards, and it will help us to recognize our place and our future in the cosmos—which is where I believe our ultimate destiny lies."
Sir Branson, founder of the Virgin group, previously said in a statement released in 2015 that he hoped one day to take Hawking to the stars, and now his wish will come true.
Branson has frequently stated the great admiration and respect he has for Hawking, explaining, "Professor Stephen Hawking is one of the people I admire most in the world, an undisputed genius who has opened our eyes to the wonders of the universe, while also happening to be a kind and delightful man. He is the only person I have given a free ticket with Virgin Galactic, and he is signed up to fly as a Future Astronaut with us if his health permits it."
Hawking is confined to a wheelchair and communicates through a computer as he has a motor neuron disease, amyotrophic lateral sclerosis (ALS), also known as Lou Gehrig's disease. Following his diagnosis at 21 years of age, he was told that he might not live to see his 25th birthday. Sadly, those with ALS usually die within five years of diagnosis. Now, 50 years later, he is planning to go on one of the greatest adventures of his life.
Hawking credits his long life to working in a field that he loves, explaining to The New York Times the joy of scientific discovery: "I wouldn't compare it to sex, but it lasts longer," adding, "I am lucky to be working in theoretical physics, one of the few areas in which disability is not a serious handicap."
Hawking's book, A Brief History of Time: From Big Bang to Black Holes, sold more than 10 million copies and remained a best seller for more than four years.
In 1976, Stephen Hawking and George Ellis published The Large Scale Structure of Space-Time on the theoretical physics of spacetime. Their joint work revolutionized our thinking about the universe.The two great thinkers explained how they discovered that black holes were not completely black but could leak radiation, eventually explode, and then disappear.
The paper examined the nature of infinite expansion of space and also studied the consequences of Albert Einstein's 1914 paper on the general theory of relativity.
Hawking and Ellis' writing aimed to help pioneer our understanding of the universe, and finally, for Hawking, the bridge between theory and reality will be crossed.
Hawking is believed by many to be the smartest man living today, and when asked about the meaning of life he replied, "I have no idea," before adding, "I do remember when I was happiest. It was 1967, and the birth of my first child, Robert. My three children have brought me great joy."
It is only fitting that the man who has devoted his life to physics and the intense study of the stars will now get to travel amongst them.
"We are just an advanced breed of monkeys on a minor planet of a very average star. But we can understand the universe. That makes us something very special." ~ Stephen Hawking
Author: Alex Myles
Image: Wikimedia Commons
Editor: Emily Bartran