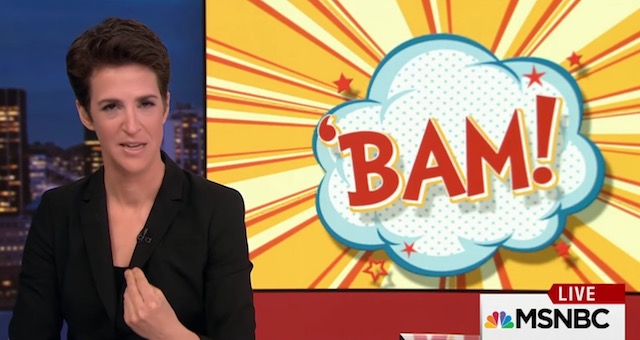 I agree with the recent opinion piece in the Washington Post in praise of television journalist Rachael Maddow.
In this crazy world of alternative truths, questions about the integrity of the press, leaks that aren't leaks, and so on, I find myself relying on fewer and fewer journalists.
I have found, however, that like Walter Cronkite and Dan Rather—the great television reporters of my era—when it comes to good journalism, Maddow does not disappoint.
"Good journalism takes time and thought, and in the end, it offers something of real value to its audiences." ~ Vicki Decker, "Defining good journalism: A response to Stephen Bloom
In fact, if I were little, I'd want to grow up to be Rachael Maddow.
I know, there are all kinds of women in the world a person could pick as a role model—but bottom line, who we pick is a personal choice, and Rachael Maddow would be mine.
She's open about her life.
She's intelligent, educated, and articulate.
She conducts herself with equanimity and calmness—saying, about Fox News, that she just lets them do what they do. "I don't worry about them too much. They do their thing, and I do mine."
She knows what she is talking about, isn't easily ruffled, and says that she treats the news by "putting stuff in context."
She's written a best-selling book and hosted her own Emmy Award-winning television news show for nine years.
I also like that she doesn't take herself too seriously:
"So this is the only TV show in America where I am quite confident that you, the audience, will share my excitement when I tell you that coming up in our next segment, we have the best graph ever. Best graph ever."
I remember those graphs all too well.
The first time I saw Maddow's show on television, I felt like I was in a civics class, and I loved it.
Whatever the incident that she was covering, before she actually covered it, she gave a little background on it, with a graph—pointers and all.
She didn't assume I knew the complicated backstory she was reporting on; she assumed, instead, that I wouldn't mind being refreshed.
"I think I may just be lucky that we're at a time in the news cycle where there is an appetite for…explanatory work. I don't presume to expect it to last necessarily. But I'm happy for it. And I feel like as long as there is an appetite for it I'm going to keep providing it. I think my bosses know that when there isn't an appetite for that, I'll keep providing it, too, because it's—I'm sort of like—like those hipster bikes that don't have gears, you know. I'm a fixie." ~ Rachel Maddow  
Personally, I feel informed, not insulted by her approach—just what a person like me wants: news with context and without hype:
"Journalism aimed at providing citizens with accurate information so they can make informed decisions about their lives. [It] exposes wrongdoing and gives voice to the voiceless. This sort of journalism holds to tenets of ethics, accuracy and social justice. And journalism of this sort lies at the heart of a functioning democracy."  ~ Vicki Decker 
I'm impressed, and it seems from a recent article in The New York Times that since President Trump has been elected, a lot of people have been impressed.
"Last month, more people watched 'The Rachel Maddow Show' than at any other point in the show's nine-year history. No other MSNBC show has ever drawn as many people in the 9 p.m. ET slot as hers did last month." 
They probably have other reasons for following Maddow than my personal ones though.
First of all, there is the conjecture that in the aftermath of Trump's election, Maddow's show provides liberals with a home for their angst among other like-thinkers.
Second, she saved viewers from being drowned in the dis-information of Trump's tweets, and realizing that his near-daily onslaught of tweets were becoming a distraction from the larger issues, she decided to ignore them.
"We…cover [the Trump administration] as if they are a silent movie. I stopped covering the Twitter feed, and we started covering only what they do, rather than what they say."  
As a public figure, Maddow recognizes the politically turbulent times we are living in and that the upsurge in interest in her show isn't necessarily only because of her.
The "surge in civic interest and engagement…is like a spontaneous, organic…broad-based, heterogeneous, energized, constructive force."
It's heartening to hear such encouraging words.
Maddow really is, "a different kind of communicator," just as I had noticed from the beginning.
"She weaves a story every day in that first 20 minutes of the show that connects dots, pulls things together, pulls historical references that really is just an amazing piece of work and And you come out of it smarter. It's as simple as that." ~ Phil Griffin 
~
~
~
Author: Carmelene Siani
Image: YouTube
Editor: Travis May