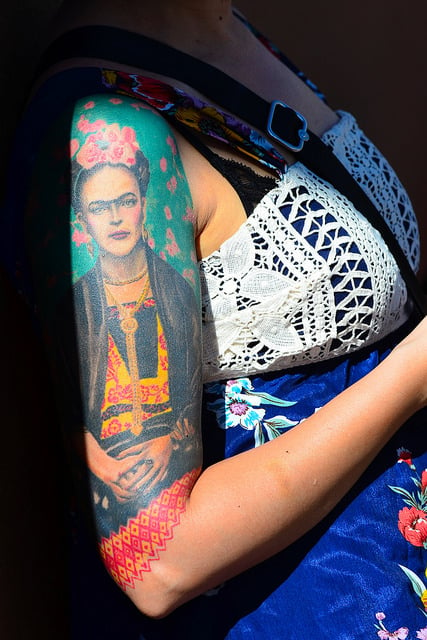 I used to think that tattoos were for a different sort of person.
I just couldn't think of a single image I would still want on my body in 10 or 20 years. And when I first thought this in my early 20s, it was probably true.
I've changed a lot since then. Or, to be more accurate, I've become more myself than I ever was. I've been diving deep into my own authenticity, and I have to admit that I know who I am so much better at 35 than I ever did. Which is not to say that my age is the threshold for when people should get tattoos. But I didn't start getting mine until my 30s, and each time I've chosen something that I'm passionate about.
Feminism is just one of those passions. It's something that I feel strongly about for the simple reason that, as women, as the saying goes, "we can be feminists or we can be masochists."
In the last couple of years, there's been a noticeable change in society. All of a sudden, we're hearing words like "feminism" and "misogyny" and "rape culture" in pop culture. There's an entire resistance that's risen from the ashes of Hilary Clinton's lost campaign to a much less competent and experienced candidate, one whose entire lifestyle is deeply entrenched in misogyny and rape culture.
Suddenly, people who never cared that much about politics or who never were civic-minded are attending protests and town hall meetings and contacting their representatives. Complacency went out the window, and there's been a surge in activism.
I was someone who never watched the news and voted only in presidential elections and the occasional local election. And I became a person who follows current events, contacts my representatives to voice my opinions, and advocates for my beliefs. And I finally decided that I need a little body art to represent my commitment to the cause.
For those of us who have tattoos already, we know that they can be a bit addictive. In the last couple of years, I have slowly added the body art I've wanted, and it's unlikely that I'm done. But it can be hard to decide which truly meaningful image or message we want to permanently adorn our bodies.
So for all of the feminists out there, here are 25 ideas that might be right for you. May it be of benefit:
Sushi rolls not gender roles
Grl Power
Fight like a girl
"Though she be but little, she is fierce." ~ Midsummer Night's Dream
Three waves for the third wave of feminism
"Nasty Woman" or "Bad Hombre"
"Nevertheless, she persisted"
An equal sign
"Still I rise"  ~ Maya Angelou
The raised fist in the Venus symbol
"Pussy grabs back" cat tattoos
A Notorious R.B.G. (Ruth Bader Ginsberg) tattoo
Smash the patriarchy (with or without the hammer)
"They tried to bury us. They didn't know we were seeds."
"Well behaved women rarely make history."
Riots not diets ice cream tattoo
Feminist killjoy
A fictional feminist icon: Wonder Woman or Rosie the Riveter or Princess Leia
Fearless.
I am enough.
A woman's place is in the resistance.
Girls just want to have fun-damental human rights.
A Frida Kahlo tattoo
Phenomenal (from Phenomenal Woman by Maya Angelou)
The future is female
I combined the three waves to represent third wave feminism with the statement, "Nevertheless, she persisted" to create mine. It was empowering, and I was able to easily power through the little bit of pain that it took to get a tattoo that is so deeply personal to me.
There are so many options to choose from, but the most important part of the decision making is simply to choose something that is both powerful and personal to us as individuals.
Feminism isn't likely something that will change. Once our eyes are opened, we're unlikely to close them again, to go back to being oblivious or unconcerned. So for me it was a simple choice. And I know that in 10 or 20 years, my feminism will still be a part of who I am, and I'll be proud to have been a part of a wave of women who have shown such strength and perseverance in the face of so many challenges.
I'll be glad to have been a part of a collective that stood up together and said that it's time to make a change. There were 60 million cracks made in the glass ceiling, and every day there are more. They call us snowflakes, and we tell them winter is coming.
Many of us will march together and stand united with our determination inked into our skin because it's written even deeper in our hearts that this is who we are and what we need.
Relephant bonus:
~
Author: Crystal Jackson
Image:  Larry Lamsa/Flickr
Editor: Lieselle Davidson