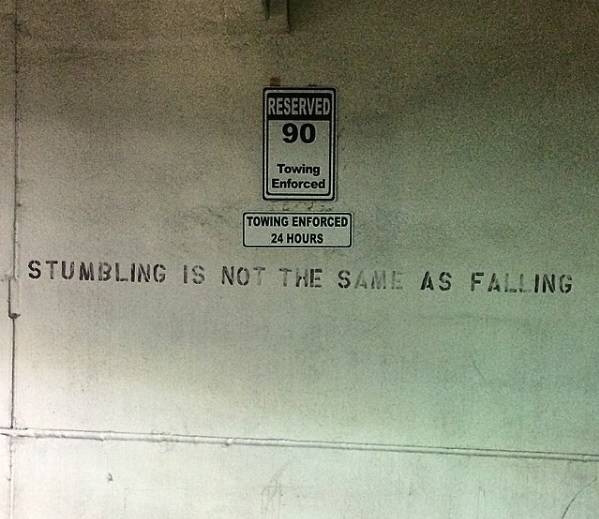 A few years ago, my sister gave me a photo of her and I in full wedding regalia performing a dance alongside her bridesmaids at her wedding. It's full of fun, family, and love—all of life wrapped up in one image.
When she gave it to me, I put it on my dashboard to serve as a daily snapshot of how life gives us perfect moments like these. It may or may not also pull double duty, serving as a beautiful cover up of the constant reminder that I need an oil change and am running low on fuel.
As I've come to discover over the past few years—and I know it may come as somewhat of an earth-shattering revelation—our choices and actions in this life have consequences. And sometimes those consequences can be wonderful.
The other day, I earned myself a ticket from a parking enforcement officer for expired vehicle tags. In my delinquency, ne'er-do-wellness, and negligence, I failed to read the fine print that mandated a smog check that the state requires before receiving license plate tags. Why I hadn't been pulled over in the previous four months was a mystery to me.
But what an auspicious "inconvenience" this ticket proved to be.
Annoyed at myself, I decided to take immediate action. After a quick check online for locations, I was off to the nearest hole-in-the-wall smog test station, one decorated in glowing Yelp reviews for its speed and service, a mere stone's throw from where I lived.
The station was sandwiched between a car wash and a surf shop, and as I pulled up, I took note of the dirty eloquence of this place. It had the aura of someone who worked hard and was doing the best he could with what he had. I parked and sat on the bumper of my truck casually glancing at the customer who was waiting and the disgruntled middle-aged man at the control panel who was methodically moving through the smog test. His disheveled physical appearance and gruff demeanor reminded me of the gritty, get-it-done attitude of my grandfather, who has led a wildly brilliant life because he did just that—got things done. It didn't have to be pretty. It just had to be done.
As the previous customer wrapped up and paid for his test, the smog check man, Felipe, told me in a soft but frustrated tone to pull my truck up, front side in, so he could begin the test. As I exited the car and saw that my phone was at 10 percent battery, I thought to myself, overriding my FOMO tendency with unexpected ease: "Let's just leave it in the car. Let's observe what's going on. Let's be in this moment." My business would not drown, my relationship would not fail, and my family and friends would still love me if I didn't answer a phone call, text, or email for the next 10-15 minutes.
His shoulders hunched over and his head down—looking to wrap this job up and move on—Felipe asked me for my old registration and began to work. He entered my car to turn on the ignition. As he looked at the dashboard to check my mileage, he moved the picture of my sister and I. He put it back in place and turned to me with a smile on his face and said, "You're a very happy person aren't you?" I said, "Yes, I am. That day was so happy with so many awesome memories, and that moment was such a happy one."
He responded with, "I like to dance too." I said, "Oh yeah, what kind of dancing do you like to do?" He grinned and said "Salsa." Never in a million years could I have seen that answer coming from this weary man. So we chatted for a bit about the thing he loved to do most—dance.
Soon, that coy grin of his slowly started to fade as reality set in and he said, "I wish I had more energy to do it. I just don't have it anymore." He proceeded to tell me about how he was under crippling debt that he had been trying to get out of for several years, and that he worked six days a week from 5 a.m. to 10 p.m., not only doing smog testing at this shop, but also repairing cars at another shop. On his lone day off—Wednesday—he longed to travel the 14 miles to central Los Angeles to visit his family, but Wednesday in L.A. traffic was always a monumental event. He told me that all he could do on his day off was sleep.
The smile returned to his face when he told me about how he had taken a woman out the other night to a Mexican restaurant and a salsa song came on. He couldn't resist himself, so he picked the woman up and danced with her. He spoke of the happiness he felt and that he wished he could do that on a regular basis. He was working constantly just to survive, not to live—this fact in itself crushes the soul, yet is the reality for so many hardworking Americans these days.
I looked into his eyes and flashed back to a time in my life when I felt like I was working hard and nothing was changing. I was 25 years old and should've been full of energy and life, but felt like I was 50 with no direction. He chuckled a bit. I told him that I have been going through a period of intense learning and reading, coaching and seminars, all to help myself gain the tools to better my situation.
I looked at him once more and pointed to my beaten up truck and said, "Look, I know that this beautiful hunk of junk behind me doesn't say success, but I can tell you that I've never been happier, more driven, or felt more grateful for everything that I have in my life. I'm so close to where I want to be." His eyes began to well up and he told me, "I don't know why I said all this to you. I just felt like I needed to. I talk too much." I responded, "I am a firm believer that people enter our lives for a reason. I don't know why you came into my life today, and the reason will make itself clear sometime in the future, but I know I want to help you. Not as charity but as someone with whom you can chat, who can be an ear for you."
I wrote down the title of a few books, as well as my number, and said, "These really helped me get started. I would love to chat about them with you, and if you ever want to chat for any other reason please feel free to give me a call."
His eyes began to water more intensely as his gaze locked with mine, and in a moment—a rush that I'll never forget—I reached out my hand and he shook it. It was a firm, passionate handshake, one of a reinvigorated man. His shoulders were back, his chin was up, and with a volume and a confidence that I had not seen in the few moments we had known each other, he said, "Thank you."
He completed my paperwork and we exchanged pleasantries. Then I raced home, energized and ready to make a difference in this man's life.
I'm not sure how I'll help out Felipe, the smog check man, or when I'll return to check in, but I'll let that part reveal itself to me when the time is right. I felt drawn to his situation, to the situation of so many people in this country who go through this day-to-day struggle. Meeting Felipe led to a revitalized sense of purpose.
In recent months, I've been working on removing my "tough guy" armor and becoming my authentic self, someone full of love. In that brief moment with Felipe, I was reminded of the immense power of sharing who we are with others, and how sincere gratitude for what we have can shine a light for so many around us.
There is an intense desire in me to love people regardless of their situation. I may not always be perfect in doing so, but it is what drives me. Love, compassion, and gratitude in our relationships, in our families, and for our fellow man will always make this world a better place. Felipe reminded me of that.
There are times when life calls us to be the highest version of ourselves in ways that may seem like an inconvenience. Mine was a $38 parking ticket—a ticket to the best possible version of me. And that's worth the price of admission, every single day.
~
~
Author: Tony Estrada 
Image: Editor's Own
Editor: Nicole Cameron