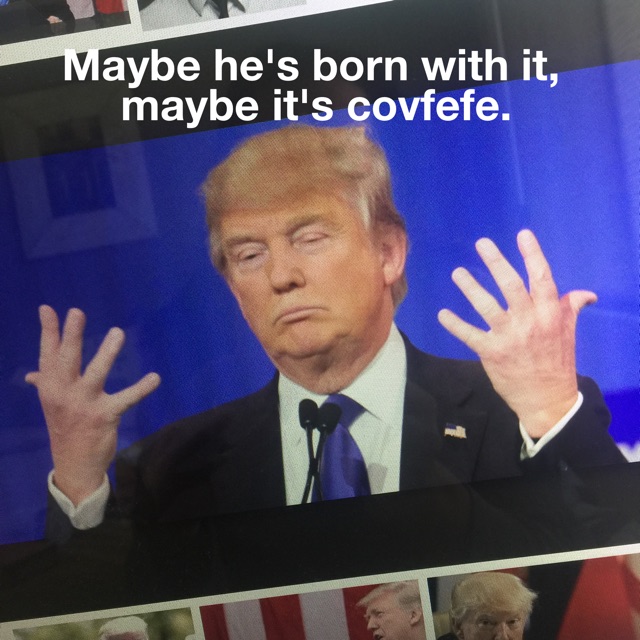 The Internet is currently in full-blown meltdown after the president of the US, Donald Trump, tweeted "Despite the constant negative press covfefe."
The tweet, which Trump wrote on his twitter account @realDonaldTrump just after midnight on Wednesday, May 31st, was initially thought to be the product of a typo. However, when it remained up for almost six hours, the conspiracy theorists went wild.
After thousands of people posted their analysis of Trump's tweet, which ranged from believing it to be an error, to thinking it was the last we'd ever hear from him, Trump eventually broke the six-hour silence by tweeting, "Who can figure out the true meaning of 'covfefe' ???" adding, "Enjoy!"
Later in the day, press secretary Sean Spicer confirmed that Trump meant what he had said stating, "The President and a small group of people know exactly what he meant."
Hilary Clinton also joined in with the mysterious word Trump coined. Speaking from the 2017 Recode Code Conference she (seemingly) joked, "I thought it was a hidden message to the Russians."
However, later Clinton turned a little more serious when questioned about it, suggesting it was little more than a diversion tactic to take the attention away from more serious matters, saying, "It's to avert attention. It's like covfefe. Trending! Worldwide! Maybe for a minute you'll forget the latest accusation about them transpiring with Russia," continuing, "It's the circus, right? It's what a classic authoritarian does."
My interpretation is this: "Cov" commonly stands for confirmation of victory.
A fefe is a term coined by 4chan users that defines someone who sh*tposts—which is basically someone who comments on the Internet with the intention of derailing the conversation.
Sh*tposting is described as:
To make utterly worthless and inane posts on an internet message board.
The failure to make a constructive post.
The inability to add useful information to a forum.
Therefore, it appears that the President was sh*tposting!
So basically, Trump's intentions could have been purely to leave a nonsensical message with the aim of derailing and confusing the hell out of everyone. And, in the meantime, taking the world's eye off the disrespectful viral photograph posted yesterday by Kathy Griffin, in which she is holding up a fake severed head resembling Donald Trump.
Trump tweeted his response to Griffin's picture stating that Kathy Griffin should be ashamed of herself. "My children, especially my 11 year old son, Barron, are having a hard time with this. Sick!"
So if my theory is right, then Trump has clearly succeeded in his mission—gaining a victorious win through baffling the entire Internet and taking many people's eye and attention away from the rest of the news for a whole day or possibly even a week or more if the frenzied decoding continues!
~
~
Author: Alex Myles
Image: Screenshot
Editor: Lieselle Davidson