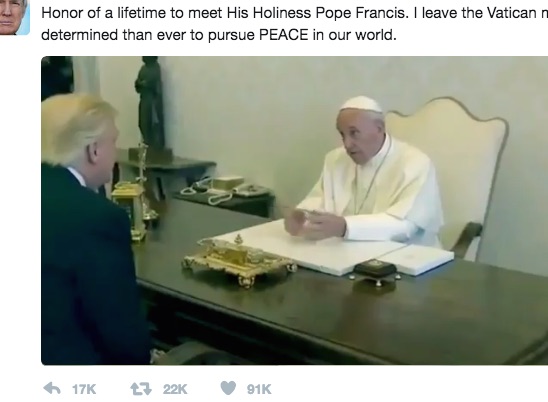 I am not the most religious person on the planet; I was raised Catholic but I haven't really stuck to it.
I respect people who through their faith become better for the world, give to others, genuinely care for others, and are compassionate  and kind. Every religion has had great humanitarian examples.
I've also seen the ugly side of religion, the "My God is better than your God," the "You are wrong (or evil) because you think different." Every religion has monsters.
Growing up, this sanctification really bothered me—specifically the position of the Pope. While I saw him as a person—who has probably had to work hard to get to where he was—it drove me crazy to hear the women at the church referring to Pope John Paul II as "cute," "adorable," and "beautiful." They made him seem perfect. He was far from perfect.
When Pope Francis was elected I was happy to know a Jesuit was going to lead the Catholic Church. I grew up with Jesuits and respect them a lot. They study hard and they need a degree besides their theological studies—one of my best friends is a Jesuit with a Master's degree in Buddhism—he is the bomb.
But again, I cringed at the words "cute," "adorable," and "beautiful." Jorge Mario Bergoglio (the Pope's birth name) is an intelligent man who deserves a little more than being recognized as "cute."
As any other Holiness, he is not perfect—he is a man with virtues and defects, he will do great things in the name of God and will probably make mistakes in the name of God, but that will have to be seen with time and history.
The Roman Church is one of the oldest organizations in the world, a little more than 2,000 years, with strong roots and hard manner. Pope Francis has been presented as a progressive pope with a moderate liberal speeches; someone who does not preach; a smiling, approachable pope who sneaks out of the Vatican and listen to the people who follow him.
He is also known as the Pope for the environment. Since the beginning of his pontific placement, he chose to take the name of Francis of Assisi, who taught about respect for the creation and protection of the environment. He was the saint who protected the animals. Pope Francis has spoken on multiple occasions about deforestation, exploiting the earth, and how the lack of protection for the ecology may generate problems.
This Wednesday he met for the first time with the U.S. president Donald J. Trump, who has called climate change a hoax.
The official picture is definitely a strange portrait.
Ivanka and Melania Trump are dressed in what seems to be attire for a funeral, but it is actually the traditional dress code for the Vatican, unlike her choice in Saudi Arabia: the first lady covered her hair with a veil for her encounter with the pontiff. Right next to her we see a smiling Donald J. Trump next to an unusually serious Pope Francis.
It's almost a cover for a weird music album or a Mexican telenovela.
But the picture is not what really matters about the encounter, what was really important is the gift exchange that took place between both leaders:
While Trump was running for president, the Pope was loud and clear about what he thought of Mr. Trump's approach to the immigration issues, building the infamous U.S.-Mexico boarder, and denying climate change.
Today, Pope Francis is in a polite manner reiterated his position on the matter of climate change.
While the U.S. president gave the Pope a box containing a set of writings by Martin Luther King, his Holiness presented Mr. Trump with a signed copy of his World Day of Peace message, and a set of writings, including Laudato Si: On Care for Our Common Home, written in 2015, the first papal encyclical focused on climate change and how to protect the environment.
He also gave Donald Trump a small olive tree sculpture, telling the president through an interpreter, "It is my desire that you become an olive tree to construct peace."
Touché.
Well done, Pope Francis.
Mr. Trump left the Vatican promising to read them. He tweeted later: "Honor of a lifetime to meet His Holiness Pope Francis. I leave the Vatican more determined than ever to pursue PEACE in our world."
Honor of a lifetime to meet His Holiness Pope Francis. I leave the Vatican more determined than ever to pursue PEACE in our world. pic.twitter.com/JzJDy7pllI

— Donald J. Trump (@realDonaldTrump) May 24, 2017
It's good to know the environment has some powerful people still advocating for it.
We can only hope Trump at least keeps his promise to the Pope and do some reading, maybe something will actually stick in that always changing mind of his.
Author: Montse Leon
Image: Twitter 
Editor: Sara Kärpänen