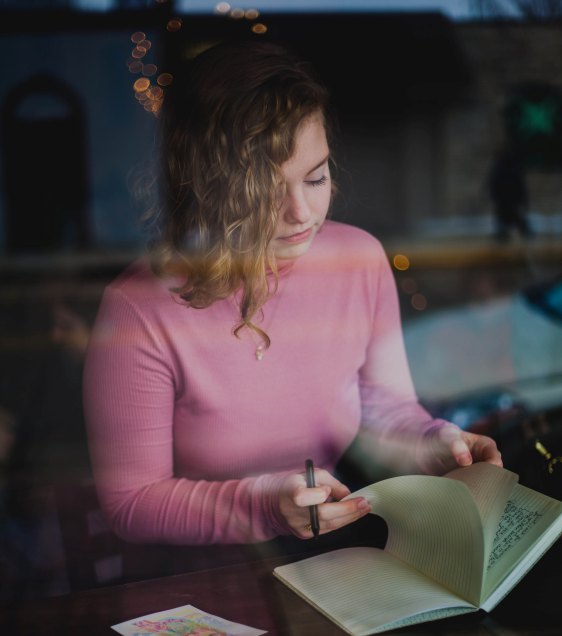 Not everyone can pen a bestseller, but we can all improve our writing.
Here are five tips to make your words sing and soar.
1. Start with a scene.
Humans like stories. We like to sink down into another place or time. If you're working on a piece of writing, whether it's a blog post or a book, try starting off with a sharply defined scene. The first time I saw him, I was sitting on my front steps, swatting mosquitoes and watching streaks of sunlight shimmy across the yard. Include dialogue, smells, and sounds, anything to help transport the reader. Once you've pulled us into your moment, we'll want to keep reading.
2. Be vulnerable.
I believe many people today are starving for vulnerability, for deep truth. We live in a chaotic, image-obsessed world, where we stream the highlight reels of our lives on social media. This leaves us hungry for honesty, for the moment just before you took that lovely picture of your family, when your daughter stepped on your toe and without thinking, you dropped the f-bomb, and then tried to smile for the camera.
We want to know what it really feels like to be you, not just what the airbrushed version of you looks like. So often, the things we're most afraid of sharing, our blemishes and our shame, are what makes us real, relatable, and lovable. Take a risk, and share something that makes you tremble a little.
3. Read.
One of the best things we can do as aspiring writers is to read as much as possible. While reading, we absorb what engages readers and what bores them. We learn that while there might be a limited number of stories to write about, how we write them—what voice, structure, or point of view we use—are myriad. We learn how to write dialogue that smacks of real life, and how vivid, sense-filled imagery sucks readers into another world.
4. Welcome feedback.
It's not always easy to accept constructive criticism about our work. But to become better writers, it's imperative. Be curious about the blind spots you have as a writer. I've learned to split my writing self into two distinct parts—the person who sits down and conjures up a channel for creative energy to stream through, and later, the surgeon who cuts and stitches that work. Being part of a writing group is my favorite way of improving my work—by gathering the reactions of several different people, we usually get a well-rounded report of what works well and what needs work in our writing.
5. End with an image.
I like to leave readers with a strong image, something that reflects or encapsulates the heart of the piece. If I'm feeling super poetic, I'll even spend time thinking about the very last word of a piece—can I leave the reader with a well-worn river stone? Something that they can turn over in their palms or tuck in a pocket and carry with them for a spell, something that maybe, after they're done reading, lingers.
~
Author: Lynn Shattuck
Image: Aiden Meyer/Unsplash; Tiago Leonardi/Flickr 
Editor: Catherine Monkman
Copy Editor: Taia Butler
Social Editor: Yoli Ramazzina