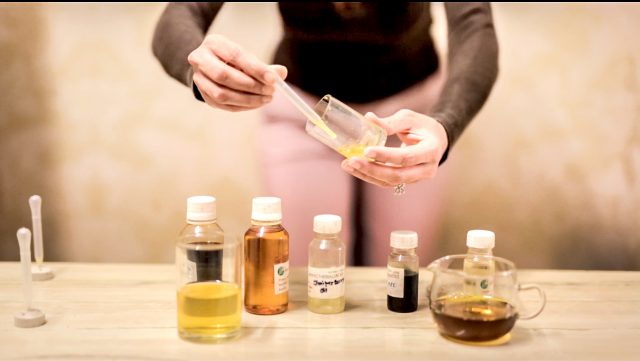 *Editor's note: Elephant is not your doctor or hospital. Our lawyers would say "this website is not designed to, and should not be construed to provide medical advice, professional diagnosis, opinion or treatment to you or any other individual, and is not intended as a substitute for medical or professional care and treatment. Always consult a health professional before trying out new home therapies or changing your diet." But we can't afford lawyers, and you knew all that.

~
Is it safe to use essential oils during pregnancy?
This is a question we've received a lot at Uma Oils, so we pulled together this guide on the use of essential oils during pregnancy that we hope will answer those burning questions for many of you. Keep in mind, though, that like all guidelines, these are general—so if you have any additional conditions, it will be worthwhile to check with your medical practitioner.
Many essential oils are safe for moderate, external use for expectant and nursing mothers.
Clinical aromatherapy expert, Jane Buckle, states in her book, Clinical Aromatherapy: Essential Oils in Practice, that, "There are no records of abnormal fetuses or aborted fetuses due to the "normal" use of essential oils, either by inhalation or topical application."
In fact, certain essential oils have proven to be immensely helpful in easing discomfort for expectant and nursing mothers.
According to the National Health Service (NHS), use of aromatherapy during pregnancy—through essential oils—has been proven to reduce anxiety, promote relaxation and empowerment, and aid in the process of childbirth. Many expectant mothers choose to use these time-tested natural Ayurvedic formulas carried down through the generations, instead of synthetic chemicals with little research regarding their long-term effects.
The key considerations when incorporating the use of essential oils into your wellness regimen—pregnant or otherwise—are the following:
1. Quality of the essential oil and its source. Essential oils should not be adulterated or tainted in any way for use, as it may increase the likelihood of an adverse response. It is imperative that you research the background of your supplier, even asking questions about the farming and extraction processes to ascertain that you're buying the highest quality essential oils.
2. Safe dilution of the essential oil. To avoid sensitization of skin or allergic reactions, most essential oils must always be diluted before use in carrier oils. (Our favorites are jojoba, grapeseed, and pomegranate!)
3. Application of the essential oil. During pregnancy, it may be safer to avoid the internal consumption of essential oils, if you have never consumed them before—try sticking to inhalation and using them externally on the skin.
With these safeguards in place, essential oils can be a great aid during pregnancy. They can be used in a massage, for relaxation, or as a compress for relieving soreness. A few drops can also be added to your bath for a deeply relaxing effect. Essential oils can also help to soothe the tiredness, aches and pains, nausea, insomnia, and backache that one often feels with pregnancy.
Here are some of my favorite essential oils for use during pregnancy—in moderate, external doses:
• Lavender: Calming, soothing, and pain-relieving, lavender essential oil is useful for easing the pain of uterine contractions. It can be used for massage, inhalation, and in baths when the membrane is still intact.
• Chamomile: Relaxing and anti-inflammatory, chamomile essential oil—safely diluted in a carrier oil—can be used for soothing eczema or other skin rashes.
• Frankincense: Frankincense essential oil can calm bouts of anxiety and hyperventilation.
• Rose: Rose oil is renowned for its mood-boosting properties, improving circulation, and easing tension or nervousness.
• Peppermint: Peppermint essential oil can be used during the transition to a more active stage of labor to combat nausea and headaches.
• Geranium: For postnatal use, geranium essential oil can regulate hormonal balance, stimulate the lymphatic system, and relieve fatigue.
Other essential oils that have mood-boosting properties and appear to be safe, include cardamom, ginger, neroli, patchouli, sandalwood, eucalyptus, lemon, and ylang-ylang essential oil. Keep in mind that, as with many other pregnancy discomfort remedies, essential oil usage is a very individualized process and should be tailored to your own comfort and needs.
In researching the essentials oils to avoid while pregnant, we often rely on materials by Robert Tisserand, in addition to the wealth of expertise provided by our staff of generational practitioners of aromatherapy.
Robert Tisserand points out a few essential oils to potentially avoid in the first trimester of pregnancy. These include wormwood, rue, oak moss, lavandula stoechas, camphor, parsley seed, sage, and hyssop.
It is important, Tisserand notes, to put these concerns in context, as the health risks for essential oils are minimal except in the case of prolonged or extremely high doses. Cooking with fresh herbs containing these oils is perfectly acceptable, without the danger of the possible risks.
In addition, essential oils that are cardiac stimulants should be used minimally during and right after pregnancy. These include cinnamon, hyssop, nutmeg, and thyme.
As a general rule of thumb, always discuss essential oil use with your obstetrician if you are concerned that you may have an exacerbating condition.
~
~
~
Author: Shrankhla Holecek
Image: Uma Oils /Unsplash
Editor: Taia Butler