At some point, most of us have held space for a friend or family member who is sick.
We sit with that person, we listen, run errands, cook meals, and give hugs.
Our dogs, cats, and other pets are family members in their own right. They are extensions of ourselves, and when they hurt, we hurt.
When it's time to go to the vet, we shuffle them into their carriers, so they can be poked, prodded, and handled by strangers, all in the name of love. They cannot comprehend this special torture. It scares the animal, and if the situation necessitates multiple visits, it's enough to drive the owner mad.
A couple of weeks ago, a growth was removed from the eyelid of my my eight-year-old Maine Coon, Bantha. (Yeah, we're "Star Wars" fans.) Aside from the post-surgery grogginess and antibiotic drops we would administer, my husband Justin and I thought this would be a "wam-bam-thank-you-ma'am" sort of situation.
The following Monday evening, after dinner, Justin gently told me that he had paid an additional visit to our cat doctor. The growth removed was biopsied and was cancerous. My heart sank. While the disease hadn't spread through Bantha's little body, there was a chance he may need to lose his right eye. We cried together as Bantha watched from under the coffee table.
Despite our emotional pain and fear of the unknown, my partner and I resolved to be as instrumental as possible in Bantha's healing. We weren't going to just be on standby, worried and saddened about our beloved cat. We were going to do what we could to hold space for our sweet boy.
The past couple of weeks, we've kept closer to home during off hours, instinctively performing certain activities, born out of hope. I share our current learning experience in hopes that the burden is also a bit lighter for your own special companion, if and when the time comes.
Healing meditation. There are plenty of short, guided meditations online that involve visualizing and offering healing light to a sick friend from your heart chakra. I've done this meditation in yoga classes, so I figured why not do it for our sweet cat? This has done wonders for keeping my husband and I centered, fostering solidarity between us, and (we believe) facilitating healing for Bantha. Here's a 16-minute meditation I really like.
Love on them. This morning, I found Bantha balled up in a dark corner, motionless, with an old catnip toy. This spoke to me of his need for extra comfort. If you're a compassionate pet owner, this goes without saying. Take a little time to treat your sick animal. Make sure his bed or favorite cushion is clean. Buy her a new toy. Give him extra treats or pets. I spoil myself a bit when I'm rundown; I'll watch a favorite movie or take a bubble bath. Your baby could use the TLC too.
Visualizing throughout the day. There is a picture of Bantha that has always been my favorite. In this kitty headshot, he looks super soft and teddy-bear like. I set the picture as my computer wallpaper at the office, and my husband fixed a large print of the same photo on our refrigerator. This way, we can take meaningful moments throughout the day to see him alert and healthy. I also fix this image in my mind when I meditate.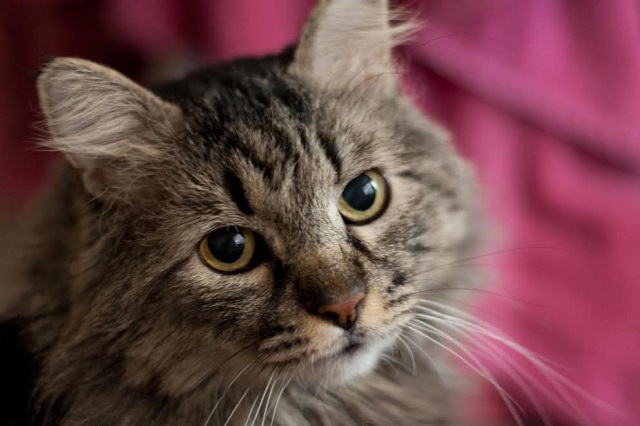 Tell close friends. To me, bad news is perpetuated when it is shared unnecessarily. When a loved one is sick, it's important that both thoughts and words are positive. Having said that, it's good to open up about a pet's illness to a close circle of friends, especially if those individuals appreciate the animal and believe that meditation, prayer, Reiki, and sending positive energy works. Posting favorite photos of your pet on Facebook or Instagram (sans negative details) is also an effective way of generating support.
Remember when they were there for you. The animals we are bonded to often hold space for us in their own way. When I was housebound with pneumonia, my cats would sit on my bed, keeping me company when I needed it most. Bantha seemed to take on the role of a small shaman: eyes closed, deep, rhythmic purring, front paws outstretched toward me. Now, as I meditate and long for his healing, I recall this image of my fury friend and send back to him the warm feelings he gave to me when I wasn't at my best.
Positivity is key. To hold space for a pet is to keep gratitude and optimism at the center of the experience. Buddhism and yogic schools of thought tell us to manifest what we want without being too attached to the end game. I don't know what's going to happen, whether or not Bantha will keep his eye and just lose the eyelid—and I don't know how many years he has left. But, I can be thankful for the times we shared—and especially for the time we have now. Through being grateful for this moment, I can let go of what's to come, while believing it will be what we want—many more years with our dear friend.
~
Author: Lindsay J. Bond
Images: Flickr/Helen Alfvegren; author's own
Editor: Yoli Ramazzina
Copy editor: Leah Sugerman
Social editor: Callie Rushton