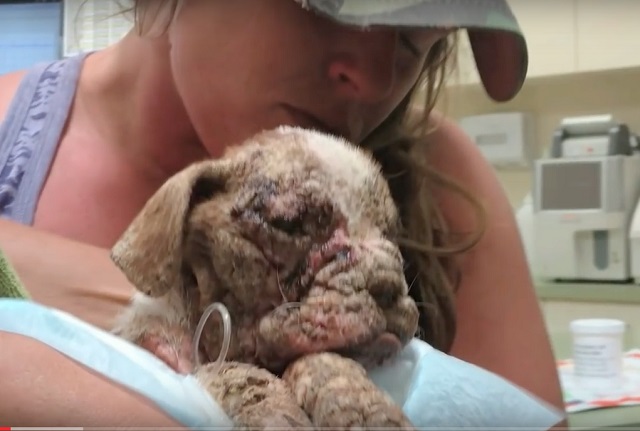 On June 28th, there was reason for animal lovers across the world to celebrate.
For the first time in Pennsylvania, officers will be able to file felony charges on animal cruelty cases, thanks to new legislation that was signed into law by Governor Tom Wolf.
Wolf issued a statement saying:
"I am proud to be a long-time supporter of Libre's Law and eager to sign the bipartisan, comprehensive House Bill 1238 into law. I applaud the sponsors and advocates who have fought for too long to improve Pennsylvania's protections for animals. This bill increases penalties for animal cruelty and neglect. Pennsylvania is only one of three states that does not have a felony statute for severe animal abuse. We are long overdue to join the rest of the country in having higher standards of care for our pets and other animals. I thank Libre, the Pennsylvania SPCA, Senator Alloway, Representative Stephens, and all those in the legislature and animal advocacy community for their work getting this bill toward final passage."
Libre's Law was named after Libre, a Boston Terrier puppy who was found neglected and barely breathing on July 2nd last year at a Lancaster County farm.
The puppy's initial rescuer was a truck driver who saw Libre's limp, unresponsive body lying in a pen. The truck driver reported the case to Susan Martin, head of Lancaster SPCA; however, Martin said she was unwell, and after forwarding pictures of Libre to a doctor, he diagnosed him with demodectic mange and concluded that Libre was not in imminent danger. Fortunately, the truck driver returned to the property two days later and managed to persuade dog breeder Benjamin S. Stoltzfus to let the pup leave with him to receive much needed medical care.
People from Pennsylvania (and all around the world) followed Libre's rescue and his recovery on Facebook.
Libre was believed to be just seven weeks old when he was first found in a horrific condition at Stoltzfus's dog-breeding farm. However, after examination, he was considered to be approximately four months old but extremely underweight and malnourished.
When taken to Dillsburg Veterinary Center vets and rescuers thought that Libre would not survive the night, as his body was extremely emaciated, his skin oozed blood and pus, he had maggots in his fur, severe bacterial disease, and was suffering from depression. Now, just one year on, all thanks to loving care, Libre is well and thriving. He looks like an entirely different dog!
Unfortunately, Pennsylvania law did not consider animal abuse a felony at the time, so although Libre's abuser pleaded guilty, the most severe punishment he could receive was a $950 fine.
At the time, Susan Martin was Head of the Lancaster County SPCA and serving as a Humane Society police officer. Martin investigated the case and decided not to pursue Libre's abuser to convict him of cruelty. The reason for this was that Martin said that there was not sufficient evidence to prosecute him, despite there being well-documented evidence of Libre's condition.
This led to widespread criticism, and state police stepped in to investigate, subsequently filing a charge against Stoltzfus. On August 11th, 2016, District Attorney Craig Stedman called for Martin to step down as the county's Humane Society police officer, and her resignation in that post immediately followed.
Stedman clearly explained his reasons:
"Our justice system has to have integrity. The animals have the right to have somebody who will fairly and competently investigate those cases and file charges in appropriate cases and decline to file charges in appropriate cases as well…I am confident that animals all over the county will be safer and more protected than ever before, prosecutions and investigations will be more professional, and the decisions to charge or not charge more consistent and fair to everyone."
Stedman then announced there would be changes in the law concerning how animal cruelty cases were handled. One of these changes was setting up a line in which people could report instances of suspected animal neglect or abuse.
Martin remains director of the Lancaster SPCA, but she no longer has powers of arrest. She reportedly welcomes this, explaining:
"Investigating animal cruelty is both time-consuming and expensive. We receive about six reports of cruelty each day from all over the county. Driving to and investigating every report was quite time consuming…[they] were seriously considering pulling out of that line of work altogether, mainly because of the financial expense. When you charge someone with cruelty, you have to keep and care for their animals not only until the hearing, but also, if they are found guilty, until the appeals process has been completed, which can take years. Recently, we held and cared for 10 horses for two months, costing us $20,000."
Jessica Blouch, who founded the Lancaster County Animal Coalition said in response: "It's unacceptable for anybody to claim [that] anybody who's the voice for the animals, or should be the voice for the animals, to not be his voice."
Blouch, along with representatives from animal rescue and welfare organisations are attempting to raise funds to build a new animal shelter to compete with the SPCA.
Libre's Law now means that dog owners cannot leave their dogs tethered for more than nine hours in any 24-hour period—and if the temperature is above 90 degrees or below 32 degrees, dogs cannot be tethered for more than 30 minutes. In all cases, dogs must have access to water and shade.
Humane Society police officers and veterinarians will now have civil immunity, which means they will not be sued if they report animal cruelty, and it turns out they were wrong.
The law also covers horses, giving them the same protection against abuse as dogs, cats, and other pets. This part of the legislation is called Cordelia's Law, which was named after a starved horse.
The new legislation also states that if someone is proved to have committed a felony of animal cruelty, they must surrender their animal.
Janine Guido, the owner of the Speranza Animal Rescue in Mechanicsburg, has since adopted Libre. On the day of his rescue, Guido posted to Facebook that she was "typing through my tears" as she drove the puppy—emaciated, dehydrated, and barely breathing—to an emergency clinic closer to home.
Click here to see the video of Libre with Janine Guido on the day he was rescued. (Warning: The video may be difficult for some to watch, as the condition that Libre was in at the time was harrowing.)
Janine also wrote: "I'm asking and begging, please, please say a prayer for this angel tonight…pray that he can fight. Fight another day. You are so loved already. Welcome to the family, Libre."
Thankfully, the prayers worked, and Libre battled through to make a miraculous recovery.
Suzanne Boorman commented on the video with an update a few days after the rescue:
"‪Thanks to these two angels, Dr. Pryor and his wife, Sharon, he made it through another night! They knew he couldn't be left at the clinic overnight alone. So, they took him home for the night. I have never met a more caring and compassionate veterinarian. And I thank God that Libre is under the care of Dillsburg Veterinary Center."
As traumatic as Libre's story is, fortunately thousands—and eventually millions—of animals will hopefully be spared this type of extreme abuse, thanks to Libre's rescuers, those who cared for him, and those who spoke out for justice.
~
Author: Alex Myles
Image: Screenshot
Editor: Yoli Ramazzina
Copy editor: Leah Sugerman
Social editor: Callie Rushton