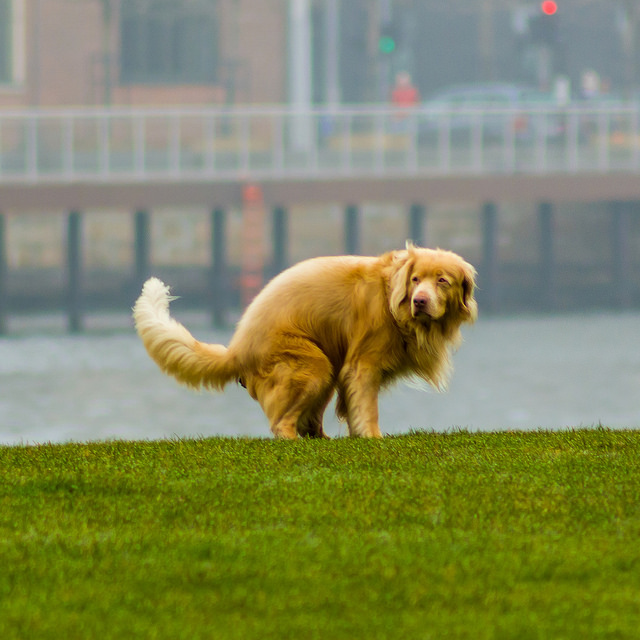 Author's note: If this title offends you, stop reading here. If you are eating, stop reading, focus on your delicious food, and read this later. 
I never thought I'd say this, but poop has humbled me on more than one occasion.
I have been that mom in the congregation holding a recently nursed baby. The beautiful baby we all make googly eyes at when heads should be bowed. The baby in the darling, gifted outfit saved for days like these. Then, the unexpected, yet familiar explosion happens. A squirt sound echoes down the aisles and slime oozed up the back of my child.
There went any image of perfection. I humbly smiled and left the sanctuary.
I have been that neighbor in the community welcoming folks to an event at my home. The happy home where we worked for hours preparing for this moment. The floors shined; candles lit the mood; and a lavender scent wafted through the air. Then the unexpected, yet familiar, happened. Our puppy was so excited to greet the guests, she urinated a pool of sunshine near and on their feet.
There went any image of perfection. I humbly smiled and left for towels.
I have also been that mom who had the entire cast and crew over after my child's opening night performance. The darling dog now awaited us in her crate. She had been bathed, fed, walked, and relieved. Then, the unexpected, yet familiar, happened. About five minutes before everyone was to arrive, we entered the door and the kind of smell that burns nostrils overcame us. Our dog had a "special present" waiting for us in her crate.
Yet, we still had five minutes! No one had to know. With panic and joy we busted and moved.
I took the soiled tray from the crate and tossed it out back. My son misted the air with mint to mask the smell. Windows were flung open. Phew, we did it.
However, our dog had sprinted frantically—odor and all—out the front door. The trail left behind was like little sponges dipped in caramel, stamping paw prints on the floor. We hustled again.
Meanwhile, she continued to empty her stomach along the road, in the grass, next to the where the cars would soon park. The passengers would open their doors to quite the surprise, if we didn't try to quickly pick it up. We got the job done just as the first car turned the corner up the street.
We did it! Perfection restored.
Yet, what I forgot was that life can be even better when it isn't perfect.
The people in church that day went out of their way to comfort us and share their own tales with me. The puppy stories of my guests started our event with an instant connection and lightness. In each moment, all of us laughed in the face of the "poopy situations."
The night of that cast party though, folks didn't know what happened. We were glistening in sweat after scurrying about in the humidity. Our eyes were strangely wide open and voices unusually high. Grins were plastered on our faces like someone had pulled our marionette strings too taunt. My arms were tightly crossed. We stood in fear of someone saying, "What's that smell?"
I looked around at us and noticed the awkwardness in that moment. This masquerade of perfection glared at me. It needed to end.
"When perfectionism is driving, shame is always riding shotgun." ~ Brene Brown
No, I didn't turn on the lights and stop the music. Yet, I opened up to the parents I was speaking with at the time, "So, I have to share why I can't uncross my arms and stop looking at you all without intense curiosity." My kids looked at me like "Nooo, Mom, noooo!"
Not a soul had smelled a thing. I really didn't have to share, but that didn't matter. Our masks were off and the burdensome elephant immediately left the room. Giggly stories of their own similar to mine started spilling out one after another. My arms fell to my sides, hand gestures animated my conversation again, and my fingers reached out to connect with others.
Most of us parents, pet owners, campers, and more have hilarious poop stories to tell: awful, disgusting, yet hilarious stories in hindsight. In the past, I would never have considered that "party" or "polite talk."
However, if we are uncomfortably holding onto something that could easily go away, even lighten the mood, why not take the wheel, open up, and let it go?
Dr. Brene Brown sums up my feelings to a tee in her book, 10 Weeks & 10 Guideposts For Wholehearted Living.
Check out her chapter titles:
Week 1: Cultivate Authenticity—Let Go of What People Think about You
Week 2: Cultivate Self-Compassion—Let Go of Perfectionism
Week 3: Cultivate a Resilient Spirit—Let Go of Numbing and Powerlessness
Week 4: Cultivate Gratitude and Joy—Let Go of Scarcity
Week 5: Cultivate Intuition and Trusting Faith—Let Go of the Need for Certainty
Week 6: Cultivate Creativity—Let Go of Comparison
Week 7: Cultivate Play and Rest—Let Go of Exhaustion as a Status Symbol and Productivity as Self-worth
Week 8: Cultivate Calm and Stillness—Let Go of Anxiety as a Lifestyle
Week 9: Cultivate Meaningful Work—Let Go of Self-Doubt and "Supposed To"
Week 10: Cultivate Laughter, Song, and Dance—Let Go of Being Cool and "Always in Control"
If you are ready for an authentic life, try it on for size the next time a mask is covering your truth.
It may be humbling as poop, but pretty peaceful.


~




~




~
Author: Kate Fleming
Image: Thomas Rousing/Flickr
Editor: Danielle Beutell
Copy Editor: Catherine Monkman
Social Editor: Catherine Monkman