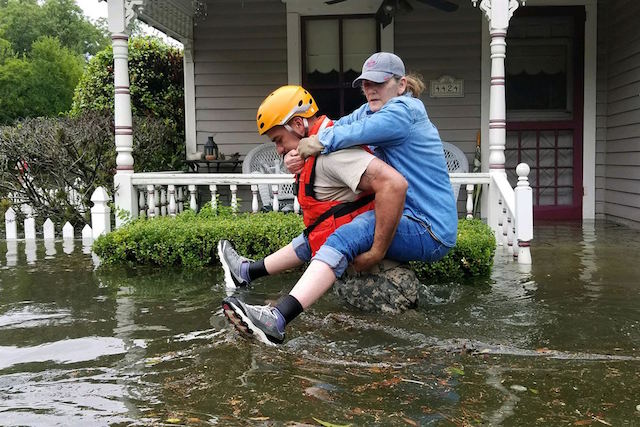 Less than a week ago, the name Harvey meant nothing to me.
It was just an outdated name for an older man and, until now, held no positive or negative connotations for me. Kind of like the name Ike, which, until 2008, also held no meaning for me.
Oh, how quickly things change.
Last week, I was driving home from work and saw an LED message board on the highway that said, "Storm in the Gulf: BE PREPARED!" I was surprised, but not terribly. I mean, it's late August in Houston. We do storms often and well.
I thought to myself, Ehh…I'll gas the car tonight, check our hurricane supplies, it's all good.
But by the next day, this little tropical depression had earned itself a name and new title.
Hurricane Harvey. Sounds pretty harmless and slow, mild and even-tempered, like an old man named Harvey might be—but it never occurred to me that this old man might have once been a badass.
If you'd known him in his prime, he would have been tough as nails. He would have the kind of man who changed a tire in his work suit, cut the grass, rewired the electricity, and fixed the back fence, all before his dinner of meat and potatoes.
He would have had a conviction and intensity that belies his apparent age and gentle name. A conviction and intensity he still has.
Late last week, our new friend Harvey came up through the Gulf of Mexico, loosened his tie, quietly rolled up his shirtsleeves, and brought his fight to us, much to our collective surprise. And, we, misjudging this feisty book by its frayed and shabby cover, found ourselves in the battle of our lives. Like an old man, Harvey has plodded and lumbered his way into the Houston area, moving maddeningly at his own leisure, making it clear that he's not leaving until he's finished with us.
Today, five long days after our unmemorable initial meeting, we are still in the midst of Harvey's seemingly endless clobbering. We, as Houstonians and as human beings, are being tested.
We are tested physically…
…as we prepare for the looming disaster that we weren't sure would even affect us. We heave carloads of supplies and cases of water, diapers and formula, prescriptions and nonperishables, batteries and newly filled five-gallon gas cans into our homes. We test our flashlights and get out what candles we have. Our arms and backs and heads hurt, but we just keep moving.
…as we get ready to shelter-in-place. With time, many of us are forced to evacuate ourselves and our loved ones, moving our essentials and the cumulative evidence of our lives to higher ground: baby pictures and diplomas and insurance policies and letters and birth certificates and keepsakes along with food and water and medicine and deodorant and t-shirts and underwear.
…as we move and we lift and we load and unload, day blurring into night and somehow into day again, days passing and the rain never stopping. We are left only to watch the news and check our phones for more updates.
We are tested emotionally…
…as we go looking for a gas station that still has gas or a grocery store that isn't closed but every route we take ends abruptly in deep water, forcing us to turn around and drive the wrong way down the street to try to find dry ground and our cars stall in the rapidly flooding streets as we try to get home to our families.
…as we watch kind strangers pull our stranded neighbors to drier ground in canoes, on air mattresses, in dump trucks.
…as we watch premature infants being evacuated out of the same hospitals where we gave birth to our own children years ago.
…as we lose power—again.
We are tested when we squeeze ourselves into closets and bathrooms with too many people smelling of sweat and fear and we try to calm each other—singing to babies, playing games with young children, discussing the predicted storm paths that keep changing and will determine our next days and weeks and even months. Each of us takes turns with our obligatory assignments, listening to updated warnings on the radio as hundred mile per hour hurricane winds and tornadoes rattle our windows and shingles and doors, threatening to lift us off our very foundations and toss us down the street with bits of fence and trees and siding.
Our fortitude is tested when the storm passes or, in the case of Harvey, as it just keeps pounding us and we grasp the ungraspable: that this isn't going to be over anytime soon.
We are going the distance with Harvey.
Our community Facebook pages, the city and county websites, the local and national news, and of course the official FEMA statements bring us the growing realization that this is bad. Very bad. The world is worrying about us, sending volunteers to our shelters, raising money for our relief efforts.
We watch in surreal disbelief and wait.
We wait for the Brazos River to reach its predicted record high of 58 feet, hoping the levees of the surrounding neighborhoods hold. We anxiously anticipate the next foot of rain to drop on top of the three we've already gotten. We watch creeks rise and spill into our streets and yards, and we watch the bayous of our beloved "Bayou City" flooding into streets as quickly and effortlessly as bathtubs overflowing onto tile floors. We hear that 19 trillion gallons of water have been dumped on us. Enough to fill Great Salt Lake—twice.
We see on the news that the highways that we have taken to work and school for years are underwater. We see streets to the internationally renowned Texas Medical Center flooded, making it unapproachable. We see our hospitals being evacuated due to power outages and flooding, but there is nowhere to send all these patients and no way to get them out safely. We see the George R. Brown Convention Center sheltering nearly 10,000 evacuees.
We gather to hear the mayor speak. And the governor. And the president. We see the Coast Guard rescuing thousands of people in just 24 hours, hear helicopters overhead, and watch the military convoys pull through our roads, and we feel as if somehow we have fallen into some post-apocalyptic state.
We see remnants and rooftops of the places where we long ago bought cars or refrigerators or groceries, and it hurts in a way I can't adequately describe in words because, right now, I am lacking the proper adjectives and verbs and sentence structure to tell everyone how scary this is and how heartbroken we are.
It is disorienting.
But the most important test we face in this moment of chaos is the test of our integrity.
Our very decency and the tenets on which we base our lives (or at least we hope that we do) are on trial right now as we see how we, as individuals and as a city, respond to this crisis. We are seeing who we truly are as human beings.
So, who are we?
We are one of the top three most diverse cities in the United States.
We represent more countries and nationalities and are made up of a greater socioeconomic, cultural, household, and religious diversity than most cities in America. We are blue and white collar, laborers and professionals, poor and wealthy, urban and rural, new to town and here for generations. We are Christians, Muslims, Hindus, Jews, and atheists; we are Democrats, Republicans, and people that choose not to affiliate politically at all.
And during Harvey, we got to show everyone what we already knew to be true—that we are one.
We are the people you see on your TV who are rushing into floodwaters to carry old people in wheelchairs or babies or pets out of homes. We are the ones pulling others out of cars that are being swept away in the current. We are the guy who took his own boat out to start rescuing people "just to do some good." We are the people going up and down streets to see who needs rescuing. We are the people bringing our supplies to the shelters to those worse off than we are.
We are more than a city. We are a family.
Like Harvey, we are often underestimated. And, like Harvey, we really don't care—because we know who we are.
We didn't need to be tested to know this. Houstonians have always known how deeply our strength, love, and compassion runs through our bayous and rivers, just like it flows through our very veins.
Now, maybe the rest of the world can know that, too.
~
~
Author: Amy Bradley
Image: U.S. Department of Defense
Editor: Callie Rushton
Copy Editor: Travis May
Social Editor: Yoli Ramazzina