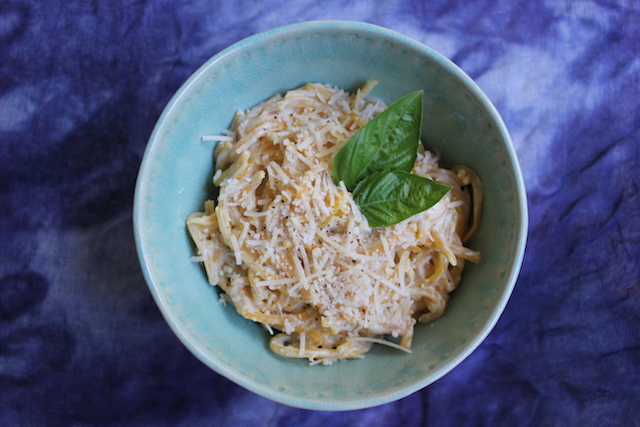 Like millions of adults in the United States, I used to suffer from painful, inflammatory, cystic acne.
My skin-battle raged on for over 15 years, through many courses of antibiotics, painful trips to the aesthetician, and a solid round of Accutane. At the age of 27, however, a reluctant last-resort trip to the dermatologist's office provided me with the advice that seems to have cleared up my skin for good: adopt a dairy-free, low-glycemic-load diet.
I was already vegan for ethical and environmental reasons, and thus was used to living life dairy-free, but my initial research into meal ideas that were both vegan (free of animal products) and low-glycemic (will not cause rapid spikes in blood glucose) revealed limited resources. Thus, I conducted my own research, spent many hours playing in my kitchen, and a few months of following my doctor's recommendations left me with clear-skinned at last.
I created a food blog, called VLGL (which simply stands for Vegan + Low Glycemic Load), to share the recipes and meals that healed my acne. My hope is that VLGL may be a resource for others looking to reap and share the benefits of a plant-based lifestyle without relying heavily on potentially-harmful, high-glycemic foods.
When my research revealed that pasta—even whole-wheat pasta—has a moderate-to-high glycemic load, I knew that cutting back would be a challenge. Throughout my 18 years as a vegetarian, I relied heavily on the ubiquitous olive-oil-and-garlic pasta dish for sustenance when eating out and as a source of simple gastronomical pleasure at home. However, my cooking experiments revealed many delicious substitutes for the flour-and-water standard, each with unique culinary and nutritional benefits.
This recipe utilizes butternut squash sliced into "noodles" with a spiralizer as a low-glycemic and Vitamin A, potassium, and magnesium-rich stand-in for classic fettuccine. If you don't have a spiralizer, worry not; a steady hand and carrot peeler can do the trick.
The harvest season for butternut squash has just begun, so we can all enjoy this savory, comforting dish throughout the months to come.
VLGL Butternut Alfredo
(serves four)
Ingredients:
>> 3 pounds spiralized butternut squash flesh
>> 1 pound silken tofu
>> ½ – ¾ cup unsweetened, plain plant milk (adjust for preferences and blender strength)
>> ½ cup roasted, salted cashews (soak for at least an hour if you do not have a strong, high-speed blender)
>> 2 ½ tablespoons roasted garlic
>> 2 tablespoons + ½ teaspoon vegan butter substitute or extra virgin olive oil, divided
>> 2 tablespoons nutritional yeast
>> 2 teaspoons white miso paste
>> 1 ½ teaspoons rice vinegar
>> ¼ teaspoon salt (or more to taste)
>> 1/8 teaspoon black pepper (or more to taste)
>> Approximately 1/16 teaspoon (two "shakes") powdered nutmeg
>> (Optional) vegan parmesan cheese or additional nutritional yeast for topping
Method:
>> Blend all ingredients except for the butternut squash and ½ a teaspoon vegan butter in a high-speed blender until creamy smooth.
>> Transfer to a small pot on the stove and heat over medium-low heat, whisking periodically until warmed through.
>> While the sauce heats, warm the reserved ½ teaspoon vegan butter in a large deep pan or skillet over medium heat. Sauté the butternut squash "noodles" until tender but still intact. (Be careful not to overcook).
>> Gently pour the sauce over the butternut squash and toss to combine.
>>Serve with love!
~
Relephant Read:
~
~
~
Author: Elizabeth Neville Taylor
Image: Author's own
Editor: Danielle Beutell
Copy Editor: Travis May
Social Editor: Yoli Rammazina