Everywhere I go, it seems that Christmas decorations are on display and people are getting ready for the holiday season.
I love Christmas and I love baking special treats for the festive season, but over the years, I have had to wise up to my capabilities and admit that I cannot cram absolutely everything in, and that time with my family and friends is more important than a decadently-decorated Christmas cake.
Indeed, as a mother of three young children, Christmas and New Year's Eve are among the busiest times of the year—with a to-do list that gets longer by the minute.
I always find tons of great craft and homemade gift ideas, but slotted in around endless cooking and the entertaining of young children and visitors, there have been years where I felt like a juggler—and a bad one at that.
I hate missing out on the good stuff and so I can think of nothing worse than dashing in and out of the kitchen whilst my family and guests enjoy the festive good cheer and I tend to dinner. I don't think there is anything that puts a damper on festive cheer quite like feeling left out and bogged down by kitchen chores.
My solution to stress-free entertaining, which allows me time to indulge in things like sentimental activities—like making cards with my children—and enjoying visitors, is to have some quick and easy supper recipes on hand. Whether I'm engrossed in decorating the Christmas tree and the children start complaining of hunger pangs, or an impromptu get-together takes place, I can rustle up fabulously simple suppers that are deliciously divine to eat.
After all, even the most enthusiastic of home cooks wants to see the festive season with a glass of something bubbly rather than being up to their elbows in washing-up bubbles.
Not only are these recipe ideas quick and easy to prepare, but they are also a good way to use leftover ingredients that inevitably build up over the festive period.
Citrus, Feta, and Mint Couscous Salad
Ingredients:
200 g couscous
250 ml hot vegetable stock
4 tbsp olive oil
2 cloves garlic, crushed
Juice of 1 lemon
Juice of 1 lime
1 tbsp freshly-chopped flat leaf parsley
1 tbsp fresh thyme leaves
2 tbsp freshly-chopped mint
200 g feta cheese, cubed
4 tomatoes, chopped (de-seeded)
½ cucumber, chopped
50 g toasted pine nuts
1 tbsp runny honey
150 g natural Greek yoghurt
Freshly milled black pepper
Sea salt
Method:
Place the couscous in a non-metallic bowl and pour over the hot vegetable stock. Stir and cover, leave to soak for 10 minutes.
Put 2 tbsp of the olive oil in a separate bowl, then add half the lemon juice and the juice of the lime. Add in the parsley and thyme. Gently stir in the chopped feta and leave to marinate.
Mix the chopped tomatoes and cucumber in a bowl with the remaining olive oil, lemon juice, garlic, and mint, and season with freshly ground black pepper and sea salt to taste. Set aside.
Carefully remove the feta from the marinade and set aside.
Mix the marinade with the yoghurt and honey to make a dressing.
Now, fluff the couscous with a fork and stir in the pine nuts, tomatoes, and cucumber. Put the mixture onto a serving platter and top with the feta. Spoon over the yoghurt dressing prior to serving.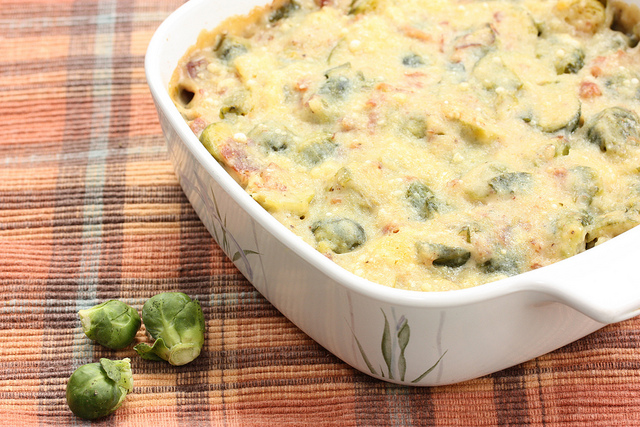 Creamy Green Goddess Bake
If there are Brussels sprouts lurking at the back of the pantry from the Christmas dinner, get them out and give them a tasty make-over with this innovative dish. I promise your guests won't even notice they are eating these little festive green goddesses.
Ingredients:
1 kg small, even-sized Brussels sprouts (outer skin removed)
250 ml double cream
3 tbsp port
100 g Stilton cheese, crumbled
Pinch sea salt
Black pepper to taste
Method:
Preheat the oven to 200 C—or, 180 C fan-assisted / gas mark 6.
Bring a large pan of salted water to boil. Add the sprouts and boil for 1 minute. Drain and plunge into cold water to refresh them, drain well, slice them in half, and put in an oven-proof dish. Set aside.
Heat the cream gently and add in half of the Stilton and the port. Stir until smooth, then pour over the sprouts and sprinkle with black pepper and the remaining Stilton. Bake in the oven for 10 minutes until bubbling. Serve immediately.
This makes a tasty supper served with warm, crusty bread or for a more substantial treat, top with bacon or a nice poached egg.
Mulled Wine Chicken
Ingredients:
75 cl bottle red wine
1 cinnamon stick
1 clove
1 star anise
1 small chili
2 tbsp runny honey
200 g pancetta cubes
12 large chicken thighs (unboned, skin on)
10 shallots, peeled
4 garlic cloves
2 tbsp plain flour
300 ml hot chicken stock
225 g chestnut mushrooms
Bunch of fresh flat leaf parsley
Method:
Place the wine into a pan with the cinnamon, star anise, chili, and honey and bring to a boil. Reduce the heat and allow to simmer (uncovered) until the liquid has reduced by a third of its original volume. Remove the spices and discard. Set the wine aside.
Meanwhile, preheat the oven to 180 C (160 C fan-assisted / gas mark 4). In a heat-proof casserole dish, fry the pancetta cubes until crisp and golden, then remove and set aside. In the same casserole dish, fry the chicken in the bacon fat, then remove and set aside.
Add the shallots and garlic to the pan and fry until golden. Add in the flour and cook gently, stirring continuously for 1 minute. Return the bacon and chicken to the pan and add in the wine and stock. Bring the mixture to a boil, then cover and place in the oven to cook for 1 hour.
After an hour, stir in the sliced mushrooms and cook for another half an hour. Scatter the chopped parsley over the dish prior to serving.
I hope these recipes will minimize stress levels and will give inspiration for years to come. Happy cooking!
~
Relephant: 
~
Author: Seren-Charrington-Hollins
Images: Marco Verch/Flickr; Meal Makeover Moms/Flickr
Editor: Catherine Monkman
Copy Editor: Nicole Cameron
Social Editor: Nicole Cameron