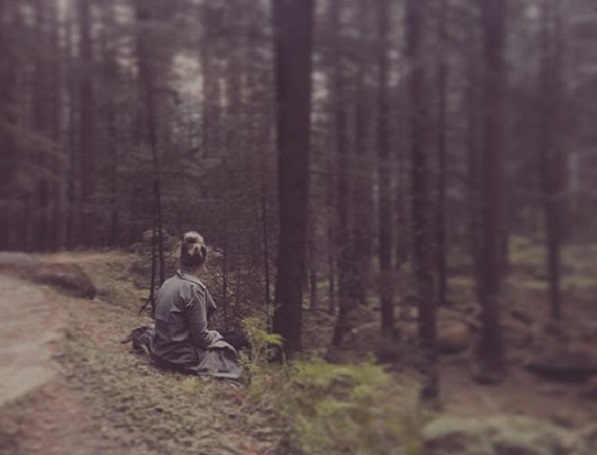 I've aspired to be the girl who rises at a decent hour to witness at least 30 seconds of a sunrise.
I've gone to the bathroom and washed my face with a natural face wash that smells better than a bouquet of fresh lilies, then made my way to the kitchen.
I've set the kettle to boil and ran the tap to prepare a mason jar of lemon water, taking my notepad to the table to try and recall my dreams.
I've put soft music on as an accompaniment and soundtrack for the day, lined up my vitamins, boiled the kettle once more for an uplifting tea, boxed like a gift with an enchanting name.
I've gone out before breakfast and taken a walk in the country, trying to pick up positive vibes with every bush and shrub I pass.
I've come back home, mediated for 20 minutes, and prepared a nutritious first meal.
I've put on the outfit I laid out the night before and sprayed perfume—to quote Audrey Hepburn—on "the areas that I want to be kissed in."
I've walked to a coffee shop before work, caught up with friends, and worked on my writing craft.
Sounds perfect, right?
Let me throw a plot twist in right here:
I've also been the girl who slept until noon because I've stayed up too late the night before.
I've looked in the mirror, seen a tear-stained faced, and remembered that I had an emotional meltdown alone in my room because my love didn't pick up my 4 a.m. call.
I've drank the remainder of the beer left on the kitchen bench to try and fix my pounding head and then boiled the kettle only to add it to a mug of coffee with a questionable amount of Nescafe in it.
I've smoked one cigarette, and then another.
I've eaten two slices of dry bread while waiting for my other two to cook in the toaster, standing in nothing but an oversized T-shirt and the dashed dreams of becoming the lead singer in a girl band that I convinced myself I was in just 12 hours before.
I've looked through my phone while eating my fourth slice of bread and questioned why my phone provider hasn't cut me off already for being a threat to all human kind.
I've chosen not to shower and instead ferment in my newfound odor, clothing style, and gin-sweating pores.
I've called in sick to work five minutes before I'm due to start.
I've placed myself on the sofa and watched seven hours of "Friends," just to try and survive the day.
Sounds like a good night, right?
For a long time now, I've been fascinated with following people's morning routines, online and in real time. How does one start the perfect day?
With a juice? A strong coffee? A cigarette? A walk or run? Morning sex? Writing?
Does a perfect day start with music or complete silence? Staying away from technology or reaching for instant social satisfaction?
Can you shape your day with morning mantras that become instilled in the mind and morph into manifestations?
Honestly, I've tried all the above.
I've come to realise that the perfect morning routine doesn't exist if you plan on living. That's not to say that we can't all create a mini sanctuary from time to time to keep us on the right path—of course, strive to do this.
I just prefer not to be on the straight and narrow road all of the time.
Sometimes I'm a quaint country road.
Sometimes I'm a pileup on the M25.
Most of the time I'm a one-way dead end.
~
~
Author: Sophie O'Sullivan
Image: Author's own
Editor: Nicole Cameron
Copy Editor: Emily Bartran
Social Editor: Waylon Lewis