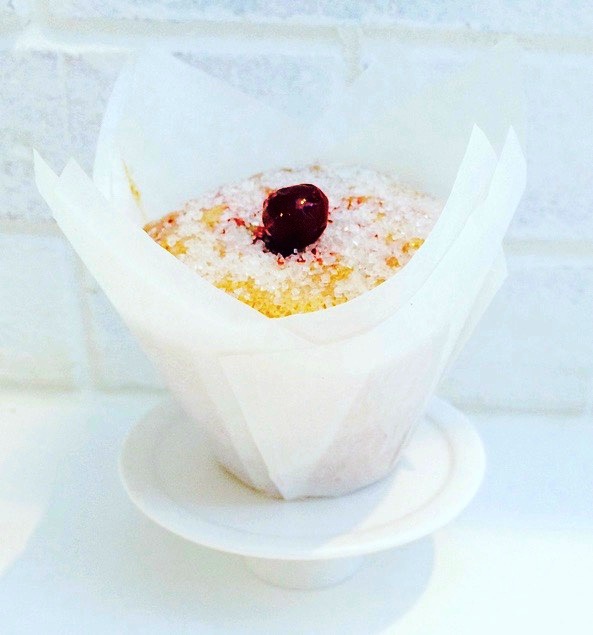 Christmastime, for me, is all about eggnog—so needless to say, these are a staple in our house at this time of year.
I hope they become one of your family's Christmas traditions too. They make a quick breakfast or a healthy snack. I make them so often, I can do it with my eyes closed! I even sometimes prep the dry and wet ingredients the night before…stir them together in the morning and pop them in the oven to bake while I'm showering. Easy peasy!
Ingredients:
2 1/2 c. flour
1/2 c. sugar
2 tsp. baking powder
1 tsp. baking soda
1/2 tsp. salt
1/4 tsp. cinnamon
pinch fresh ground nutmeg
1 c. fresh or frozen cranberries
2 eggs
2 1/4 c. eggnog
1 tbsp. vanilla
1/4 c. melted butter
Makes 12.
Directions: 
Preheat oven to 375 degrees F.
In a large bowl, combine the dry ingredients. In a separate bowl, beat the eggs until frothy, then add the remaining wet ingredients. Add the wet ingredients to the dry and stir just enough to moisten—too much mixing makes a tough muffin. Fill a lined muffin sheet 3/4 full in each cup (I use a large ice cream scoop), and bake for 20-25 minutes or until slightly golden.
Tip: If I happen to have crystalline sugar in the house, I'll sprinkle a bit on the of the muffins before baking. They really look quite festive that way!
This recipe is easily made gluten free by simply swapping out the flour with a gluten-free version such as Robin Hood or your favourite flour blend. You can also easily make this vegan by using an egg replacer, vegan eggnog, and vegan butter.
~
Author: Angela St. Cyr
Image: Author's own
Editor: Catherine Monkman
Copy Editor: Yoli Ramazzina
Social Editor: Lindsey Block