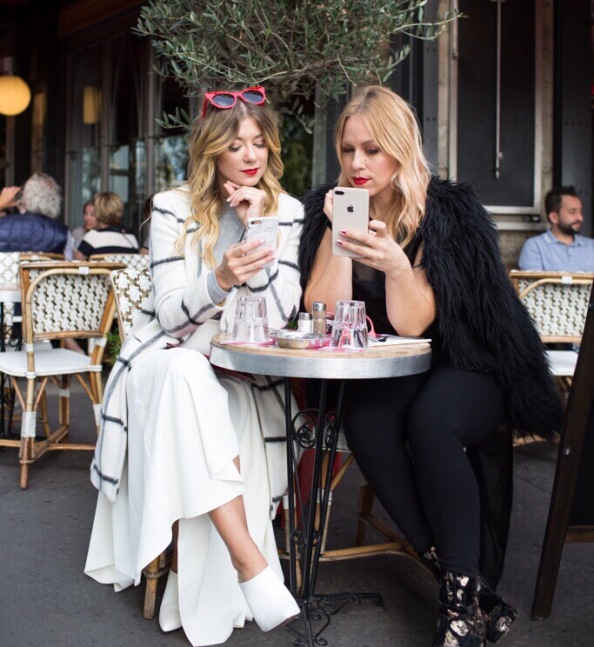 Today, as I write this post, I want to be really candid with you lovely readers.
I have been extremely busy the last few weeks and have found myself on the brink of exhaustion nearly every day. Even as I sit here writing this post, I have two loads of laundry in, am making dinner, and still have endless emails to catch up on, not to mention my additional to-do list of 30+ items.
As I have considered how I could more consistently add rest and balance into my days, I have also thought about the one area of my life that has consumed me the most…(drumroll please):
Social media.
I hate to admit it, as I am such an advocate of balance and wellness, but it is also par for the course—being a social media influencer and expert for both of my full time jobs. All that to say, I was very intrigued by how much time we spend as a culture on social media and I read up on some pretty eye opening statistics. See below and be prepared to gasp:
>> An average of two hours a day is spent on social media, which translates to five years and four months over a lifetime.
>> Thirty percent of time online is now spent on social media.
>> Time spent on social media daily outweighs eating, grooming, and socializing (approximately three years and five months).
Confession time: I probably, seriously, almost positively spend two hours a day on social media. And that is cray cray. I am not saying I am proud of this. Rather, I am saying this because I want you loves to know, I do not have it all together, but I have learned a lot in the process of seeking balance in a socially driven culture.
In fact, I am currently living by one of my key tips listed below and being real with you. Truth be told, I am still working on finding the perfect balance of social media in my life and am proactively seeking ways to find rest while also being a social media expert at the same time.
Many of us utilize social media for pleasure: to peek at what our friends are up to, to find inspiration, to stay up to date on the latest trends, to discover news, or for entertainment. And we might still find ourselves wanting to keep our accounts updated because that's what all the "cool kids" are doing these days. Though you may claim not to care about what anyone thinks of your posts, because of the universal nature of social media today, many of us pause before we even post a photo for the world to see.
On the other side of the coin, there are many of us who also use social media as a means for business (like me). In this capacity, social media is a tool used as a way to promote a business—either our own or a brand we represent. Social media is a direct line to our source of income, in which case, it does require time and effort.
Whether we're using it for personal means or business gain, the moral of the story is we spend a heck of a lot of time on social media and thinking about how to curate our personal accounts.
So alas, how does one optimize and find balance on social media?
I have included some of my top tips below that will help you to foster a "realer than real" social media account, that will save you time and effort, and in the end, add some years back to your life!
1. Pre-plan.
This one is a life-saver. Seriously, plan out your posts in advance. If you haven't figure it out yet, there are ways to actually plan out your entire social media feeds and it. is. glorious. These planning apps help to curate color flow, variety of imagery, add captions, and even set reminders for when to post. You can often plan one to two weeks out which is amazing. My current favorite pre-plan app is Unum, but there are a slew out there for your social media optimization needs.
2. Quality over quantity.
Yes, the algorithm on Instagram is a real thing and it is out to destroy all of our lives…gah! Okay, that is a touch too dramatic, but it is truly frustrating. However, I am here to burst your algorithm bubble and let you know that it is okay to take time to make sure your content is quality versus rushing to get a post up just because you need to be consistent with your posting. If that means you have to wait another day or two to post the right photo, so be it! It is always better in my opinion to take your time to post quality, real, authentic content.
Similarly, I urge you to think about the quality of the photo you are posting on social media. Indeed we don't all have personal photographers following us around, but the quality of images you can take with an iPhone these days is quite amazing! Think about some key basics: lighting, composition, angles, and tonality. You can truly change the quality of your imagery on social media by just adding a few seconds of more effort each time as you take a photo. I promise, your feed will thank you later (and so will your followers).
3. Engage.
Engagement is important, but what is more important is actually enjoying engaging with your followers! I find that setting a specific time to answer messages and comments helps me to enjoy interacting with the community I am so thankful for. Set a specified block of time each day for engagement instead of doing it sporadically throughout the day. You will find yourself much more productive, and enjoying the process a lot more…I promise!
4. #Realtalk.
Oh, this one is really important. In a nutshell: always be authentic and real with yourself. If you are having a bad day, do not post a photo of you smiling with the caption "this is the best day everrrrr" [insert a gazillion happy emoticons here]. That is, unless you really do feel amazing despite the chaos. The point being, if you are zonked out of your mind and can barely find time to eat three meals a day, don't drop everything to post on social media. Feed yourself! If you are having an emotional breakdown, it is okay to take the night off. Take a personal night, sans your phone!
I used to get "social media anxiety" when it came to posting or not posting enough. There is a joke bloggers have that whatever you do, you "cannot miss your posting window." While there is truth to posting at key hours for optimization, I have learned that forcing the post does not benefit anyone. Quick PSA: No one is dying if you don't post on social media today. You are just as loved and cared for if the post goes live a day late.
5. Boundaries.
Yes, indeed—one of the only ways we can find true balance in social media is creating strict boundaries for ourselves. So what does that mean? For me, it means being my own parent. Set rules and have others keep you accountable. Some of your rules may look like the following:
>> Put your phone on airplane mode at night to avoid temptation.
>> Delete your social media apps on the days you want a true break—it may sound dramatic, but it is simple to re-download them.
>> Plan a social media vacation—and like a normal vacation, get excited and enjoy it! (And maybe have a glass of wine or two in the process.)
>> Do not, I repeat, do not get on social media when you are hanging out with friends. Be present with the people you love. Nothing is more important than staying present and in the moment with true everyday life.
Okay readers, I hope all these crazy statistics have stopped you for a moment and made you question just how much of your life you are spending on social media, and how much time you could get back if you completed just a few small things to help optimize and balance your life with social media.
~
Author: Kait Warman
Image: Author's Own
Editor: Catherine Monkman
Copy Editor: Travis May
Social Editor: Emily Bartran