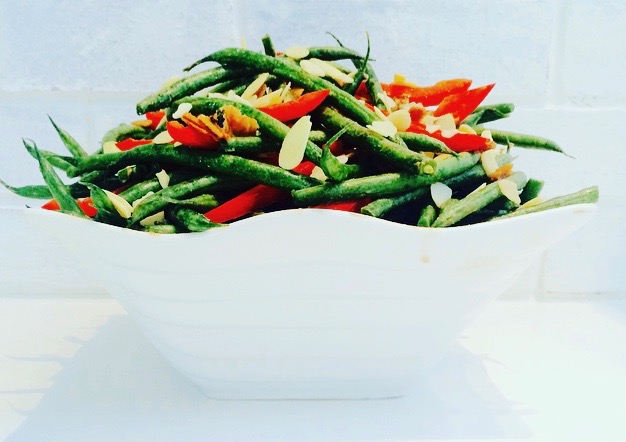 This is actually more of a technique than a recipe.
I won't provide exact quantities for this because that will depend how many people you're feeding—and really, the quantities don't matter. This technique will guarantee bright, crisp, green beans every time without the need for blanching. Plus, you have the added bonus of being able to make them way ahead of time so you have one less thing to fuss with last minute when entertaining a large group of people.
All you need is:
green beans, trimmed and washed
red pepper, cut into slivers
slivered almonds
garlic cloves (crushed)
butter
salt to taste
I simply melt the butter and toast the almonds at the same time in a pan on medium heat. Once the almonds look slightly browned, turn off the heat and toss in the garlic. Give it a little stir—this will mellow the taste of the garlic without the risk of burning it.
Now for my little trick: with the heat still off, add in your green beans, red peppers, and salt, and toss until the green beans are well-coated with the warm, melted butter. Cover and let sit until you are ready to serve. As the butter cools, it seems to seal out any moisture from penetrating the bean, ensuring it stays ridiculously crisp. I happened upon this purely by chance but it works every time!
Just before serving, turn on the heat with the lid still on and allow them to cook just long enough until they are warmed through…giving them a toss a couple of times. There you have it: crisp green beans without all the fuss. Enjoy!
Tip: If you are serving these with beef as a main course and are a fan of blue cheese, I highly recommend crumbling some cambazola cheese on top before serving. It's an unbelievably delicious combination! On the other hand, it would also make a flavourful vegetarian main dish served with just the cheese. And, this is easily made vegan by skipping the cheese and swapping the butter with a vegan butter, such as Earth Balance.
~
Author: Angela St. Cyr
Image: Author's Own
Editor: Catherine Monkman
Copy Editor: Nicole Cameron
Social Editor: Nicole Cameron