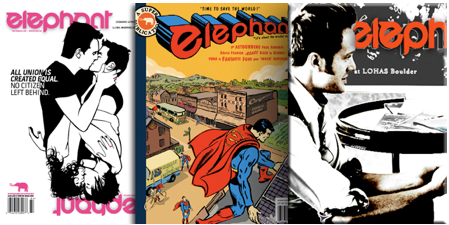 Folks ask "why are you named Elephant?," all the time.
We've been around for nearly (sweet) 16 years, now—first as a magazine, now as a site with millions of monthly readers. And they still ask. I say, well, everyone loves elephants, first of all. They're matriarchal. They're deeply feeling, they mourn their dead. They're vegan. And because they're so big, they're vulnerable to man's (lack of) relationship to Nature.
They're sacred in the Buddhist tradition that I was brought up in, as well as in Hinduism. They're a living symbol of all that is right, and imperiled, about this wonderful world of ours.
This summer, Elephant turns 16. That's a long time, in human years. We've already gone through two revolutions—a national print magazine (buy a vintage copy here, most of the interviews with Alice Walker, Paul Hawken, Deepak Chopra, Michael Pollan and others are timeless), now a site with 5 million Facebook fans on 60 pages, an award-winning twitter feed, 700K on four accounts on Instagram. In another 20 years, who knows what we'll be.
But we'll be around.
Why? Because we're not about selling out. We're about independent journalism, and quality creative writing that can and must be of benefit to a world besieged by confusion and greed. Join us. Help out. Jump in. Write an article. Subscribe and help pay our editors and best writers to do good work for you. Join our popular Academy, and invest in yourself, and find a loving fun community that will help you to find your path.
My editor's letters will resume on a daily basis, now. Look for 'em at the bottom of our newsletter, which is our favorite thing, because unlike all those twitter and facebook and instagram fans, we actually can connect directly with you there and on our site (no algorithm involved—you decide to open our newsletter, or not, based on whether we're offering genuinely helpful inspiration or not).
With love and appreciation from all of us at Elephant (34 staff in 10 countries)—
Yours in the Vision of Enlightened Society,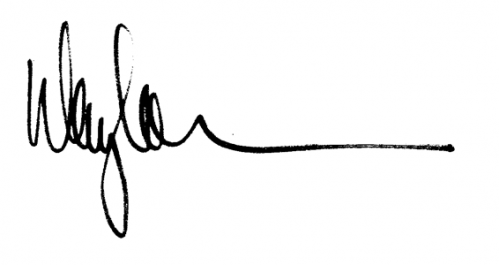 Waylon H. Lewis
Editor-in-Chief