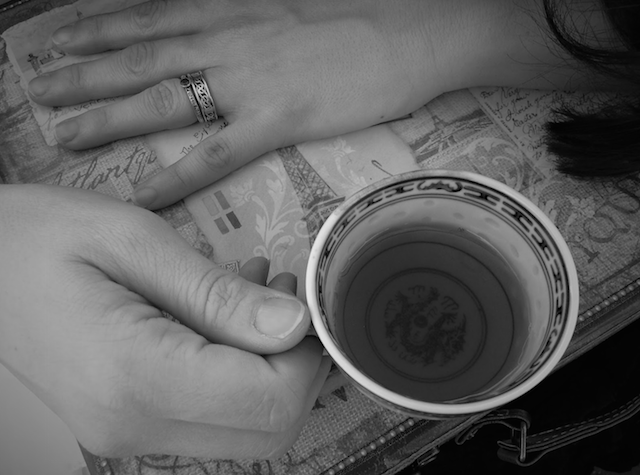 I am not the average tea drinker.
Although I do enjoy a cup of Kagoshima green in the morning, or perhaps a chamomile tisane (herbal blend) at night, tea is more to me than just leaves in water to enjoy on a cold day or night.
To sip our cup of tea in silence is to breathe. To smell the tea allows us to appreciate the process of how the tea is brought to us. Every sip is a chance to strip away all of the unnecessary noise and junk, and instead focus on what matters most to us. Whenever I enjoy a cup of tea, I enjoy that moment.
It is of the here and now, that I celebrate with my tea.
Several years ago, I attended my first Japanese tea ceremony and it changed my life. Every move and every utensil had meaning. It took the act of drinking tea to a much higher level, yet I knew that there was more to discover.
Chado was the answer, translated as The Way of Tea. In the study of Chado, we learn to incorporate tea into our lives, giving us time to pause and reflect as we sip on our cup, no matter the time of day.
To be part of the here and now sounds easy, but we all know it's not.
The world is filled with unnecessary drama, hatred, violence, and injustice. Sometimes, it gets to be too much and most of us would much rather hide under a blanket and shut it all out. And yet, within the middle of such darkness, there are many lights—spending time with a friend, going for long walks in a forest, reading a good book, helping others in need, and taking care of ourselves.
Enjoying a cup of tea with friends or by ourselves can do wonders.
Something so simple can create so much good. Tea allows us to be in that one moment, that one time, for however long we need. It helps with our focus and intent, and gives us a gentle push toward better choices. And tea gives us the time to unwind and regroup.
Tea is becoming more and more popular as a beverage of choice and it is no surprise, for it offers so much for those willing to receive.
Tea is the second most consumed beverage on the planet, right under water. From the malty and earthy tastes of an assam (black) tea, to the vegetal and springlike green teas, to a light and delicate white tea like bai mu dan, there are many forms of tea to be enjoyed. Even tisanes are good to enjoy all year long.
Not only is tea high in antioxidants and other good things for our bodies, but it is also called the Calm Focus. Although it can give us a lovely caffeine jolt like coffee, it provides our bodies with an even keel of calm and focus that lasts.
Tea is also one of the many ways to help with problems of the mind and soul.
There are many people who suffer from depression and anxiety and they maintain and thrive using various methods such as meditation, exercising, and talking with a therapist. However, tea is being used as a way to assist as well. Slow down. Breathe. Take one day at a time.
To enjoy a cup of tea is to soothe and nourish the soul.
Join me. Take up a cup, make tea, and breathe.
~
Author: Kimberly Richardson
Image: Author's own
Editor: Kenni Linden
Copy Editor: Travis May
Social Editor: Page One transition protocol