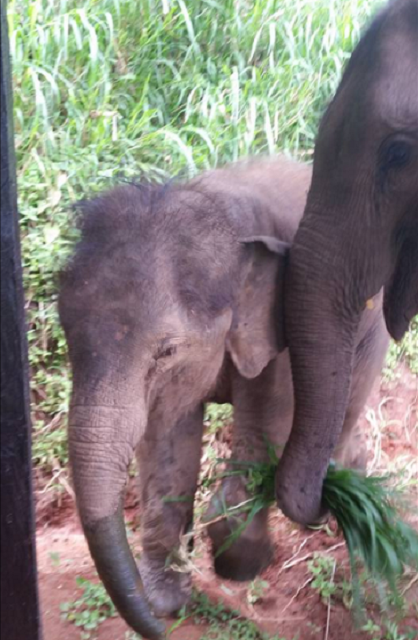 Sometimes we receive news that rips our heart out and leaves us questioning our faith in humanity.
Young Zuki, an elephant I spent a week with shortly after his rescue, died recently.
He was only four years old.
My first volunteer project, out of the seven I have participated in, was called Journey to Freedom. The goal was to rescue elephants from tourist camps and return them to the jungle.
Weeks before I left, a baby elephant had just been rescued, unfortunately though, not before he went through the spirit crushing method called phajaan.
Phajaan is when elephants are deprived of food and water, chained for hours at a time, and beaten until they are submissive and their will to fight is no more.
The day of his rescue, he was reunited with his mother and brother. During what should have been a joyous celebration, we realized that Zuki was not eating well and was unable to walk steadily.
His light of life was gone.
The first time I saw Zuki and looked into his eyes, I saw the horror and trauma he had endured—bruises still healing, marks from hooks still traced his body.
He was so tiny and, although curious of us, he never ventured far from his dear mother's side.
He loved treats, especially bananas. I'll never forget how he'd head-butt me to ask for more.
This poor, sweet young one endured the horror many are working to prevent. Sanctuaries are tirelessly hoping to bring realization and change to the elephant tourism business. The hope is that, with awareness, elephant owners will no longer feel the need to "train" elephants to do tricks—that instead of breaking them, they will allow elephants to just be elephants.
Hearing about the death of any elephant not only breaks my heart, but it pisses me off.
I can't understand how they are held in the highest regards, seen as a national symbol of pride in some countries, and yet are used, beaten, and forced to work until they die.
Zuki's death is the passing of a friend. He never fully healed from his trauma, like many baby elephants who don't even survive the phajaan.
My hope is that in sharing Zuki's story I can bring awareness and change the mindset of those who dream of riding an elephant. Perhaps they are booking a trip with visions of seeing the jungle from high up on the back of a majestic elephant.
Every elephant that lives at one of these camps has gone through the same horror as Zuki—only they survived.
And the abuse never ends. These animals are forced to work long hours under the hot sun. There is no such thing as a holiday for them.
My heart will forever carry each elephant I met during this incredible journey, especially Zuki, who cautiously allowed me to stroke his delicate trunk while his mama watched, ever so protectively, beside him.
I hope that sharing my experience will help others like Zuki. Maybe the day is soon near when elephants will no longer be used, but loved—and not for a moment, but for always.
Rest in peace dear Zuki.
~
Relephant:
~
Author: Tiffany Parker
Image: Author's own
Editor: Nicole Cameron
Copy Editor: Travis May