YOGA The Secret of Life explores the personal experiences of 108 of today's leading practitioners and how this ancient practice has transformed their mind, body, and spirit.
What began as a visual exploration of the physical practice of yoga unexpectedly transformed into an enlightening odyssey that revealed answers to life's mystifying questions:
Why are we here? What is our ultimate purpose on this planet?
It was an honor to be in the presence of so many great teachers. Teachers like Radhanath Swami, Sharon Gannon, David Life, Sri Dharma Mittra, Kurmukh Kaur Khalsa, Shiva Rea, Yogarupa Rod Stryker, Jai Uttal, Rodney Yee, Seane Corn, Elena Brower, Tao Porchon-Lynch, and more.
My time with them was precious. It was illuminating to hear them shed light on what yoga means to them. They shared personal, intimate stories. Stories of deep-rooted struggles. Stories about love and God. Stories about the life-changing power of yoga.
The inspiration for this book came from watching yogis practice extraordinary yoga postures. It was a powerful display of what the human body is capable of. I saw this physical expression as a form of art, and it inspired me to photograph the beauty, strength, and grace of the human form. But this visual study of asana quickly transcended into the spiritual realm of the practice as many of the yogis chose to emphasize meditation, devotion, and their connection to the Divine.
Seeking to capture an ethereal quality in the photographs, the wet-collodion process, a photographic technique dating back to the 1850s, provided the ideal medium to narrate these personal expressions.
The collodion process takes us to another place and time. Glass plates are hand-coated to produce one of a kind "ambrotype" images. As a manual art, this labor-intensive craft requires each step be performed by hand. During the fragile journey, it is essential that the glass plate be sensitized, exposed, developed, and fixed while remaining wet. Emerging as a positive image on glass, an ambrotype is miraculously brought to light by a divine force.
With this type of photography, the goal is not to freeze time. Instead, I am using time as a medium to record the energy of light, the flow of time, and the rhythm of nature. When the light-sensitive chemicals absorb the sun's ultraviolet rays, we enter a mysterious world where art and alchemy meet. It is a place where a known and unknown world come together.
This union unveils the synergy between the yogi, the photographer, and the flow of the universe. As the exchange of energy is absorbed, it creates a fleeting moment in time, never to exist again. "Ambrotype," from ancient Greek, means "immortal"—capturing an impression for eternity, its essence revealing the spirit of the soul.
I see these photographs as meditations, as revelations of light.
~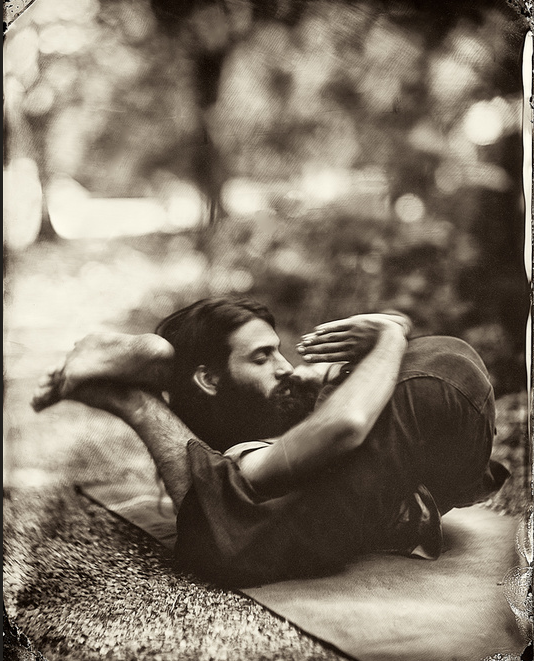 Zach Jenkins
~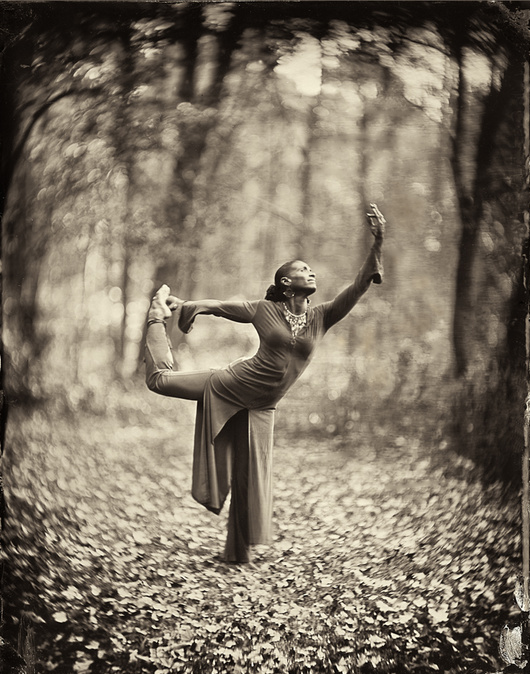 Leslie Salmon Jones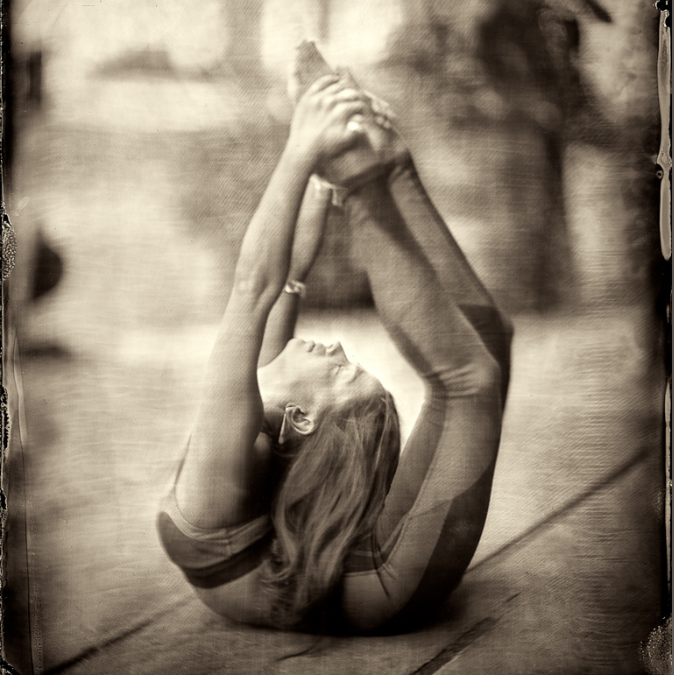 Talia Sutra
~