Think of air travel with a toddler as one big Tetris game.
If all the pieces connect in just the right way, the rush of getting to the destination is unbeatable.
I want my daughter to grow and experience the planet as I have—one big, interconnected place. But first, I have to get my child, our necessary items, and myself across the world.
It can be daunting to set off into the world alone with a small child. The hassles often include hunger, confusion, and temper tantrums on airplane/airport floors—both my daughter and I have been guilty of this.
The worst part for me has been waiting hours to pee. Many times, I have waited until a stranger or flight attendant is kind enough to keep an eye on my daughter while I run, as fast as I can, into a cramped airplane bathroom.
The kindest strangers I have come across when traveling alone with my daughter have offered to hold her while I go to the bathroom or even nap. Bless these kind strangers!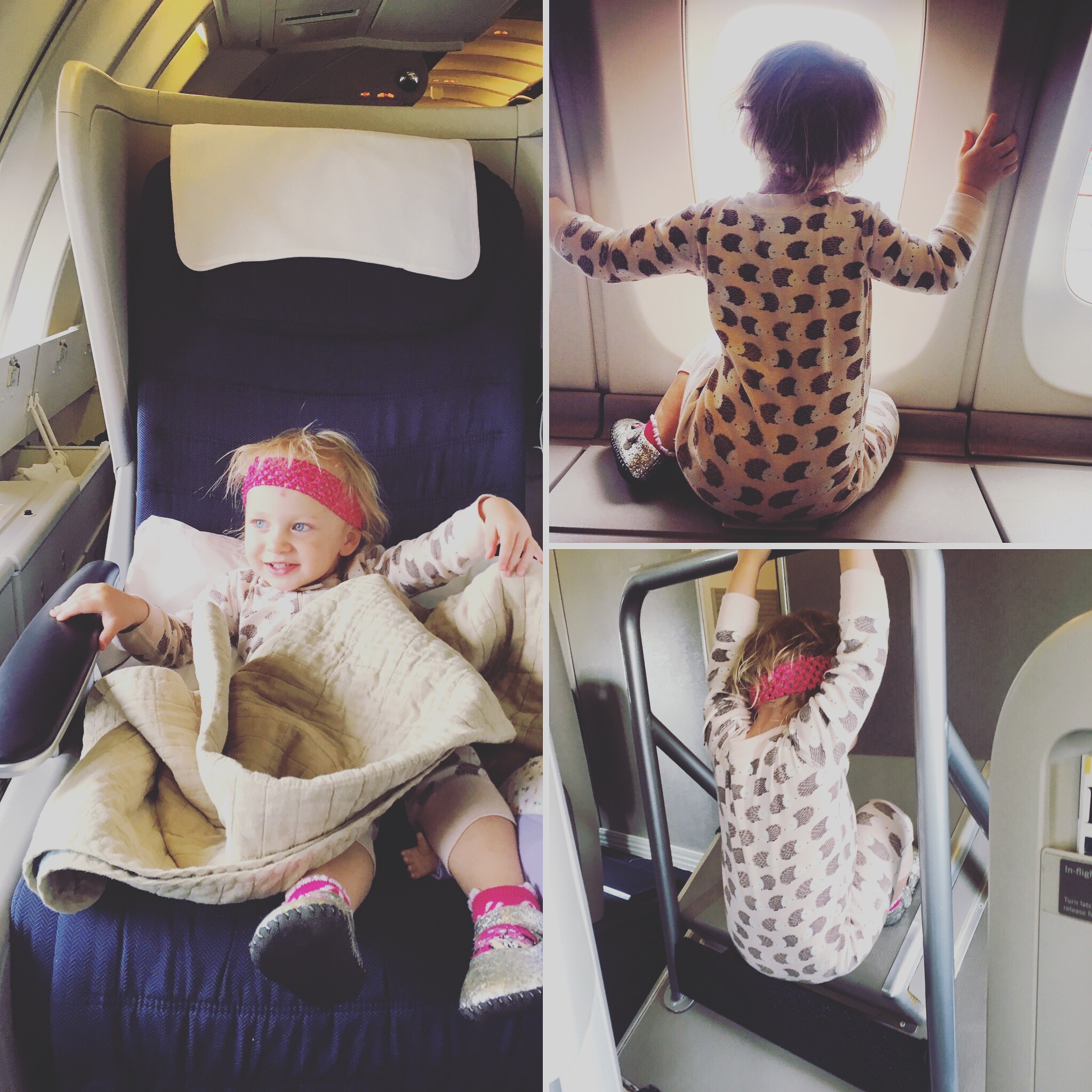 I have come up with seven toddler air travel hacks:
1. Bring more diapers than you can ever imagine needing.
If everyone around you is glaring at you for bringing a small germ-carrying child onto the airplane, including the flight attendant (this only ever happens on United States domestic flights), you aren't going to be able to get up, even if it is a six-hour flight. Desperate times call for desperate measures.
After one particularly bad overnight flight, I briefly considered wearing Depends when traveling. Another time when flying from Nairobi to Tel Aviv, my daughter got traveler's sickness, and the nine diapers I had brought in the carry-on were gone too fast—I was stuck begging diapers off of other parents.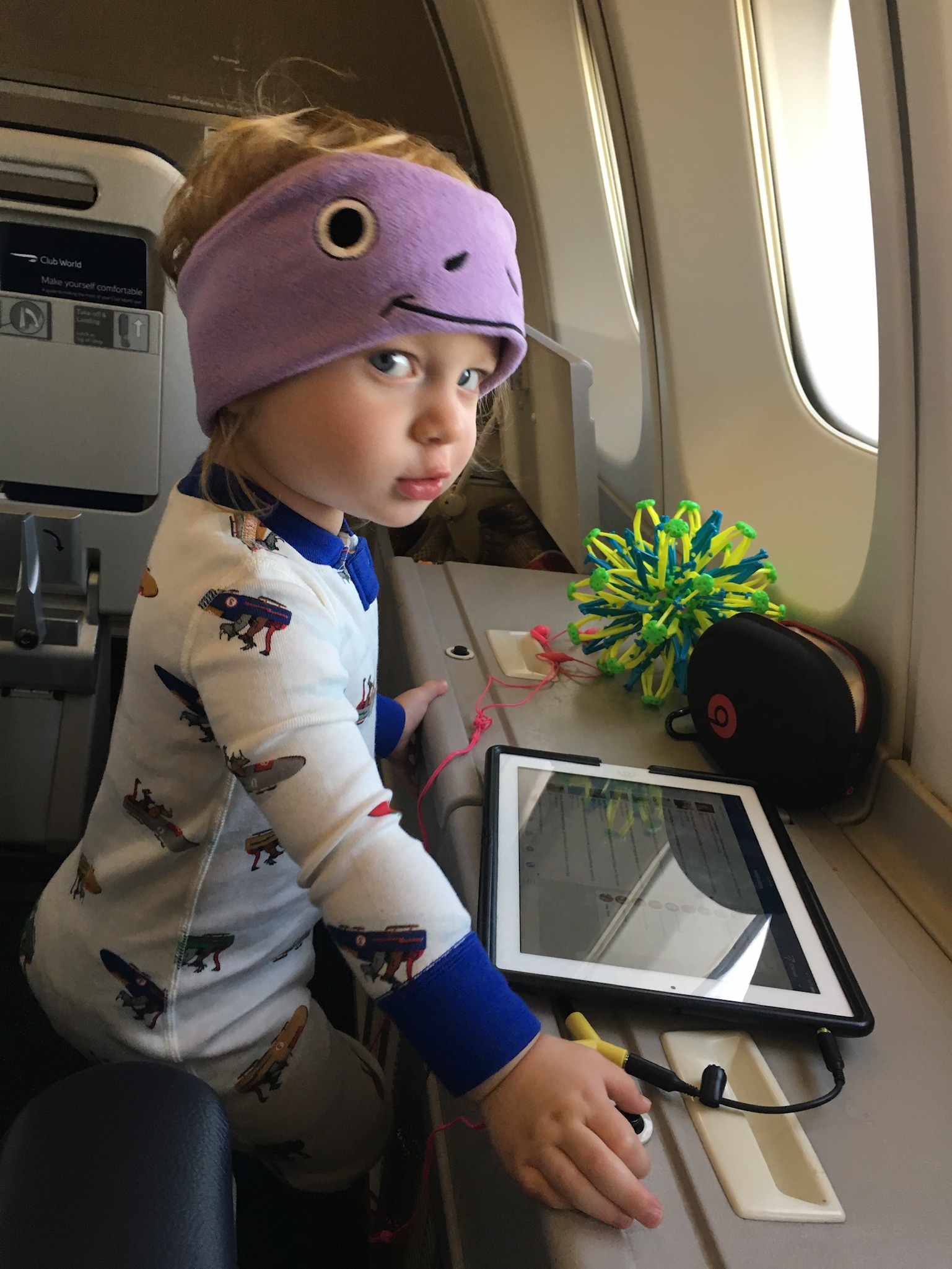 2. Never try to bring your child's car seat on the plane.
It is a hassle for you, the flight attendant, and the people around you. CARES makes the only FAA approved harness. It is small and can be put away when your child inevitability wants to lay their head in your lap. Full disclosure, I have never used a CARES harness, but if I were worried about safety on the aircraft I would purchase this.
3. Travel light, including your car seat.
If your child is under three years and 30 pounds, I recommend buying a cheap, lightweight car seat and a car seat bag with backpack straps for checking it in. When you do check a car seat, you can always stuff light items like diapers into the car seat bag to save space in your other bags.
If your child is over three and 30 pounds, get the safety certified Ridesafer travel car seat vest. Bonus: it is safer than the travel boosters, fits for a long time, and packs into your carry-on, therefore eliminating the risk of being stuck at the airport because of the airline losing your car seat.
Also, putting the vest on before naps at the airport makes going from plane to car easier. We did get into a car accident in Japan while my daughter was wearing the Ridesafer vest, and it kept her safe.
4. Get a cabin-approved stroller and add a solid stroller hook on the back.
Nothing disturbs naps more than waiting at the gate for a gate-checked stroller. These strollers are around five pounds and fold up slightly bigger than a shoebox. There are only three different brands of cabin-approved strollers: the YoYo, the GB Pockit, and the Zoe.
If I find myself checking more than one bag, I will place my daughter into my toddler/child fabric carrier to get to where the bag check is. Then, I have all my hands on deck for luggage. When she is in the carrier, I attach the stroller to the outside of my checked bag using a carabiner. Then, when I get to the bag check counter, I stuff the carrier into a checked bag, and move my daughter to the stroller. The carrier is also great for hikes at your destination.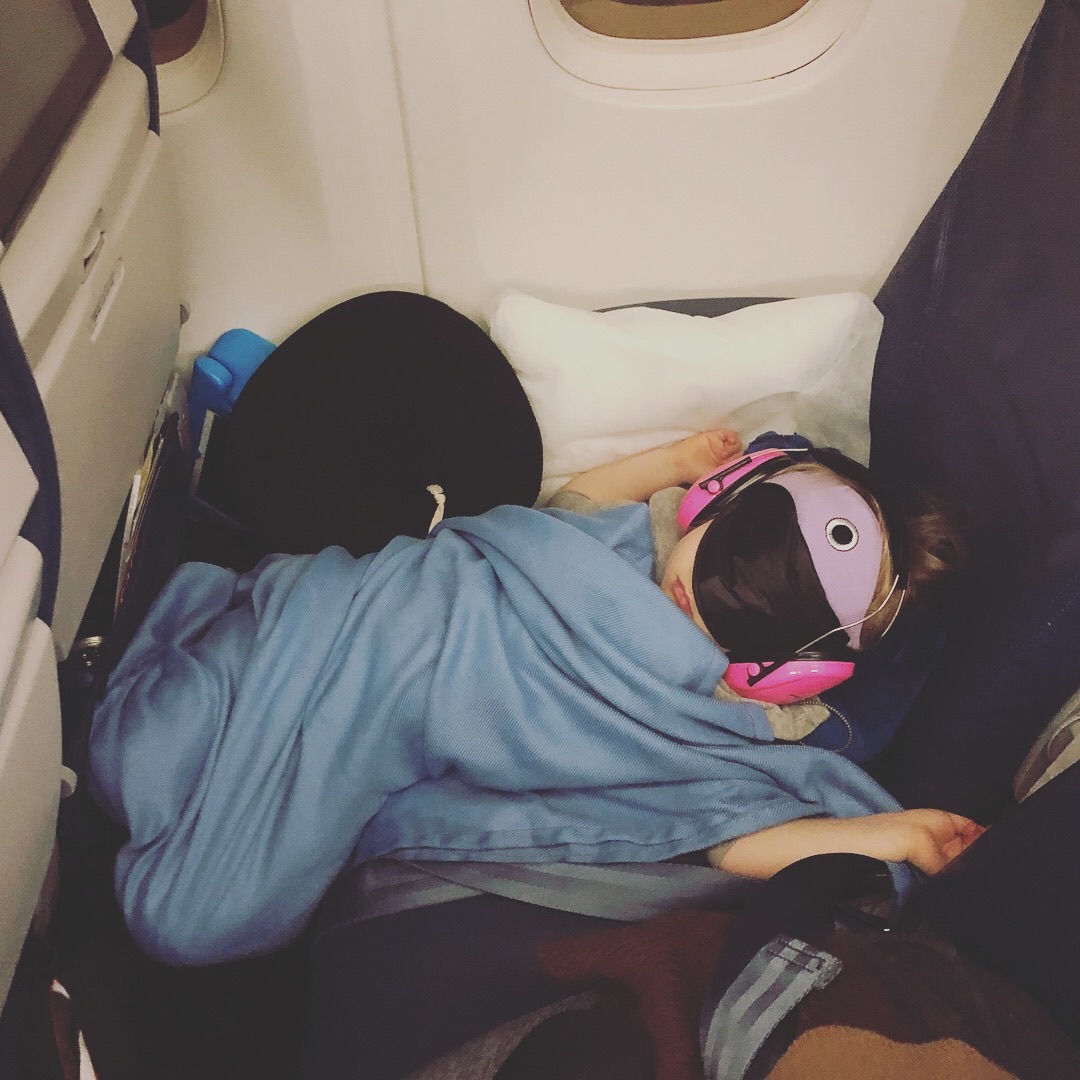 5. Bring along earmuffs and an eye mask.
I know babies, toddlers, and kids will refuse to wear earmuffs or to cover their eyes. However, when they are sleeping, you can gently put earmuffs and eye masks onto your child.
These items protect their hearing, ensure longer naps, and they help with jet lag too. It is also great to have the earmuffs just in case you end up at a concert or in a loud theater.
6. Take help from strangers.
One time, when we landed at Heathrow, we had a long walk for a terminal change. People bombarded me with their offers to help, and being in my American, I-can-do-everything-myself mindset at first, I was offended by these strange offers to help.
The nerve these kind Europeans had offering to help me!
But then I finally accepted help from a capable person, and I realized that it was actually helpful—mind blown. Again, I repeat, take help from strangers when you need it!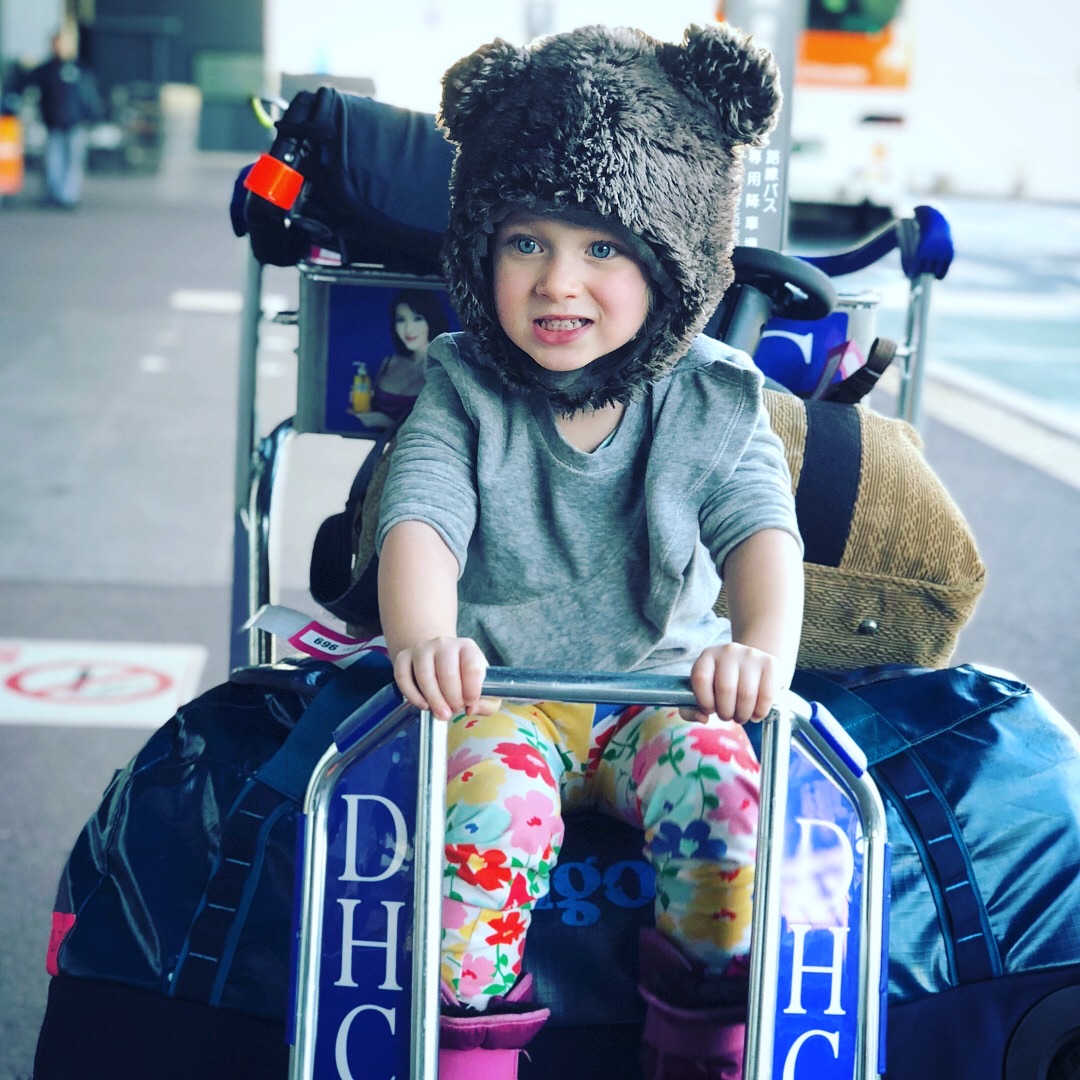 7. Take deep breaths and practice kindness.
Remember, no matter how inconvenient a lost bag or delayed flight is, the airline employees do not deserve to be abused with words or actions. If someone is unkind to you, take a deep breath, and another, and do not engage.
Saying please, thank-you, and looking people in the eye will get you much further in solving problems. This doesn't ensure that they will be kind back, but it helps your chances.
Despite my best efforts, I have broken down in tears in the middle of unfamiliar countries and airports, while my daughter's big eyes stare at me, confounded. But I have also connected with strangers inside airports worldwide through the universal language of toddler giggles.
I have experienced genuine kindness from strangers despite language and cultural barriers.
Best of all, every time I have set out for a far away destination along with my child, we have made it to the destination, and each time we arrive it feels like a win!