View this post on Instagram
Humans get a bad rap these days for how we're impacting the planet.
Deforestation, plastic islands floating in the Pacific, global climate change caused by mass burning of fossil fuels, etcetera, etcetera, etcetera. You might be left feeling like the best we can do is minimize our footprint, or take a "least damage" approach when making lifestyle decisions.
But there's growing evidence that humans, through intelligent design, can actually restore ecosystems while yielding essential products for human survival.
Behold the food forest.
Food forests are productive forest ecosystems that mimic natural forests in diversity and resilience, but emphasize species useful to humans. You can think of them as edible gardens constructed out of perennial woody crops (fruit and nut trees, berry bushes, fruiting vines) in the form of a forest.
Nature favors this perennial woody model over annuals for several reasons: deeper root systems to withstand droughts, minimal soil disturbance, increasing supply of organic matter to soil through leaf drop, and more efficient capture of sunlight by utilizing vertical space.
These food forests are gaining attention in the regenerative agriculture movement. For example, Mark Shepard has a 103-acre farm in southwest Wisconsin based on a concept he coined "Restoration Agriculture." In order to determine which productive species would thrive on his farm, he first studied nearby ditches. What is nature growing where water is abundant, without any help from humans?
Mark discovered a predominance of oak and hazelnut in the ditches. Bingo—hazelnut is already edible! But what about oak? While some varieties of oak are edible, it's not considered a high-quality food crop for humans. At the genus level, the mighty oak has a relative that's much more viable for agricultural purposes: the chestnut!
So, Mark Shepard set out to create a chestnut/hazelnut savanna using nature as the model.
Here are some simple steps you can follow to grow your own food forest and play your role in regenerating the planet:
~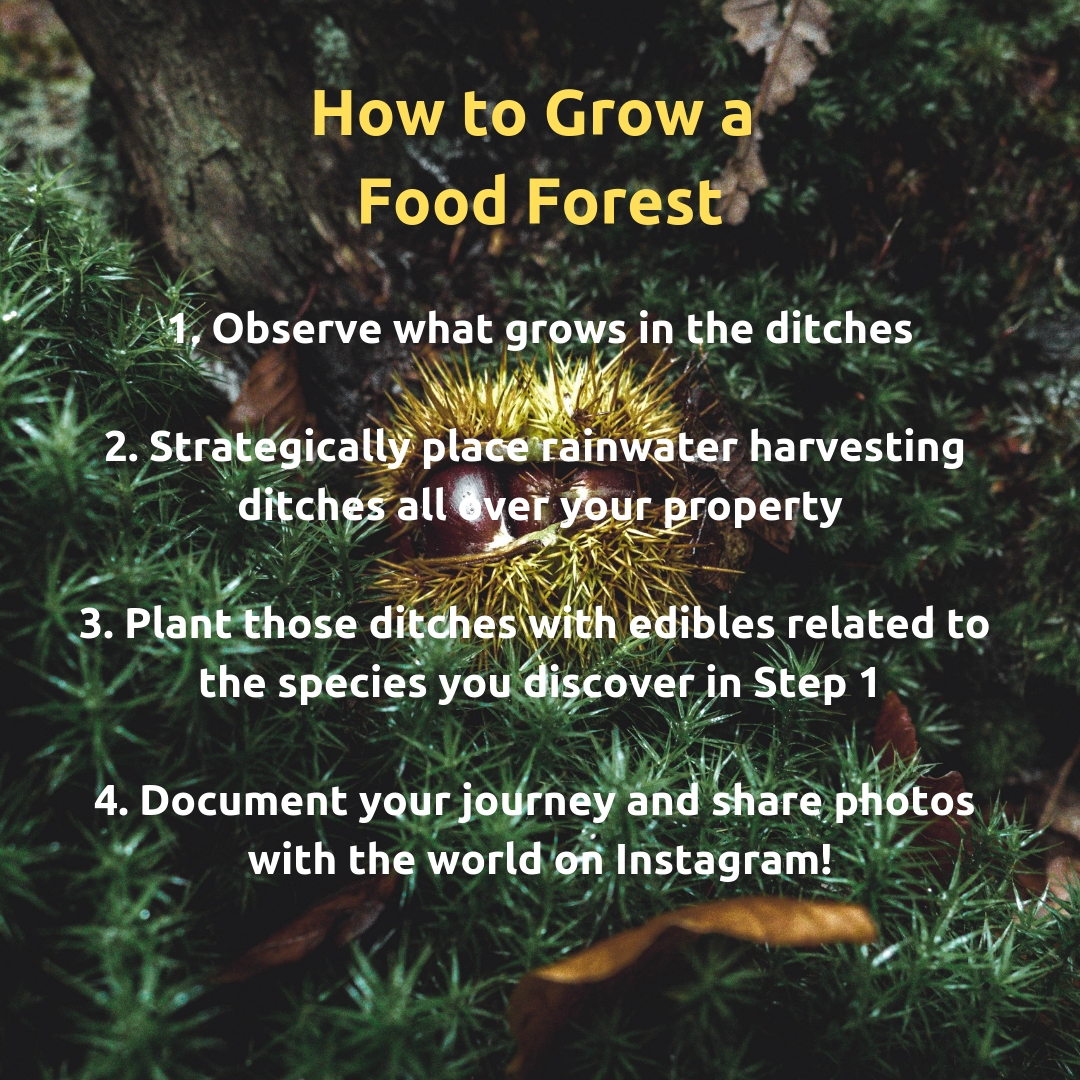 ~