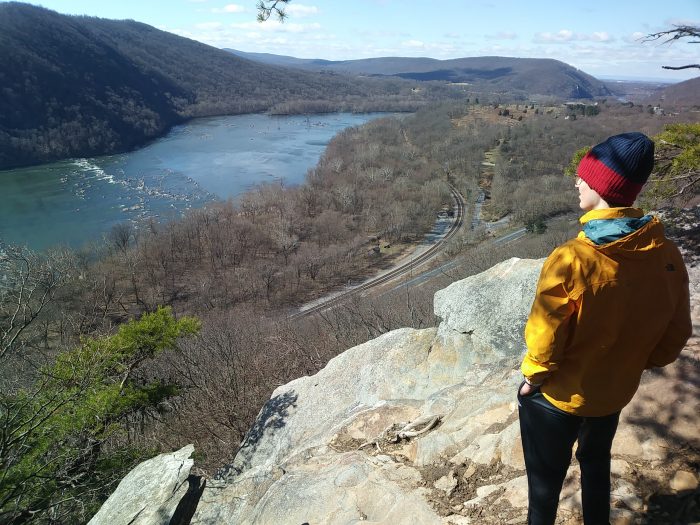 If you are lucky enough to live within a couple hours' drive of the Appalachian Trail (or really any hiking destination), get your ass in the car.
Do not pass Go. Do not collect $200.
More and more schools and businesses are closing their doors each day; you know you have some extra time on your raw, triple-washed, over-sanitized hands.
This past weekend, my son and I went for a 15-mile hike on the Appalachian Trail outside of Harpers Ferry, West Virginia. Despite the sunny, mild weather and flawless bright blue sky, the trail was almost completely deserted. Where the heck was everyone?
There are at least three compelling reasons why each of us should be dusting off our backpacks and downloading the AllTrails app:
Reason #1: Duh. The coronavirus. Experts are telling folks to stay away from crowded or enclosed spaces, to keep six feet of distance between you and anyone who may be infected, and to avoid touching doorknobs and sink handles with your hands. Well, hiking solves all of those problems. There's no one there (Bueller? Bueller?), no doors to open or toilets to flush, and zero enclosed spaces. As I walked along—indulging in deep, invigorating breaths—I noticed a space, a new lightness in the place where I'd unwittingly been shouldering the fear of contamination. It's just so freakin' clean out there on the trail.
Reason #2: It's eco-friendly. As Elephant Journal editor in chief, Waylon Lewis has been pointing out, the apprehension around this virus is creating its own environmental emergency as plastic gloves, disinfectants, and take-out food containers begin to flood the market. The hikers' "leave no trace" philosophy is a welcome antidote to all of the unnecessary production/consumption of products that may or may not (and let's be honest, probably not) protect us, and that are absolutely laying waste to our planet. When you're carrying everything on your back, and can't leave any trash behind, you're forced to consider how not to create trash in the first place. It's a worthwhile lesson to take from this dumpster fire of a pandemic. 
Reason #3: Hiking is an inherently mindful activity. These days, as professional sports teams, universities, celebrities, large gatherings, and goodness-knows-what-all are dropping like flies, it's restorative to take a break from speculating on the potential ripple effects of this virus.
Will my kids' school close?
Is my 75-year-old mother healthy?
Did that client look like he might've had a fever?
As my son and I carefully picked our way over rocks and steep switchbacks, there wasn't a lot of brain space left over for fretting. I was focused on keeping up with my 16-year-old, not twisting my ankle, and taking in the magnificent view. How refreshing to simply exist in one of the most beautiful places in the world. To walk the earth with no cement or linoleum between you and the ground. To be present in a moment that is perfect in its germ-free simplicity.  
Everyone is wondering what in the world they can do about the Coronavirus, and to be honest there's an awful lot that's out of our control. Routines will be disrupted and a new normal will begin to reveal itself to each of us.
But if you're wondering what to do right now that's free and accessible to most, I think the answer is pretty simple. (You know what I'm going to say.)
Take a hike.
~