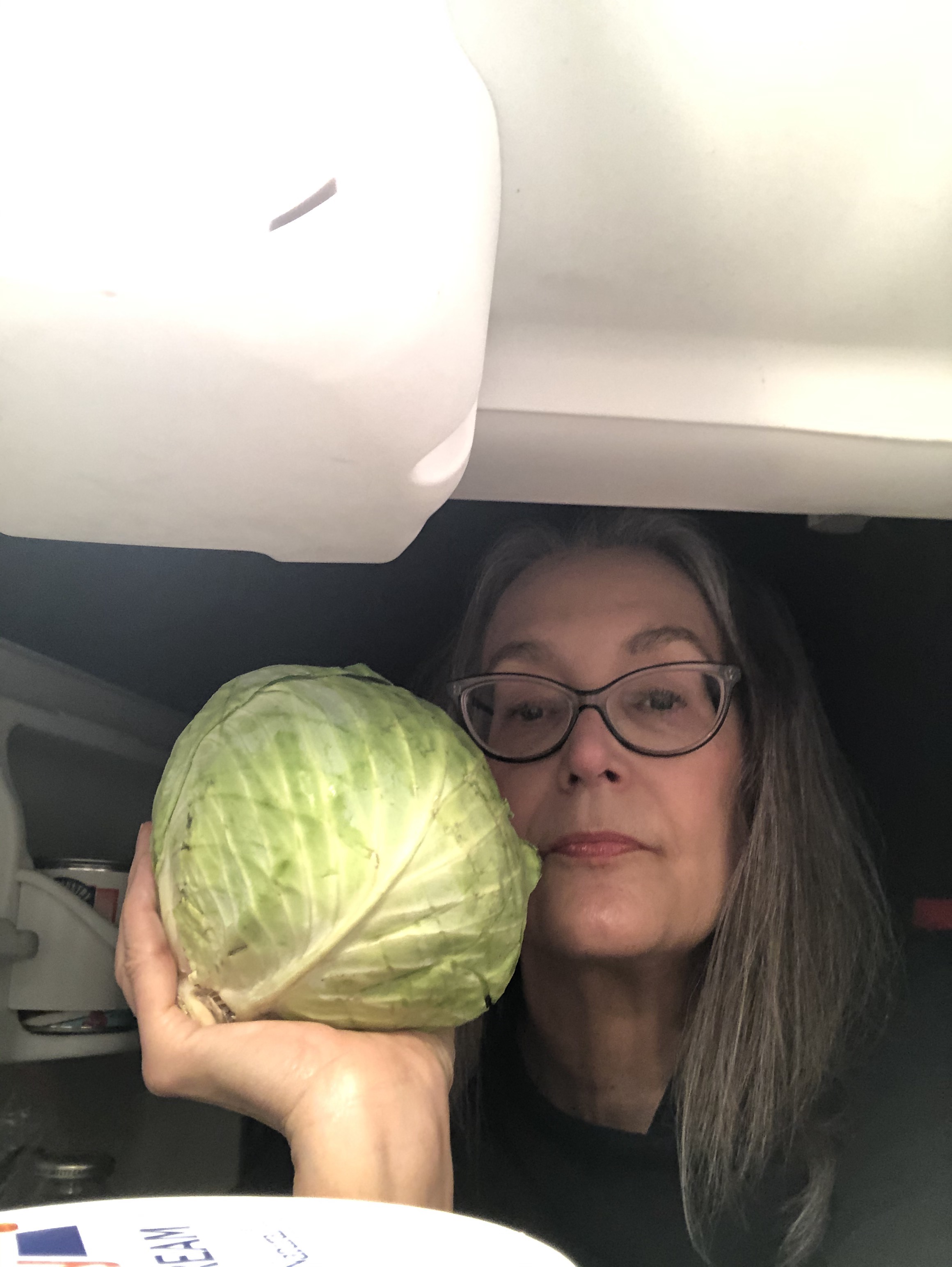 Elephant's Continually-updating Coronavirus Diary. ~ Waylon
~
Cabbage is not a sexy vegetable, but I always have one hidden discreetly in the back of the refrigerator.
No matter what the negative news of the day is, that cabbage stands its ground firmly in the fridge. It's not delicately decaying like lettuce or people-pleasing like potato.
Smooth and opaque, almost rubbery, and vaguely veiny, the sturdy cabbage demonstrates an utter lack of interest in making us happy.
My husband—not a fan of things cruciferous—asks, "What is that for?"
Good question. After all, I never cook the stuff. We purchase the cabbage on the premise of making corned beef, stew, or slaw, but then it rarely makes it to the table.
I didn't know before, but cabbage, it seems, is in my DNA. Turns out, keeping one has long been a tradition in my family. A while ago, my mother pointed out that I, too, was keeping the ritual alive; she and my grandmother always had a head of cabbage in their coolers. Really, it's just there for its powers of protection.
Cabbage's career started in 1939, with World War II.
My mother was nine years old. People did not feel safe or, for that matter, particularly well-fed. Food rationing kicked in in 1940, causing sugar, butter, meat, and cheese to all but disappear. My grandmother, like everyone else in the United States, fed her family with bread, potatoes, carrots, small amounts of meat, and—you guessed it—cabbage.
My grandmother's name was Honey, and she was the antithesis of a sweet, cookie-baking grandma. She smoked unfiltered Camels and fed me takeout barbecue when I visited. She was a dark-haired beauty who cared nothing for fancy clothes or parties. Business was what made her gray eyes sparkle.
Divorced in the 1930's, Honey built a successful clothing business for children, from newborn to 14 years. She raised her two children without a husband during the war, and supported her mother and dying father for years. She had her cabbage in the fridge, and she did just fine.
While my heroic cabbage always has my back, it isn't the only thing that helps me feel safe and sane in the face of pandemics, fracking, and contentious politics. I also keep champagne—as if my life is always on the brink of some huge success that deserves celebration.
Because, just as we never know what dreadful thing could happen, we also never know what amazing, wonderful thing could happen! The upside is just as possible—and just as important—as any downside.
Champagne is breathless and exciting. Cabbage is sturdy and reassuring.
At night, when I open the old Frigidaire, the cold light bounces off a host of supporting players: my husband's corn tortillas and spicy pico, my tangy pepperoncini, chow chow, and apple butter. These all live in the same neighborhood as the champagne, all certainly delicious.
But nothing has quite the gravitas of my cabbage.
The humble cabbage served as a beacon of reliable nutrition in a time of deprivation. Eventually, it became a pale green reminder of hard times survived. People couldn't wait for Hershey bars and butter. But maybe, just maybe, they still felt a little more comfortable with a cabbage on hand.
I maintain my cabbage situation with regular trips to the market, toting home a replacement whenever it turns brown or I've eaten it. Yes, I've even started cooking it recently. My favorite method is boiled with butter and caraway seed. Simple and satisfying. No need to get fancy.
To me, cabbage feels like security, safety, independence, and fortitude. I loved my funny, bold, un-fancy grandmother, and I'm glad she lived life on her own terms. I see that same resourcefulness and resilience in myself, my sisters, and my mother.
Life is full of boredom and risk, thrills and pain. Cabbage and champagne give me something to hold onto. Homely and fancy. I find a good balance of strength and optimism in the mix. Both are reliable rituals that help me feel safe in our unsafe world.
What's your most comforting ritual? What helps you tap into your inner strength?