When I was 20, I adopted Spanky.
Well, actually, my roommate and I adopted him together, but almost instantly he became mine.
It was never the plan to get a cat, but we thought it would be fun to look, and there Spanky was. He quickly became my animal soul mate and best friend. I remember driving home from class and being so excited that there was a kitty to play with when I got home.
I was always extremely protective about him. He often looked at me with indifference, but I liked working to win his affection. Our home was littered with cat toys I bought to appease him. His favorite seemed to be a catnip-stuffed beaver. He carried it around in his mouth, specifically at bedtime.
I never thought I was capable of loving something so intensely, but a piece of my heart permanently resided in him from the beginning.
A year later, my roommate and I couldn't find him. It had been hours since we had seen him, longer than a normal catnap, so we searched the entire apartment, but nothing. I was horrified to think he might have gotten out. I walked around outside, shaking a pouch of cat treats and calling out to him. I felt sick, thinking he was out there all alone and it was my fault.
I called my mom, crying, and she made plans to drive up the following morning and help me put up "Lost Cat" posters in the neighborhood. Maybe an hour or so after we hung up, my roommate felt the couch move, and out popped Spanky from a hole he had discovered. He had a sleepy face, like he had a good nap. For me, it was like waking up from a nightmare.
Oh my god, it was such a relief! Immediately, it was a funny story to tell.
When bad things happen now, a part of me is waiting for that same feeling: to wake up from the nightmare. That couch was an old secondhand find from Craigslist, and we didn't end up doing anything at all about Spanky's new favorite hidey-hole, except maybe being more cautious with our butts before plopping down too hard.
Later, when Spanky and I were both living back at my family's home after college, he had a fondness for nibbling on plants and flowers in the house. They always had to be kept on high shelves or bookcases, out of his reach. I bought him a little pot of grass made specifically for cats. He had a taste for foliage, so I thought this was perfect.
The grass was tall and fresh and was supposed to keep growing like a regenerating snack. We set it out on a shelf we had built for him by the kitchen window. But I learned that a plant lost its appeal once it was presented to him as a gift. He barely touched it.
That didn't stop me from showering him with future cat grass gifts over the next few years that he also never touched.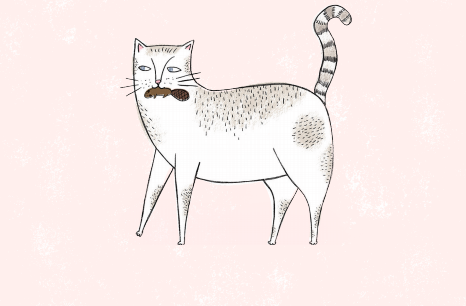 ~