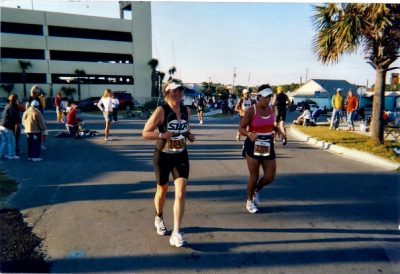 Until recently, I used to run from my demons.
These days when I run, I run toward something. It was not always that way.
While athletic as a teenager, I drifted into a life of happy hours and sedentary desk hours as a young adult. Alcohol was the magic elixir that made me happy, confident, and social. It was a liquid escape from my troubled adolescence. Life revolved around the bar and the characters that inhabited it.
Before long, I was physically and emotionally dependent on it.
I was one of the lucky ones; I found a recovery program and it stuck. It has been decades since I have consumed alcohol. When the alcohol was banished, life happened in rapid-fire sequence. Flash forward three years, from putting down the drink, and I was a young wife, nurse, and mother. Our existence was generally happy and fulfilling.
Until one day it was not.
My knees and back ached. My heart raced climbing a flight of stairs. A routine 12-hour nursing shift left me exhausted for days. At five foot eight and 240 pounds, I was becoming morbidly obese.
There is a saying that behind one addiction, there are four more hiding. Food had become my great comforter and protector. The minutiae of a suburban wife and motherhood had kept me from taking a good, long look at myself. The truth was that some health problems were inevitable unless I did something—and fast.
What happened next was nothing short of a miracle for me.
"Overweight? Couch potato? Go from zero to an Ironman," the ad said. "Tell us in an essay why we should sponsor you," it continued.
Every dream and pent up frustration about my upward spiraling weight was poured out in that essay. The year following my selection sometimes replays as if in a dream sequence in a movie. My weight as I crossed the finish line of Ironman Florida in 2006 was a healthy 140 pounds, and I felt more vibrant and alive than I had in years.
The Ironman tested every bit of tenacity in my secret self. Memories floated up from the pavement as I ran the marathon portion. The physical pain magnified the emotional pain I had buried throughout the years until I banished it into the glare of the floodlights that lined the desolate night time course, emerging clean and washed, free of the fear and doubt I had always faced. I felt bullet-proof and equipped to handle any challenge as it arose.
Cue the triumphant music and watch our female protagonist ride off into the sunset, having won the war against obesity and self-doubt.
If only it was that easy.
It was a slow slide back. Fear kept me running. My Ironman finish had cast me in the public eye. The rallying cry was "If she can do it, so can I."
I had become the unofficial brand ambassador of the underdog, the people everyone expects to fail. Four Ironman triathlons in four years. Two of them resulted in my being pulled from the course, unable to finish. One due to hypothermia; another from simply being undertrained.
The internal voice screamed, "You're a failure, a fraud. You did not deserve to be given that training. You're heavy again. You are letting down everyone who ever believed in you."
Introspection made me realize that I had replaced alcohol and food with exercise. Things became hard again. We encountered financial problems. Our young family became two parents with teenagers and the accompanying angst. Cancer diagnoses. A debit card that would not seem to work. Serious health problems in both sets of our parents. Three simultaneous nursing jobs from 2010 to 2016. I was too exhausted to even fathom running, let alone train for a triathlon.
The financial fog eventually lifted, our daughters were put through college, and then the phone call from my husband, "Hey, the bone scan shows a spot on my hip bone." The quiet cancer was now metastasizing.
Uncertainty about the future makes us cling savagely to the present. We don't want to miss a moment. Weekend races became a fun, shared activity.
While trying to improve his health, I rediscovered myself. I am a woman in a larger body. I am strong, powerful, and blessed with good health. There are no obsessive training schedules or recriminations if I fail to hit a time goal. I am a proud back of the pack racer.
Running continues to shield me from my nightmares, but these days, I run toward something, rather than away from it.
In the wake of COVID-19, so many more runners are visible these days. The visible relief of escaping the strain of social distancing and stay-at-home orders shows on the runner's faces as they run, absorbed by the music on their headphones, the cadence of their feet, or just their own breathing. Some are obviously seasoned, fast runners, some are trying it for the first time.
The nation's unemployment rates are stratospheric, families are struggling to teach their children at home, and often trying to stave off a furlough or bankruptcy. Milestone, life-affirming events such as graduations and weddings are canceled. The crescendo of solitary feet hitting the pavement help us cling to the vestiges of normalcy and happiness.
Then there's the dead. Everyone knows of someone who died from the disease. Someone's sister's best friend, a coworker, or even a close relative. There isn't anyone who has remained untainted by the stain of death.
The images of the patients that I cared for in a COVID-19 ICU from mid-March to late April rise to greet me every morning as I wake up, their ventilators even alarming in my dreams. Only, I do not run to escape them. They are forever engrained in me.
They are with me as I struggle up the hills, and as I relax into a smooth stretch of pavement. They are with me as I hear the visceral sound of my breath rasping. I remember them as I see the orange-violet of a rising sun, another day to be grateful and try to get it right. The nightmare I woke up to turns into a gentle resolve to never forget them as I finish my run.
The Boston Marathon was canceled, and now the New York City Marathon too. But, I continue to train. The women in my running club will continue too, because the act of running creates hope. The next time you see the outline of a shadowy runner deep in thought, give them some silent applause in your mind, whether you think they are outrunning demons or running toward something.
~