The global refugee crisis remains an urgent issue requiring immediate attention.
It is essential to recall the situation in Greece in 2015: hundreds of thousands of refugees were crossing the eastern sea borders of Greece in an effort to reach Europe. During that period, more than one million refugees and migrants entered Europe through Greece.
Initial enthusiasm was based around optimism; perhaps, for the first time, developed countries would face a humanitarian crisis from a more humane angle. This didn't last for long.
At the end of 2015, one after the other, the eastern European countries, including a number of Balkan States, started closing their borders. The start was made by Hungary, who built a razor-wire barrier across its borders with Serbia, and later with Croatia. But what made the difference for Greece was the fence that Macedonia erected, resulting in thousands of refugees being stuck at the border.
A makeshift camp, Idomeni, was created near the border, and at its peak, 15,000 refugees and migrants were stranded there with nowhere else to go. The terrible living conditions posed a threat to their health and created a call for action.
We learned of an organization in Thessaloniki, Greece, called Medical Volunteers International (MVI), who have been providing medical care to displaced people since 2015. The organization started when one of the founders was volunteering in the Idomeni camp and saw the urgent need for basic health care. He ultimately returned to Hamburg to plan his mission with friends.
After procuring an ambulance and some donated medical supplies, he drove to Thessaloniki and started a Non-Government Organization (NGO) for medical volunteers and MVI was born. Soon, volunteers started arriving and it wasn't long before MVI was offering treatment for up to 250 refugees per day, providing free medical care to residents of the Idomeni Camp who would otherwise be without it.
Years have passed since this call to action, and the spotlight on the situation has been gradually dimming over the years.
Many of us forget these people exist—especially living in Canada so far away from the issue, yet it remains a global humanitarian crisis that continues to require time and attention. We decided to go to Thessaloniki and experience the situation firsthand.
As MVI volunteers, we had the opportunity to discover a group of young men about whom we knew nothing before our trip. These young, homeless men, roughly between the ages of 20 and 30, survived harrowing journeys from their home countries and made it to Greece. Many of them reportedly entered Greece illegally from Turkey through the Evros river.
Given the economy in Greece and the abundance of refugees seeking asylum, there is little opportunity for upward mobility. The camps are currently overcrowded and unable to accommodate the large numbers of migrants and refugees. The wait times for any processing are lengthy, taking years for asylum seekers to officially obtain status. As a result, some choose to temporarily recuperate in Greece and continue on to other EU countries, in spite of the continuing reluctance of the rest of Europe to share the burden of hosting refugees.
The choice to continue crossing borders illegally speaks volumes to the conditions in the settlements in Greece and the lack of opportunities once there.
As one asylum seeker from Afghanistan said, "We don't want any trouble, I just want to go to any country that accepts me, and where I can find work."
As volunteers with MVI, we treated wounds caused by issues related to long-distance walking, stabbings, law enforcement brutally, wild animals, and diabetic ulcers, to name a few among a plethora of various other medical ailments. The situation is desperate with up to 200 people being medically treated by the team in an outdoor car park by day, and a warehouse by night. Each day, there was at least one coordinator, two doctors, and four nurses along with two or three translators from the refugee community. The majority of the patients were Syrian, Afghani, Pakistani, Iraqi, Algerian, and Moroccan. Some walked for several weeks to get to Greece, while others traveled by sea. Many are stuck in Greece due to various political situations within the EU. Medical supplies that we used were mostly donated and are in short supply. And now with COVID-19, the situation is growing more and more desperate every day.
In order to gain a fuller picture of the refugee crisis in Thessaloniki, we not only volunteered our time treating the men, but also visited other organizations. We had the opportunity to spend time with the homeless refugees walking around the city, seeing the abandoned trains where they live, and eating meals together to gain insights into their current realities.
Young and middle-aged men are often overlooked in the refugee crisis; governments and policy makers prioritize policies for children and women. We want to give voice to this situation. In an attempt to do justice to these men, we want to share select stories from our experience.
The following details their lives and experiences (with their consent) to share a small piece of what we saw, heard, and learned.
We met two men from a village in Pakistan, who described themselves to us as "Freedom Fighters." Stab wounds littered their faces and bodies, notably across the neck. In addition to the scars, the noticeable limps left much of their story to be portrayed in their everyday existence.
However, passion filled their voices and emotions covered their faces; these men exemplified hope and optimism. They showed us pictures and told us stories of the devastation ISIS inflicted on their village. They explained how the children were removed from typical classes such as math, language, and science, and instead taught how to make bombs. They spoke of women being raped and men refusing to comply, resulting in murder.
Following their near-death experiences, they decided to seek asylum in whichever EU country would accommodate them. These men have aspirations so simple; they are exemplars for individuals displaced worldwide who are simply seeking the human right to safety.
~
Farid embarked on a transnational journey from Algeria along with his two best friends seeking a better life. The group walked over 14 hours a day battling inclement weather. They were forced to stay alert for fear of law enforcement officers or rogue militants. Many groups in the Turkish plains would rob passing refugees for all their belongings, down to the clothes on their back. Many individuals would be left to die in the fields.
Farid and his group waited for nightfall to jump over the fence at the border, as rumours circulated that 3 a.m. was the optimal time. This was when the guard shift rotation occurred. The three were caught in Bulgaria and imprisoned as a result of rigid anti-refugee policies. They were beaten and starved during their lengthy incarceration.
Following their release, they recalibrated their plan, opting to proceed through Turkey and Macedonia with the goal of making it to Greece. In Macedonia, the group hitched a train ride by sneaking on the dock between train cars. As the ride became turbulent, a member of the trio slipped between carts and was accidentally sliced in half. Farid seriously injured his knee in the chaos but managed to stay secure. The driver, having witnessed the aforementioned sequence of events, stopped and called the authorities. The third member of the group decided at that point that the dangers outweighed the benefits; he turned back.
Weeks later, Farid, severely debilitated from his journey, found himself recovering in a Macedonian hospital. He decided to continue the voyage despite the sadness of loss and feeling of abandonment; for him, a return to Algeria was not an option. He arrived in Thessaloniki alone, broken, and consumed with anger. He had no interest in maintaining connections back home and was hoping for a new life. Six months later, Farid maintains a leadership position at the refugee camp. As a trilingual, he helps with facilitating translation and greeting newcomers. He helps maintain the peace among the refugees. Despite good reason to move on with life and focus on himself, Farid spends his time helping others.
~
In a slightly different perspective, we met an incredible young individual named Zamir, no older than 22, from Mosul, Iraq. As a teenager, Zamir witnessed family members murdered and his childhood home bombed to ruins. The visible scar on his neck is from shrapnel sustained in a bombing and serves as a reminder of his brother who lost his life that day. Those in power changed the school curriculum to focus on bomb-making, and normalcy was stripped from his life.
Many refugees come from fruitful lives back in their home countries. Zamir did not spend his early childhood in poverty. When the time came to flee, his father paid the entirety of their savings for him to cross the border into Turkey, in the back of a truck. As a 19-year-old, he embarked on this journey alone, with only the belongings he could carry.
He now serves as a translator for the doctors and responders after a lengthy recovery from his traumatic experiences. Despite the circumstances, Zamir approaches life with unwavering positivity. He is a true representation that happiness is an intrinsic property and cannot be taken if one refuses to let it go.
~
We saw another young example of courage from a 19-year-old individual named Rafik. He is 6 feet 2 inches and built like a football linebacker. His arms were littered with dog bites, and stitches covered a large part of his body. He seemed broken, emotionless, and immune to pain. Life had aged him into the intimidating figure we saw. We were in disbelief when Rosemarie Hansen "Mama Rosa," the program coordinator, told us he was our age.
Upon meeting his peers, he was ecstatic. He spoke to us in the limited English he had learned and came to us for his daily wound care. It seemed as though he hadn't felt like a teenager in a long time, and this was a unique opportunity to interact with those his age once again.
We developed a unique bond. As we explored the neighbourhood during our lunch break, he was always loitering in the area. Nobody claimed that area like him, and he protected us. We stood out as clear outsiders, and he made it his mission to make us feel safe. These interactions make one realize that we, university students in Canada, are no different than our refugee friends. Born in the same year, the only thing separating us was geographical location. Rafik was a gentle brute, forced to embody the image of a bully to ensure his survival and weather the storm.
~
The last individual to include is not a refugee. Rosemarie Hansen, the Field Coordinator, is a German nurse referred to as Mama Rosa. She lives in the area and has dedicated her life to mothering incoming refugees.
Rose has an unwavering dedication to helping those who need it most. She refused to remain at home in Hamburg as she watched the refugee crisis unfold. As a board member of Medical Volunteer International, she has played an integral role in providing this marginalized and vulnerable population with crucial life-saving care. Frustrated by the overwhelming lack of resources, she sold her possessions, including her house. She donated the funds to MVI in order to take care of her "big babies."
She now resides in an apartment near the parking lot in which the treatment occurs. She also houses incoming volunteers and refugees as needed. Acting as a mother figure that most of these solo-travelling men require, she's a caring woman, and knows the regulars on a first names basis. She demonstrates constant affection through hugs, kisses, songs, and more. Rose has the rare ability to light up every room she walks into; she has the dynamism of a teenager. During our stay, she was never in a bad mood because she is aware of her widespread impact.
The refugees are grateful for her, as they know she goes above and beyond. She provides daily medical care and distributes essential items such as socks, gloves, and toothbrushes. Rose is an inspiration and shows others that a single individual can impact thousands of lives for the better. Rose's reach is unlike any we have ever seen; she is a hero.
~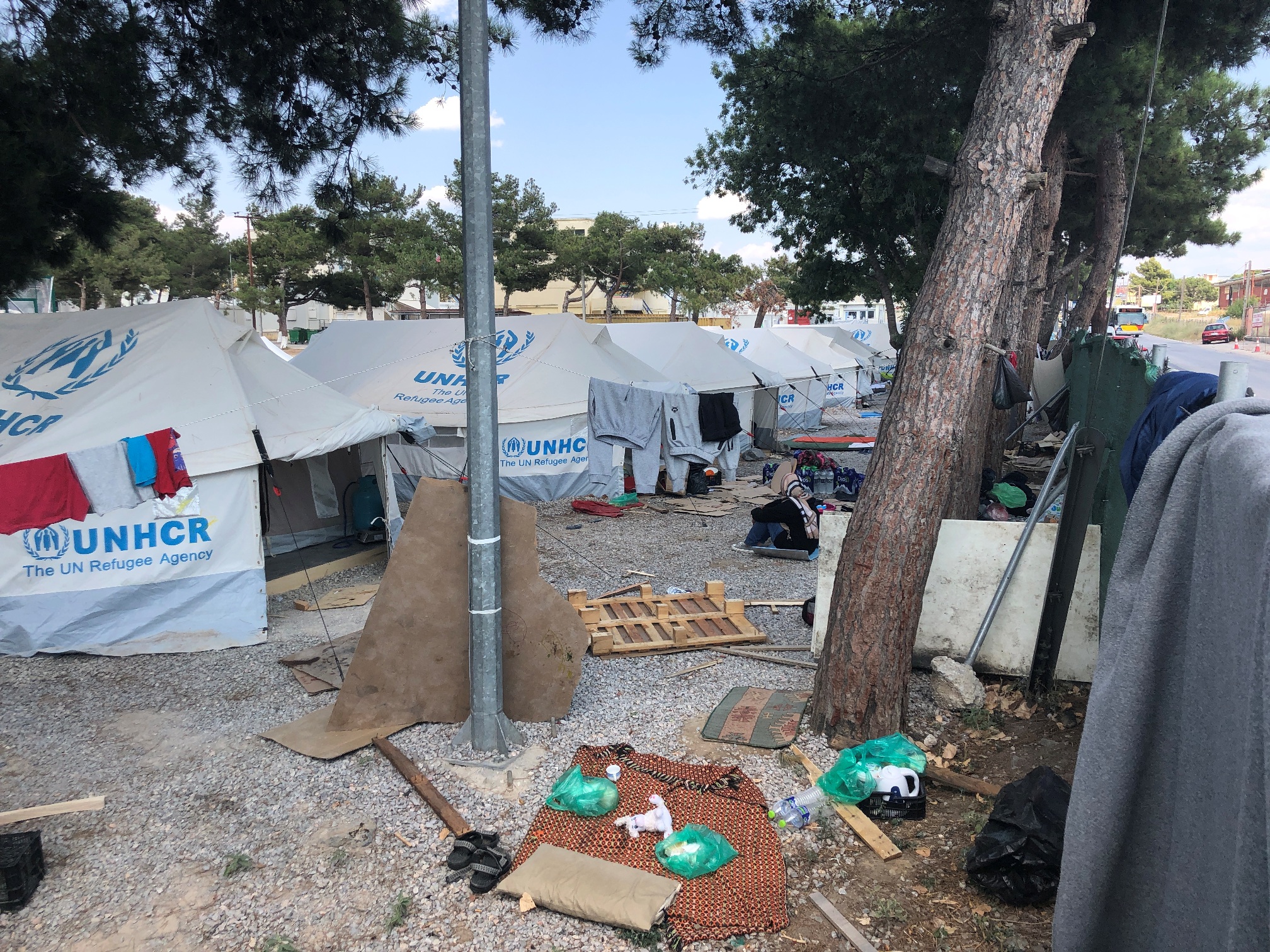 The stories shared are meant to showcase the remarkable individuals we met in Thessaloniki. They not only serve to spread awareness, but also act as a call to action.
Thousands of displaced individuals embark on dangerous journeys every day around the world. It is essential that their stories are heard and that they are seen for the people they are. By putting a name to each of the seemingly hundreds of faces we met, they transformed into friends. These are likeable, loving individuals searching for a place where they can live in safety and security. People like Rose continue to be the unsung heroes of the refugee crisis.
It is our hope that the refugee crisis in Thessaloniki and around the world gains attention, and people can come together and offer help in any way they can.