My new book is coming out. Here's an excerpt.
Don't trust quotes. Sound bites. Go deeper. Check in with your experience. Be willing to learn from experts, from mentors, from teachers. Breathe. Relax your fidgeting. Come back from your stories and worries to this, your present moment. This moment is here. Now. Flowing. Your breath: rising, falling, up, down. The only thing certain is that it will leave you.
That's okay. Change reminds us to let go.
Laugh! Dance! Fart! Wink! Skip! Stop taking yourself so seriously
Sadness is as sweet as happiness. Be genuine. Don't attack others. Focus your limited time on kindness to those who need it. Be good. Be genuine. Be soft.
Be strong in your softness.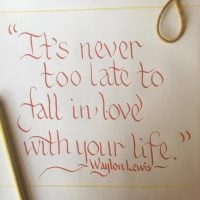 The above is an excerpt from Waylon H. Lewis' forthcoming book, It's Never too Late to Fall in Love with Your Life: Practical Buddhist advice for Everyday Life. It's 365 quotes, with commentary, one for every day. Pre-order it here and save $5.