Fearlessness is not avoiding the ups and downs of life: it's sitting with them, listening, feeling, bowing to them…and then moving forward.
[Excerpt from Waylon's 2nd book, It's Never too Late to Fall in Love with Your Life]
Just as we shouldn't bully a fearful child, we shouldn't bully ourselves through our own fear.
Making friends with our fear—the nerves, the worry, the insecurities, the guilt, the gloom, the anxious thoughts, the panic—this is our path. Whether we like it or not.
So, feel your fear. Let your heart warm your fear. Let your fear awaken your heart. Hold your fear, and your worry, in your hand, and breathe through it. Return this energy to your present moment, again and again.
Then, awake, aware, gentle—step forward, through that energy. Instead of avoiding that fear, that energy—harness that energy, use it to become fully present and available to whatever your challenge may be.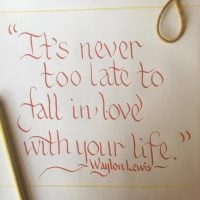 The above is an excerpt from Waylon H. Lewis' forthcoming book, It's Never too Late to Fall in Love with Your Life: Practical Buddhist advice for Everyday Life. It's 365 quotes, with commentary, one for every day. Pre-order it here and save $5.
His first book, the best-selling Things I would like to do with You, is also available at that link.