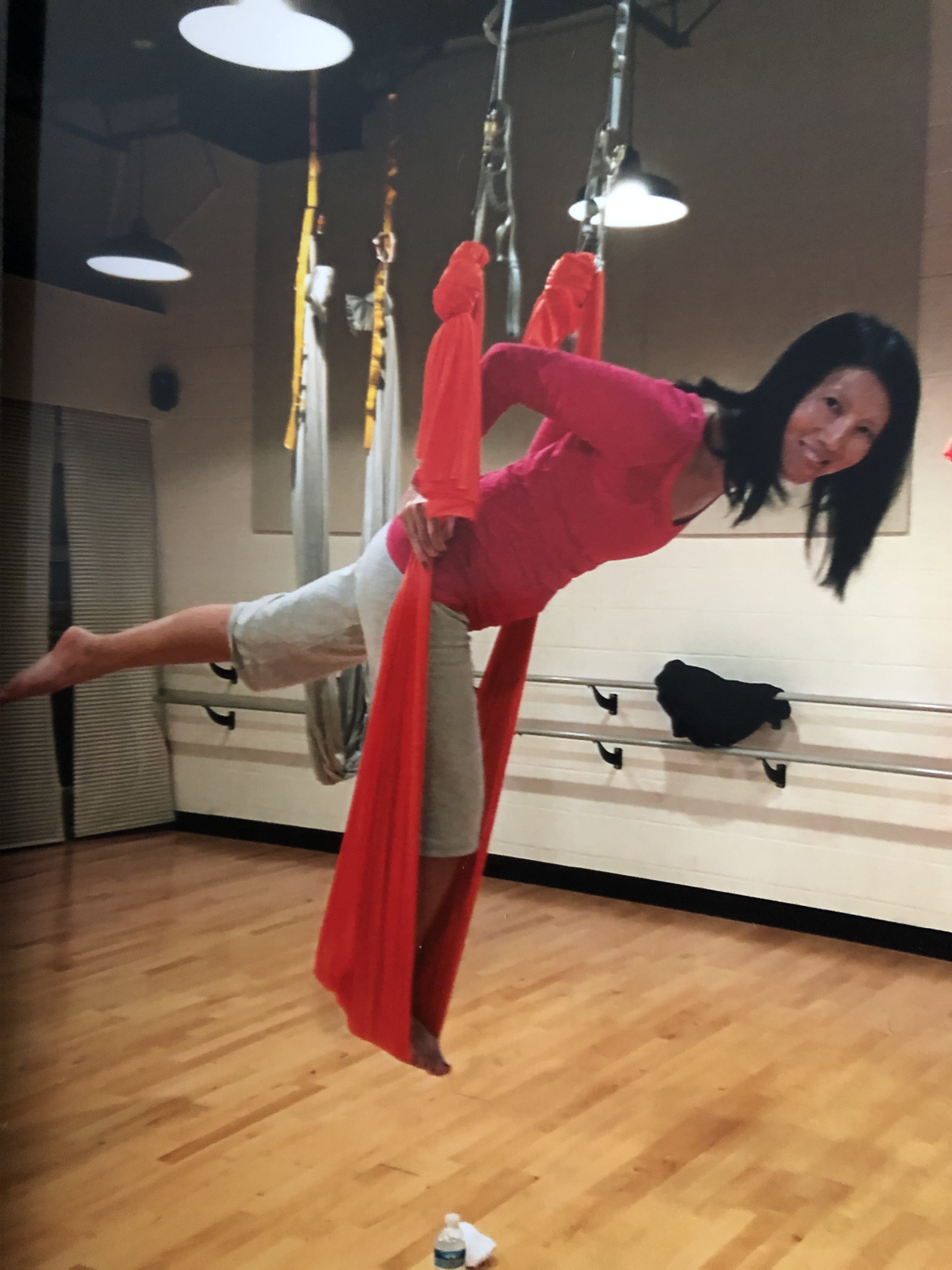 If you spend your day seeking ways to be creative, driving, or sitting in front of a computer, this is an article for you on stretch poses or moves that will help soothe your body.
For most of our lives, we're doing yoga essentially all the time in our daily life. Even when we are resting, we are in Corpse pose. The problem is we're not using enough of the different muscles.
And if you're a yoga ninja, creating your own poses could help stretch your mind outside the box, especially if you're in a creative rut or mind funk. I have some ideas for you below.
A few years after I learned yoga in a weekly hatha yoga class, I attended a power yoga class in a gym where there were wall-to-wall mirrors on one side of the room.
That advanced me as it helped me see what I was doing and correct my form. I wanted to make sure I did all the poses correctly so I didn't hurt myself, but mostly so that I knew I was doing them right. Maybe that's how you started or you may have avoided mirrors?
In my yoga development journey, as I got more comfortable, I knew where my hands and feet were planted and intuitively knew if the placement felt off. As a natural progression, I didn't need the mirror as a crutch.
Do you remember your beginning yoga journey (or maybe you are looking for inspiration to start or start again)?
Stretching regularly benefits
Our body has over 600 muscles. Keeping them limber has so many benefits. If you want to stay young and fit, stretching often is one of the best ways so you can keep exerting yourself.
You will still get the health benefits if you create your own yoga poses. So don't shy away from making up your own poses. And if you think you're being judged in a yoga class, students are not looking at you (they're usually considering how they can improve). Everyone starts somewhere, right?  
If you're a beginner, keep in mind, yoga has three main physical goals: balancing, strength, and flexibility.
Yoga is basically stretching. So if you get out of thinking that you have to perform a pose perfectly or the textbook-looking way, then by getting out of your self-imposed limitations, you can heal and nourish your body more than you know.
So keep growing your yoga practice. And do it all the time.
If you feel tightness in your body, then stretching your muscles keeps you limber. You can stretch while you're eating, watching television, or just getting up to go to the bathroom. I have described some poses below.
Just remember—how your poses look doesn't matter to your body. Think of the game Twister (maybe you remember that game from the past). I do…I don't know if that's good or bad. But I know that was the ultimate in stretching the body parts we didn't even know we had.
The game's goal was to be able to use our imagination to plant our feet and hands on the determined colored circles, starting out in downward dog poses with game players and then moving into silly looking poses—the ones I'm encouraging you to not shy away from.
Who knew Twister would become an adult sport half a century later?
Use your modern creativity.
Yoga can be a good modern game of exercise too. You especially need yoga if you're a stressed corporate worker who sedentarily works behind a computer most of the day. You need constant physical and mental breaks.
Coming up with creative poses, you're really only limited by your imagination to get the outcome you want. You can have a different intention, and innovate poses each time.
Here are a few of my favorite poses:
Chair and tree hybrid—while standing, take one foot and put ankle on opposite thigh above your knee (so you make a number "4" with your legs). This looks like a creative tree pose. Take that one step further and bend your knees into chair pose and raise your arms into the air. Then bend down in the chair post. You'll feel a great stretch in the lower back and hamstrings. This is good for balancing and great if you sit most of the day.
If you feel muscle tension in the right cheek of your gluteus maximus, that could be from driving. Your right foot pushing down on the accelerator and brake pads is a burden load on your right leg. And if you drive a car with a manual stick (been a long time for me!), then this is a pose that'll feel good.
To balance your legs, when you're back home, lay down on your back, bend your knees forward so they are perpendicular or right angle to the floor or bed (if you choose). Then take your still bent right leg and cross over your left thigh. Take your right hand and pull your right knee forward, keeping resistance down on your thigh with your right foot. Your left hand can rest on your left hamstring.
For your upper body, when you're driving and sitting at a red traffic light, you can put your right hand on the passenger seat headrest and push forward, creating resistance tension. You would feel a nice release stretch in the back of your upper arm.
For mind-body growth, it's a helpful reminder of your day's intention and letting go (surrendering) of stress buildup.
For physical reasons, you could build a habit of doing yoga when you're not on a yoga mat. The little hacks you make in life make a big difference. So, if you add five minutes of yoga here and there, they become your daily habit (instead of inconsistent, start and stop yoga). I did this several times when I took six-month breaks at a time and wasn't happy with that. Learning from that, you don't need to get to a class if you know the basics.
Remember, if you feel a muscle being stretched, you are creatively doing yoga.
And you can actually do yoga productively while you're watching TV standing or sitting. That's how easy it is. Stretching can feel better than sitting on a couch while getting good body benefits. And then that boosts your self-esteem as you recognize your efforts as achievements for your day.
If you're chained to your desk (I've been there before)—we can all do yoga poses at our desk. We can grab our bent elbow placed over our head with our opposite hand. You can feel the stretch in your shoulder that can feel tense.
We have a tendency to look down instead of up. To balance, we can move our necks up and down and side to side. Our heads are like a 5-15 pound weight—what a burden on your shoulder and neck muscles, to sit and stand all day.
If you have a long neck like I do, you want to find time to gently do fish pose or at least from the neck up. If you're laying down, you may want to use a soft pillow so you don't overdo it because if you're new to yoga, you can hurt yourself bending in ways that you don't normally do, and even without any artificial weights.
Remember, your head is like a barbell weight (or dumbbell, but you are not!). All kidding aside, just be careful. Same as you wouldn't start with 30 lb weights, gradually build up to deeper poses. Poses should feel good. Even traditional advanced yoga moves should not hurt as this helps to take care of your body.
From fish pose or while you're still on your back, you can also do an inverted tabletop where your hands are behind you flat on the mat and your feet firmly planted, and lift up your bottom. To ease stress in shoulders, hinge or rock back and forth. You'll feel the release in your shoulders and is the next best thing to a shoulder massage.
So what are you waiting for? Hopefully, you're inspired to get moving.