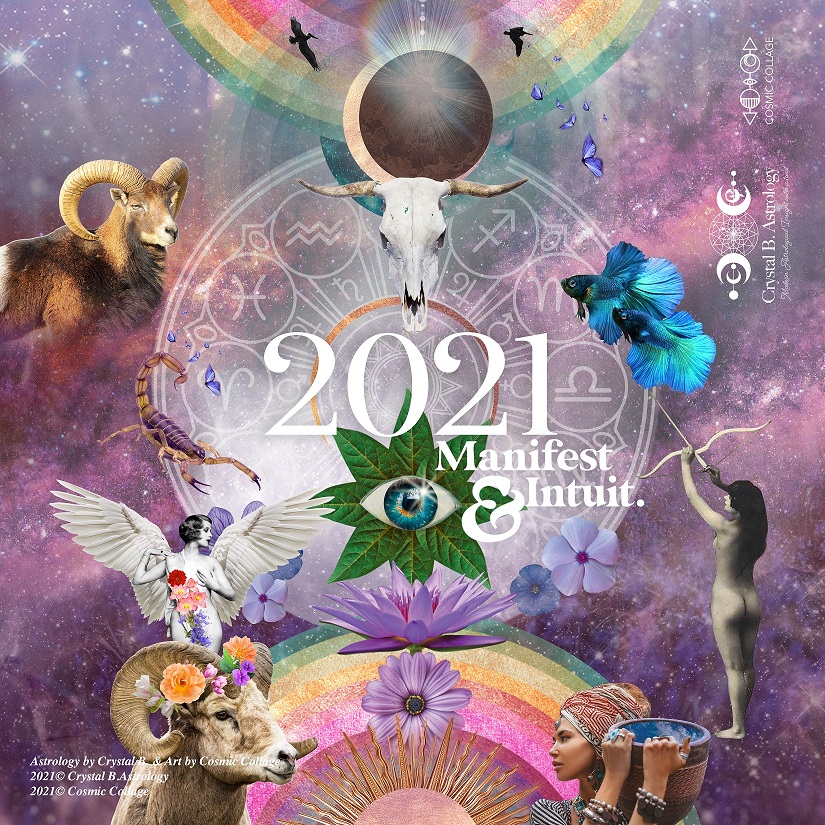 *Whether astrology is science or magic, we're open to most things, if they may be of benefit. ~ Ed.
~
Stars and legends are made when stakes are high, and they will be higher than usual as we hit 2021 ground.
New motivation surrounds us to bring entirely new dreams to life. The "new normal" that began to take form in 2020 left us short of expectations for the new decade. But the intensity of 2020 was essential to laying the groundwork for our greatest achievements. History is in the making.
We are all living through a momentous paradigm shift and experiencing the building blocks of the Age of Aquarius. Change of this magnitude will be felt and spoken about for decades and centuries to come. All of us are in charge of our own special part of this new collective. Old legends have been lost—and now new ones are looking to be found.
Now that many of us have come face-to-face with the darkest of shadows, the purest parts of our being are ready to emerge. Despite 2020 leaving many people tired and worn, it left us in the perfect place to begin the 2021 journey of becoming who we are truly meant to be.
"You become. It takes a long time. That's why it doesn't happen often to people who break easily, or who have sharp edges, or who have to be carefully kept. Generally, by the time you are Real, most of your hair has been loved off, and your eyes drop out and you get loose in the joints and very shabby. But these things don't matter at all, because once you are Real you can't be ugly, except to people who don't understand." ~ Margery Williams Velveteen Rabbit
2021 is the year to decide how you become.
It won't be easy and many surprises—sometimes shock—will find us along the way. However, it's an important moment in time where we might feel frayed and tired, and yet on the precipice of taking things to an entirely different level.
In the shadows of a pandemic that has changed the world forever, we have now left behind who we were in order to become something entirely new. Life as we know it will always be before the Coronavirus and then after.
The radical brilliance of Aquarius will pave the way for how we get in touch with a new kind of perspective, originality, and become what we're meant to. As we gaze out into the next, new expectations about where we're meant to go begin to crystalize.
Influencers of yesterday have lost relevance and a newer, more diverse crop of creators is now stepping in. Older pyramid systems have collapsed and the next generation promises to be represented by more diversity, authenticity, and unique expression.
The planets align during the first days of 2021 to reveal optimism about the next steps of how this unfolds; we will be ready to hit the ground running. Venus in Sagittarius and Mars in Aries will be enticing us to be hopeful and excited about the journey into the unknown.
Optimism doesn't replace continued challenge. It will aid us to keep going despite the hurdles in front of us. At the onset, we see old structures burnt down and a different type of landscape left in front of us. A call to take action and fill the void surrounds us as we forge into the next. Something we've never planted before needs to grow, but it can only be fed with innovation and outside-the-box thinking.
The astrology of 2021 reveals new planetary combinations and dynamics that will drive all of these forces into play.
Saturn Uranus Square
Saturn, known as Father Time and the planet that puts us to the test, will be in a tense square with Uranus, the wild planet that wakes us up and pushes us outside our "norm." The challenge of this combination will be felt all year long, with many of the lunations intensifying it. Be open to continuing to go outside your usual.
Both Saturn and Jupiter travelling through Aquarius
With two of the most significant players of the zodiac travelling through Aquarius, we can expect the old rules to not apply anymore. Aquarius is a sign that steps outside the box and does things differently. Expect to see this within yourself, along with a constant reminder that a totally new set of rules needs to come into the making.
Jupiter's preview into Pisces
A cosmic magic factor arrives when lucky Jupiter dips his toes in the oceans of Pisces. Given that he'll be moving so quickly through Aquarius, we'll get some previews from May to July of a totally new kind of spiritual awakening.
Pisces is one of Jupiter's favorite places to be. When he's happy, we will be too. Something special begins here, but we may not see it fully culminate till 2022 when Jupiter makes his official stretch through the sign of magic.
Eclipses in Sagittarius, Gemini, and Taurus
Eclipses are like doorways into the unknown. Dynamics are presented that showcase new portals of existence that must be entered. Sometimes we are eager to walk through and see what's on the other side. While other times we are suddenly pushed in and fearful of the unknown. Whatever the case, these necessary entrances and exits are an essential part of our soul's journey.
With the North Node in Gemini and South Node in Sagittarius, we're called to new social responsibilities and finding alternative ways to connect to society. New forms of hope, inspiration, and joy will begin to develop. Our communication strategies will need to evolve and we're going to be tested to find new ways to express ourselves. New educational systems will be looking to grow roots.
New symptoms of the paradigm shift will come into play and push us beyond the normal scope of our mind's eye. The new year pushes us into both a new age and an entirely new wave of understanding. Expect to change alongside it and trust the process. New systems of belief, faith, and spirituality will develop. Many of us will be looking for new, perhaps unusual, kinds of stimulation.
The digital age will thrive, and we can expect to see exciting innovations cropping up. As digital thrives, it'll be challenged to take its game to the next level. The worldwide web now through its first Saturn Return (a time of emergence into additional responsibilities and adulthood) will begin a new cycle of creativity.
Whatever has become stale will need to be extinguished or reinvented completely. Radical alternatives to existing established platforms will be born. Boring simply won't do in 2021. New needs to reconnect with something fun and exciting will surge. People will become more comfortable detaching from emotional pulls. Revolutionary ideas will be born by those who attempt to push the envelope the furthest. Alongside all of it, this totally new kind of era begins to synthesize.
It's going to be brilliant, revolutionary, and scary all at the same time. A new kind of collective now begins to rise…
Here's a preview into your 2021 extraordinary horoscope for the year ahead:
I recommend reading for both your Sun and Rising Sign (Ascendant) to add more depth and insight into your planetary message.
Aries:
A new drive is going to surround you to belong to a tribe—perhaps lead one. And along with it comes a reinvention of a new vision for your biggest hopes and dreams.
Taurus:
Get ready for a massive amount of attention with an unusual twist in your career and place in the public eye.
Gemini:
Very important cyclical changes are taking place, but it'll be important to be ready to market yourself in new ways. Have your elevator pitch ready—and be creative about it.
Cancer:
What needed to break has now broken, and it's time to put the pieces back together to form something entirely new and different—a new understanding of the energies hidden within your subconscious surface.
Leo:
Connections, relationships, and how you balance your needs with those of others will play a significant role in how you achieve new visibility.
Virgo:
It's a great time to make positive changes in your routines and living environment—like getting rid of the old in order to make way for the new.
Libra:
This is your year to exhale negativity and inhale positivity. New needs to express yourself and engage in experiences that are fun, playful, and carefree begin calling.
Scorpio:
Familial structures of your life will be realigning in order for you to see a totally new kind of destination on the family and home front.
Sagittarius:
You will become driven more than ever to speak up. Expect to experiment with different ways in revealing your truth.
Capricorn:
An entirely new you comes onto the scene in 2021, and a new cycle of development centering around resources.
Aquarius:
It's time to become a master Jedi Aquarius—entirely new destinations are calling and tools of dedication, motivation, and releasing traps of self-doubt are looking to be utilized.
Pisces:
The year ahead arrives with a renewed ability to detach from all the intense emotions that surround you. A spiritual playground is calling you to come and play.
~
For complete details and visual inspiration of all of 2021's astrological happenings including full sign horoscopes, lunations, and other planetary insights, check out my 2021 Astrology Horoscopes, Forecast and Inspiration guide written by me and visually brought to life by Lori Menna of Cosmic Collage. 
~