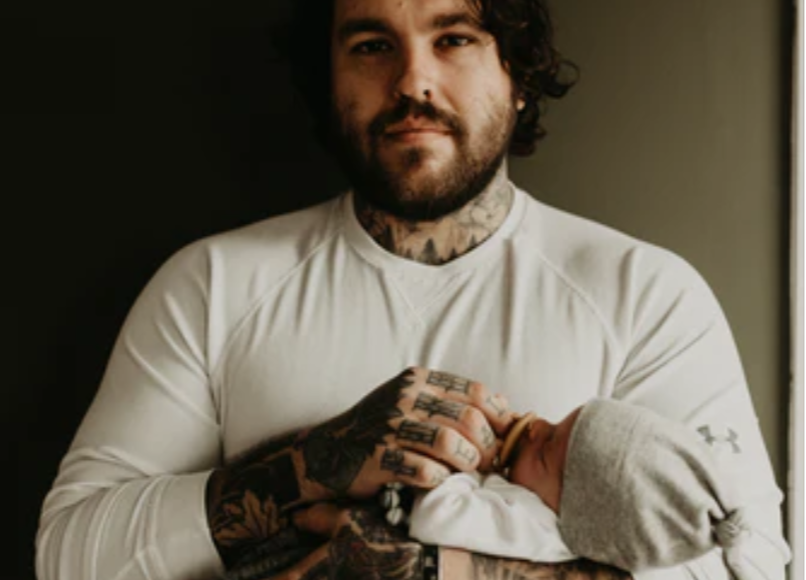 Fertility treatment is stressful and steeped in anxiety at the best of times.
Layer on a global pandemic and it feels like one might crumble under the sheer weight of it all. For me, add juggling a two-year-old daughter and launching a business in lockdown, and it's little wonder I'm feeling a little frazzled.
But the sad truth is that fertility is still commonly thought of as a "women's issue." This is as shocking and misguided as labelling housework "women's work."
It is a little-known fact that around 50 percent of fertility issues lie with the man. However, commonly, men aren't even offered basic tests to understand our fertility situation in the early stages of investigation—something which could save a lot of time and stress for many couples.
Fortunately, one is man leading the charge on changing the fertility conversation—comedian Rhod Gilbert. He's gained a lot of attention in the United Kingdom fertility community, and quite rightly so.
In a recent BBC documentary, "Rhod Gilbert: Stand Up to Infertility," Rhod takes a much closer and comical look at why male fertility is such a taboo subject, the personal challenges men face, and why there appears to be so little support available.
What makes this so powerful is seeing him share his own personal journey. Naturally, he brings his own unique take on things. Comedy works fantastically well in breaking down barriers, but there remains an underlying vulnerability for all to see.
Many men don't think about their fertility, and the lack of education in this area is startling. Within the documentary, we see Rhod attempting to talk with men about their fertility, yet very few come forward to talk with him. This is so indicative of the problem we have within society around male fertility.
Rhod's journey—and those of the men he spoke with—is a story that is going on up and down the country. I spoke with Ian Stones of Hove Fertility + Wellness, who has a special interest in male fertility, to understand his takeaways and share some tips to support our own fertility journey and others going through it.
Fertility affects mental health.
The documentary touches on all the important areas of male fertility, but the focus on mental health is critical. For many men, coping with a diagnosis of sub or infertility can be absolutely devastating and can strike deep into a man's image of masculinity. Men feel the need to be strong for their partners. Anyone on a fertility journey (or in a global pandemic!) needs ways to stay sane: get outside, get rested, talk about it, and find your tribe.
Support groups exist—and work!
Rhod's attempts to find a male fertility support group were particularly interesting. At the time of filming, amazingly, it seems there was no U.K. support group for men.
Things are changing in this area and with Fertility Network, the U.K. launched the first online male fertility support group in April 2020, co-hosted by Ian. It is now attended by men all over the world, but nonetheless, it still takes a lot for men to show up. For some, the nerves and fear of judgement are still too much.
But those who have spoken out and got support all expressed how a weight had been lifted from their shoulders. Speaking is by far the best thing any man can do to help cope with fertility issues.
Getting the right investigations is paramount.
Towards the end of the programme, we see Rhod visit a male fertility clinic where he is offered an advanced fertility assessment.
Rhod's results showed that there was something else not right in his semen analysis—which astonishingly hadn't been picked up prior to his IVF treatment.
So many men are left sidelined throughout treatment and are only ever investigated when IVF has failed countless times. The unnecessary heartache and expense of this are just crazy, and as we see with Rhod earlier investigations could have resulted in a fairly easy solution.
Lifestyle choices matter, but they're not easy.
Rhod's final piece to the camera at the end is telling. Having clearly worked on his fertility during the documentary, it's sad to hear that he was struggling to keep on top of lifestyle and diet changes. He talked about eating more comfort food, drinking, and not exercising over lockdown—which really demonstrated how hard it can be for all of us to keep on track with our fertility. With no support and no one to talk to, it's far too easy to lose motivation and focus.
Men, simply put, we can't do this alone. We need you to turn up for fertility—which takes an amount of discipline, focus, and commitment. Don't be afraid to reach out for help and support. You don't need to be superheroes. In fact, showing a little vulnerability makes it easier for us to relate to you, and makes us feel less alone. Help is available, use it.
If you have been affected by male factor infertility then please don't struggle alone. For more information and support, download Fertility Circle.
~
~