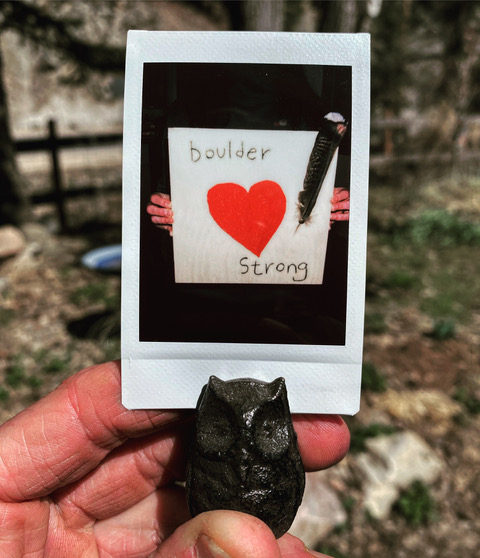 A poem for Boulder
I learned how to pray from the Quakers—
a quiet lullaby,
warped floorboards swollen with centuries of breath and tears and dirt that we tracked in, and on.
Our prayers were spoken silently—
and still are, when the wind blows in from the Plains,
an expanse so great, 
we cannot hold any of it.
Our prayers are offered—
and received—in the air passing between bodies,
the sky visible through old, stained eyes,
both wildly blue and endless.
Clouds appear and vanish,
and I can hear the raven's wings,
feathers touching sky,
the infinite stroke of air curving around her body—
both the push of flight and all the resistance.
At the chainlink fence, we don't say much. There isn't much to be said, either then or now. We add one piece to the others, a wooden sign with a red heart, an owl feather, and "Boulder strong." 
As I place our sign on the fence, I flash to every other time I've seen this exact fence—
But not with me there. Not with you there. And not with us there.
At the chainlink fence, the air is thick with flowers. Such an impossible moment, so sweetly perfumed and outrageous.
The last year is crashing into my heart. Or is it the last 10 years? Perhaps our collective lifetimes? And then, yes, our lives before that, and before that.
The last breath must become the next first.
But for now, all I have are the images. Boxes of cereal and bags of rotting lettuce, cigarettes and scratch lotto tickets, frozen blueberries, and Easter candy. Bags of potato chips, gallons of milk, hummus. Cheap BIC pens, tic-tacs, coffee beans.
I store these images like evidence, with the other deaths and acts of violence, both huge and tiny, that I have witnessed in this lifetime.  
The injustice and sadness,
tragedies and chain-link fences—
a gunman opens fire in our town.
I'm not trying to hold on, but my emotional timing is slow, slow enough for poems, slow enough for prayer, but often not fast enough to keep up. 
Sometimes, silence is easier,
words are jumbled and fumbled and spilling out of my mouth.
What's it like, they ask?
We are either gaining sunlight, or losing it,
but not both. 
~