It's difficult for me to put down in words the meaning and significance of Ramzan (that's what we call it in Urdu).
"Ramadan" is the more universally known term, and it refers to the month of fasting observed by Muslims all over the world.
One of the five pillars of Islam, Ramadan lasts approximately 29-30 days. Most people associate the month of Ramadan with fasting and feasting—but in real terms, it encompasses a whole lot more than mere abstinence from food and drink from dawn (not from sunrise, which is a popular misconception) to sunset.
From as far back as I can remember, Ramzan has occupied a special place in our home—the childhood memories of being woken up in the middle of the night to partake in that early morning meal are still clearly etched in my mind.
I can still recall that heavenly aroma of freshly prepared parathas, a traditional South Asian flatbread, wafting from my mother's kitchen; of praying collectively before sunrise; of disciplining ourselves during the day and then excitedly waiting for the call to evening prayer, declaring the end of the fast, so we could finally indulge.
Many favourite foods are cooked exclusively at this special time of the year, with everyone having a list of snacks they seek out at the end of the day. Closer toward the end of the month, the focus would shift to the exciting preparations for Eid-ul-fitr, the three-day festival celebrating the successful completion of Ramzan: going to buy new clothes, with matching bangles, and applying henna to the hands and feet as decorative body art, another South Asian tradition long associated with dressing up for Eid. Visiting family and friends, exchanging gifts, and sharing meals together were something we looked forward to with gusto every year.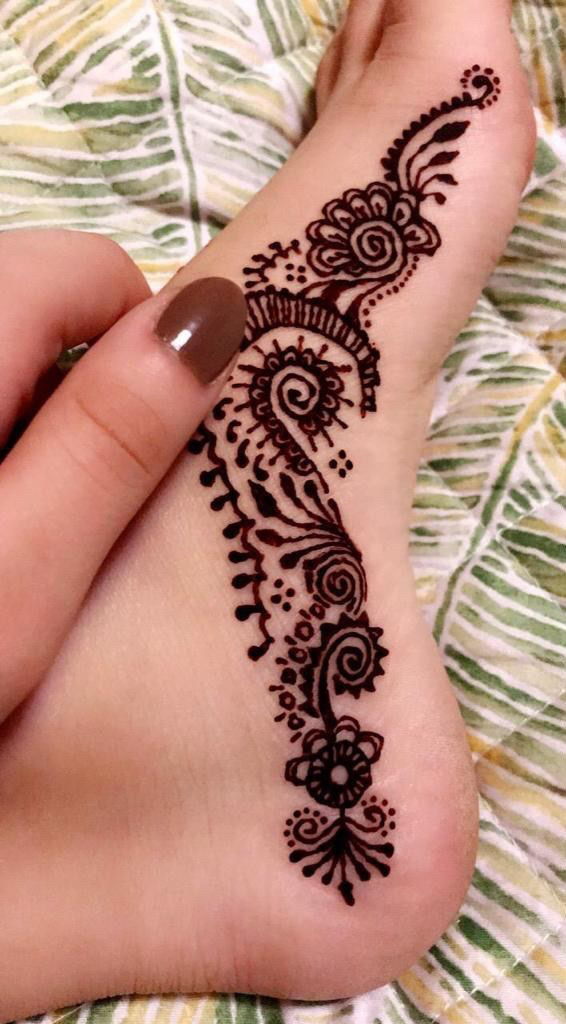 With the passage of time, however, I came to the realisation that Ramzan is about so much more than simply not giving in to your basic desire to eat or drink. I remember being told how Ramzan is about denying our overindulged bodies gratification and providing food for our malnourished souls, and that is truly what it is: a mind-body-soul detox and spiritual bootcamp. It's a time to turn inward, withdraw from the crazy routines of everyday life, and focus on what's important, reflecting on our life's purpose and meaning.
Interestingly, when I moved to Germany after marriage, and continued to observe the fasting rituals there, I was invariably asked "Wirklich, nicht mal Wasser?" (Really, not even water?) My German friends found it hard to believe that this wasn't harmful, till I presented them with proof in the form of scientific studies carried out, which have shown that this short-term fasting for one month was actually good for us, leading to a drop in body weight and BMI (Body Mass Index) for nearly all participants. Researchers have also claimed that it reduces inflammation and strengthens the body's immune system, by removing damaged cells and allowing the body to regenerate new ones.
More than the physical benefits, though, it is the spiritual growth and time for reflection and introspection, which I truly look forward to every year. Amazing as it may seem, this is the only time of the year when I set my alarm clock this early and wake up with energy and gusto preparing breakfast at that hour, waking the children, and then relishing the bliss of solitude once the rest of the household has gone back to sleep.
As I sit and pray in silence, the pervasive sense of peace I experience at this hour is indescribable. In this day and age, we are so focused on consumerism—filling every minute of our lives in search of something bigger, faster, better. Ramzan is a period when many take a break from social media and other distractions, looking to connect with themselves and strengthen their connection with God. It offers the perfect opportunity to take a step back, slowing down and simplifying life.
The purpose is to establish a routine for one month, to form habits that will endure for the rest of the year. It's akin to recharging your spiritual batteries, committing to living the right life: right thoughts, right words, right deeds.
The mindset of giving, being of service to others, and interconnectedness, especially with the less fortunate, lie at the heart of it all. Mosques invariably provide water, dates, and food for those who turn up at their doorsteps to open their fast. People launch drives, encouraging everyone to donate their time and money to help feed as many people as possible.
A little introspection reveals, more often than not, we are just constantly satisfying our cravings—not needing to eat half as often as we do during the day. Snacking is often just a source of comfort or a way out of boredom at times. Exercising self-control while fasting brings about a greater appreciation for all that we have been blessed with, as well as gratitude and a sense of compassion and empathy for the millions who live in hunger every day.
Another focus is forgiveness, not just toward others, but also toward ourselves. Not to be hard on ourselves for not doing something perfectly, for mistakes made or failures we've encountered are valuable lessons. Forgiveness means acceptance, which in itself is an act of gratitude—just allowing things to be, without the desire to fix our imperfections or wanting to change anything.
Elders in the family always taught me that when you fast, it has to be a fast of the tongue and mind as well—take extra care to be compassionate and not lose your temper or be disrespectful or unkind to anyone. To quote my grandmother, "If you can't do that, then you are merely starving your body and not fasting in the true sense of the word."
This is something my children falter with; I see them with their customary impatience, losing their cool, and I constantly remind them to remember about the fasting tongue (and no eye rolls too!). The focus for my children is, of course, on the special eats and treats they request to have and I indulge them, celebrating their discipline and self-control. As they mature, I hope they too will look beyond the fasting and feasting and reap the benefits of this spiritual cleanse in its entirety.
So, as I prepare for Ramzan this year, I count my blessings. I am so grateful and blessed to be living in a country where diversity of culture, traditions, and religion is not only accepted but welcomed and embraced. When I moved to Canada from Europe and attended my children's first Christmas concert here, I was totally bowled over—it was unlike any other I had attended in my then 16 years of parenthood!
I was expecting to see the celebration of Christmas and singing along to "Feliz Navidad," "Silent Night," and all the other favourites, but instead, we were treated to a celebration of Eid, Diwali, Chinese New Year, and Hannukah, after which we all collectively sang, "We wish you a Merry Christmas and a Happy New Year."
I came home feeling so thankful for being part of this diverse cultural mosaic. At the end of the day, we all just need to realise and focus on the fact that in reality, we are all more alike than we are different. We all want to be loved and give love, be respected and give respect. We want to believe in something bigger than ourselves to give meaning to our lives.
Ramadan Mubarak to all those observing and a peaceful, blessed month for everyone.
~
A few more photos from Mahein: