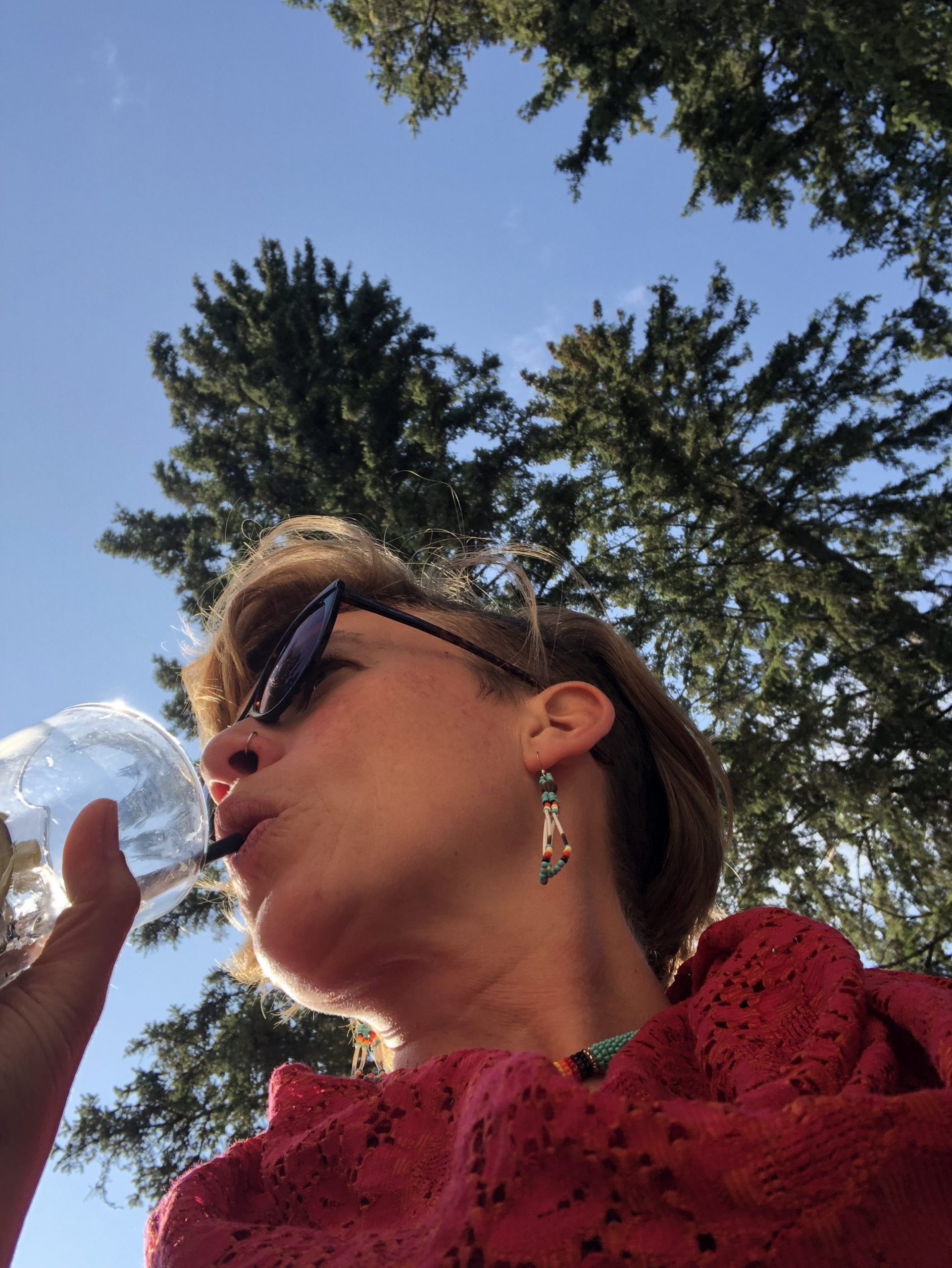 Several years ago, I started paying attention to how I felt when I drank.
I have dealt with anxiety for as long as I can remember. Misery loves company, making alcohol consumption and anxiety best buds. I was aware that my uneasiness would spike whenever I drank socially. And I was always riddled with anxious thoughts and feelings the following day. What did I say? Did I offend someone? Was I too loud? Too much? My inner critic would get loud and I would feel like such a failure.
I drank to get a buzz and make the edges fuzzy. Saying yes to one drink inevitably led to another. I loved sharing a bottle of wine with my partner, drinking with my friends on the weekends, sipping on homemade rose gin after a tough day at work, and sometimes letting loose on the dance floor after pounding a few.
Normalizing my relationship with alcohol was a big part of my struggle. Did I have a drinking problem? At the time, I would have said no. I see it differently now.
My body repeatedly showed signs of distress when I drank. My throat was dry and scratchy when I drank hard cider, and my lower back would ache after one rose gin and soda. I would get a headache after a glass of red wine, and I suffered from gut rot. The physical effects paired with anxiety left me seriously contemplating what the hell I was doing to myself.
Still, I kept drinking. I come from a long line of addicts and I have my own traumatic experiences with alcohol abuse. I have witnessed it wreak havoc on the lives of loved ones. Addiction is a beast. Painful memories started to flood back of feeling vulnerable and afraid as a child and teenager.
I have spent a lifetime trying to shake off a memory of an incident that took place the summer I was seven. We were celebrating at a large family event in the countryside. It was a fun party with live music, polka dancing, lots of food and sweet treats, lawn bowling, playing hide and seek, beautiful patio lights of blue, green, red, and yellow. I remember chasing fireflies into the night and feeling so alive and free.
When it came time to leave, we all piled into a relative's van. He was definitely drunk. I'm fairly certain all of the adults were. He decided to take a detour on the drive home and into an area of the city where they are a lot of sex workers. He yelled horrible things at them out the window, and then all of the men in the van started throwing pennies and yelling profanities at them. Without really knowing why I felt so ashamed. And afraid. I remember looking to my mom for comfort. She was sitting on the other side of the van and I felt so far away from her. I spent years trying to undo this moment."
I was not okay. This situation was not okay. I spent years trying to undo this moment.
A significant part of my journey has been acknowledging the ancestral heartache that I carry within my cells. It's a visceral remembering, stored deep within my body.
Was I an addict? I still don't know how to answer this question. What I do know with certainty is that my relationship with alcohol was destructive.
I am a mother of two. When people say that their children are their greatest teachers, believe them. Parenting is incredibly humbling. I will never forget the look of terror in my children's eyes the last time I drank excessively. To this day, it haunts me. I remember feeling terrified as a child when the adults around me were intoxicated. I felt so guilty for putting my children in this vulnerable position. History has a way of repeating itself, and this was my wake-up call.
So, I stopped drinking.
A dear friend told me about The Alcohol Experiment, a 30-day online challenge. Admittedly, the first two weeks were hell. All I could think about was having a drink. I would lie awake in bed at night, fighting with the urge to go downstairs and pour myself a glass of wine. I wanted the assurance that numbing out was still an option.
I learned a lot about myself in those 30 days. It was excruciating at times. I went for long runs in an attempt to temper my rage, and I cried a lot. I found myself turning to nature and meditation as a balm for my weary soul. I visited a tree in the forest behind my house every day. It held me in a way that no human could. I felt rooted and safe in its quiet presence. When I finished the challenge, I wasn't ready to stop learning, so I stayed sober and took a deep dive. I haven't had a drink since. That was over two years ago.
Since then, I have been doing the work, as they say. Deep inner reflection and forgiveness. Kindness and lovingness toward myself. My inner critic can still get loud, but she doesn't take up as much space. I have clearer boundaries with myself and others. And I just keep showing up, day after day, and in turn, the world around me benefits. I refuse to abandon myself anymore.
The first time I gave birth it became so clear to me that birth and death are married. The ultimate union. A contract that no one can break. In a similar way, so are grief and growth. Sobriety has been filled with grief. The kind that rips your insides out, exposing you to the world in a way that you have been hiding or running from your whole life. I had no idea that grief would have so much to teach me.
My oldest child has expressed several times that she's grateful I don't drink anymore. I think it's remarkable that she can be so open with me about it. Before I stopped drinking, I was often an impatient mother. Unforgiving and easily irritated. The guilt of it is sometimes unbearable. Letting go of this guilt is part of doing the work.
I work hard to honor my children's feelings as they arise. To hold space for them to feel. To do the opposite of telling them that they are okay. It's okay not to be okay. It feels right to show up for them in this way. I have been honest with them about this journey and our family history with addiction. They have a right to know, and they should hear it from me instead of being left to piece it together on their own. Why hide the truth when they can handle it?
I recall feeling worried that sobriety would make me uninteresting. One honest friend admitted that she was afraid we wouldn't have fun together anymore. Don't worry, she was wrong. Last winter, we were sitting around a bonfire celebrating her husband's birthday and I was laughing so hard that people assumed I was intoxicated. Ummm, nope, just being present with my joy. When I show up as my true self, I think that it gives everyone else permission to do the same. Sobriety is liberating.
I haven't exactly lost friendships over my decision to stop drinking, but a lot of my relationships have changed. I don't get invited to as many social gatherings, this could be in part because of Covid-19, but there is a feeling of loss underneath it all. Sometimes this hurts. After all, I still like to have a good time, and connecting with people is important to me.
There is so much expansion that comes with letting go. It opened up an endless space within me that I had long forgotten. It's a brave place where I allow myself to fully feel things as they arise instead of chasing them away or pushing them down. After some encouragement from a friend, who happens to be a therapist, I have recently started to think of this place as my inner child. Acknowledging my inner child has probably been the most vulnerable part of this journey so far. Again, grief and growth.
Here's the thing about choosing not to numb out, I am present. I feel deeply. Be it joy, rage, excitement, sadness, surprise, or fear. When life gets hard, it's hard. When it's beautiful, it's like living in a state of amazement. Either way, I am clear. Ready for anything. Open to the limitless possibilities.
When grief bubbles up, I try to imagine holding my inner child and letting her feel things all the way through. It's a way to remember that I am loved.
~