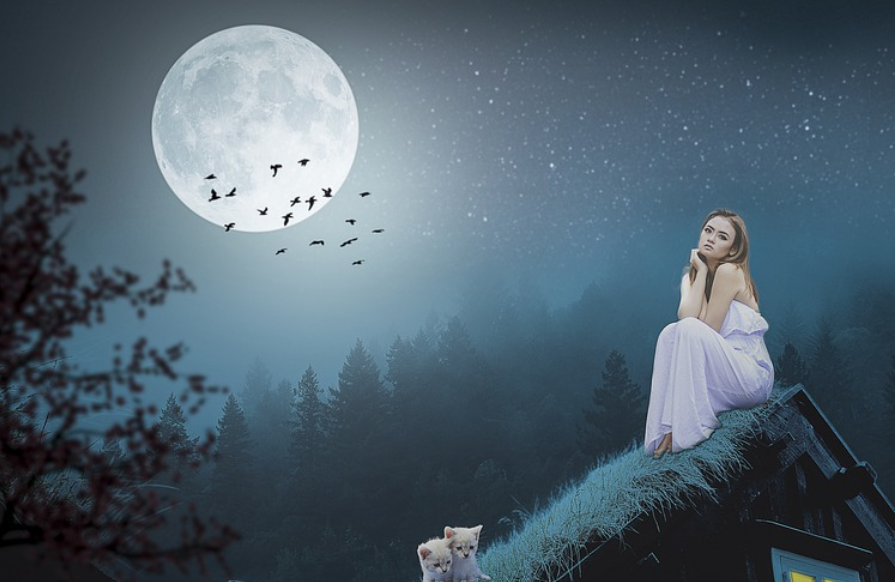 "Whether it's science or magic, if it's of fun benefit, enjoy!" ~ ed
~
The Aquarius Full Moon is Sunday the 22nd at 7:01 AM CST, and is also a seasonal Blue Moon, which we won't see again for a while.
A blue moon is also known as a betrayer moon (an outcast that didn't fit in a 12-month cycle and is a fourth full moon this season). According to NASA, it happens about once every 2.5 years, hence the term "once in a blue moon."
Fun fact, the moon will not actually be the color blue.
Things to observe at this time:
>> Things are likely to test us
>> People have no filters
>> Potent issues will most likely be revealed
>> Deep insight may come with those challenges
It sounds like fun, right?!
It can be with a bit of loving intention, and by using the days of the week in combination with the planetary energies.
Following is a suggested agenda for the week leading up to this Aquarius Blue Moon.
I am in Central Time Zone in the United States—the moon is happening Sunday for me, so adjust accordingly. If you feel called, join me! I'd love to hear how it goes.
Monday, Day of the Moon and Spiritual Growth:
Things should be moving after an action day from the first quarter moon the day prior. If any last-minute business needs to happen, we can activate our path by completing the task or at least writing an actionable to-do list.
Tuesday, Day of Mars to be in Nature:
It only makes sense to be outside in nature on this day. While there, we can look to the elements of nature to speak to us, guide us, and direct us where to go next. Take a few extra moments to become one with nature's form of communication. The sun's dawning each day reminds us of new awaiting, as the in and out tide of the ocean reminds us of ebb and flow. Looking closely at nature and its elements helps us understand everything better.
Wednesday, Day of Mercury and Communication:
Be honest and authentic in all communication. Now is not a time to be surface-level, fake, or hide. We can activate and honor the messages we value and the information we have to share. Any form of communication works; email, social media shares, writing, a phone call, a text, or a conversation.
Thursday, Day of Jupiter, Socializing, and Meetings:
We can go deep into self-care in relationships. More than we have all year. I am not talking about a rose petal bath with champagne. I am suggesting something a bit more next level, like setting difficult boundaries with someone, doing a technology detox, or considering hiring a mentor or coach.
Friday, Day of Venus, Love, and Beauty:
Beautifying the home environment is priority on this day. We can add an enhancement like flowers to adorn our space. Taking a step further, we can get gratitude energy moving through our hearts by writing a love letter to the flowers, thanking them for their gorgeous gift of scent and luxury. If that doesn't feel good, we can write a love letter to a person (it doesn't have to be romantic love).
Saturday, Day of Saturn. Learning, and Letting Go:
Think about what needs completion and put it to rest, including emotions, feelings, judgments, opinions, people. Making a list and burning it, physically removing something, or saying goodbye to a situation can be supportive on this day. New is coming to fruition, so ensure we receive the new, by letting go of the old.
Sunday, Day of the Sun, Goals, and Wellness:
The day of the full moon, work with long-term goals in a reflective way. I have been speaking a lot to values and souls passion these past couple of months, and this is our final call. We can enhance them by discussing them, dreaming about them, writing them down, or maybe writing a letter to our future self who is living in their illuminated path. We can express how happy we are for that future self. Most importantly, we can look at where we are now, and let go of anything standing in the way of the bigger vision.
The most important thing we can all do on this blue, full, Aquarius moon, is get honest with ourselves. We can make sure that we are aligned 100 percent with our values, and activating those values by doing something to help make the world a better place. As we surrender all to the divine, we can let our authenticity shine and share our truth; the way to maximize this powerful full moon energy.
Are you setting an intention with this moon? I would love to hear how you are letting your true authenticity shine into the world in the comments!
~