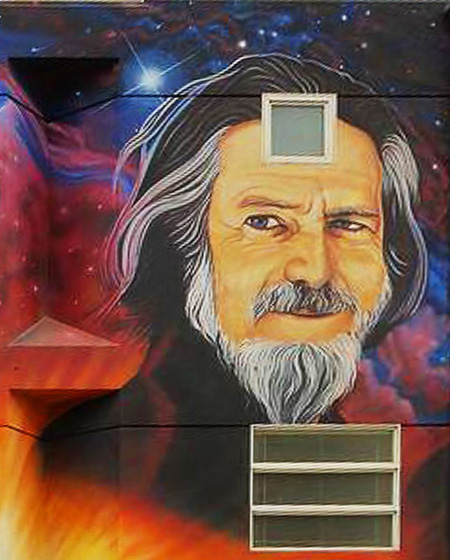 "There is a price to be paid for every increase in consciousness. We cannot be more sensitive to pleasure without being more sensitive to pain." ~ Alan Watts
I sat on the floor of his balcony, lit a smoke, and admired the city lights.
He spoke to his brother on the phone inside. I'm not sure what I was doing there.
I'd known this man for about six months and had spent several hours in his company, but he was little more than a stranger to me in several ways. Our relationship had inched forward over the course of half a year, only slightly and ever so cautiously progressing, each of us revealing only a tiny bit more with every hour spent together.
That night, I'd forced a difficult conversation about whether we should continue seeing each other.
Things had felt "off" recently (maybe from the very start if I had only been honest with myself). He assured me that he was invested and wanted to see where it went. From an objective standpoint, his words were just what I wanted to hear. Having a history of either deep and complicated or shallow and unfulfilling relationships, I would immediately enter a state of anxiety-ridden turmoil when I felt uncertain, unloved, or unwanted. But his words, impeccable for the moment, calmed me down almost instantly.
That wasn't something I was used to. Being quite smitten with this man for several months now, I confessed my feelings for him, informing him that I hadn't felt what I felt for him in a very long time. He responded with "that's a good thing."
Once our conversation had ended, he left the room to make a call, leaving me feeling more vulnerable than I had in a long time.
I had just made a bid for this man's affection while he had, I had rationalised in the moment, responded and dealt with the situation in an extremely mature and healthy manner. In my head, I told myself I should feel reassured. He was saying all the right things after all. But being the highly intuitive and sensitive person that I am, my body knew otherwise.
I felt an instant need to numb and sat on the floor lighting up. As I inhaled, I subconsciously knew that this relationship would only bring me pain. I looked out at the world and shuddered at how painful life could sometimes be—the scary part being that I hadn't even yet experienced some of the most painful things.
I hadn't lost a parent, a sibling, or a friend. I hadn't known hunger or poverty or homelessness. I hadn't lost a job or not been able to find a constant source of income. I hadn't gotten divorced or experienced true betrayal. I hadn't undergone a serious medical condition and neither had anyone close to me. I hadn't experienced addiction to drugs or gambling or abuse. I hadn't been mistreated or preyed on as a child or a woman. All real possibilities. I recoiled at the thought of them.
I had been deeply hurt (by others but potentially just by myself—by my own insecurities and the stories I told myself). But overall, I had lived a largely sheltered and supported life. I, therefore, didn't even know the depth of despair one could feel, but yet in that moment, I glimpsed down this deep abyss, fully aware that I had only scathed its surface.
What I felt in that moment (fueled by having just unknowingly experienced a hint of unrequited love) was that life was hard. That I, like almost everyone else on this planet, would experience profound loss and pain. That I (like everyone else) would lose both of my parents at some point in time, and that would be terrifyingly devastating. That I would love (as I just had) and may not have it reciprocated. That I may lose a job or lose all of my savings or worse still, lose direction or meaning. That I may lose a child or not be able to carry one. That I may be left behind and cease to be loved or cared for by someone close to me. That essentially, like I was currently hurting, it was only inevitable that I would hurt more. But also that it wouldn't just be me, but every other human being. And that was scary.
Why did life have to be so incredibly painful?
The man I was hopelessly infatuated with returned to the room. I had already been vulnerable enough and decided not to share my anxious thoughts. Instead, I curdled up against him, as yet another means to escape. It didn't work and I spent the rest of the night staring at his ceiling, repeating the words he had said to me in a desperate attempt to counteract the uneasiness I felt. I wanted his words to be true, not what I actually knew and felt about the situation.
A few weeks later, our relationship ended. I had to finally accept that this man was not yet capable of entering a deep and meaningful relationship—something he would finally admit; something I knew all along, and a powerful reminder to trust my intuition.
That wasn't however my biggest lesson from the experience. What actually came to me in a moment of profound clarity was that I had no reason to fear pain (of the kind I had just felt or any other kind). That pain, if viewed differently, was in fact rather beautiful. That life was not actually (or did not have to be) as painful as I thought it was going to be.
As perfectly encapsulated by Alan Watts:
"To remain stable is to refrain from trying to separate yourself from pain because you know that you cannot. Running away from fear is fear, fighting pain is pain, trying to be brave is being scared. If the mind is in pain, the mind is pain. The thinker has no other form than his thought. There is no escape. But so long as you are not aware of the inseparability of thinker and thought, you will try to escape."
Any experience, then, if not necessarily in the exact moment in which it is taking place, but perhaps in a later moment of clarity, can be beautifully enlightening and transcendent.
What then do we really have to fear?