She just "got busted" for partying until 4 am.
She's been in office as head of Finland for over two years, now, and she's just 36.
She's honest, accountable, imperfect, focused on issues, deeply sane and caring.
She's newly married to her partner of many years, and she's just getting started.
"She is, perhaps, the only PM who posts breastfeeding selfies on Instagram, or pasta sauce recipes on Facebook. (Her trick: a tablespoon of caper broth.) "I just want to be honest, and be myself," she says. "I find it much easier."
View this post on Instagram
Like many women, managing work and parenting is a family affair. "She's a big help in everyday life," Marin says of her mother. "We're very close." She speaks passionately about how important it was for her and Markus to split their parental leave equally (each took six months off). "I could go back to work, and he could spend quality time with our daughter," she explains. "They have such a good relationship now. I think it's very important that fathers have the right to spend more time with their child because it's such a unique phase in your life. Our children are only young once." The next week her government announces an increase in parental leave for new fathers, from 2.2 months to 6.6 months.
Images from her Instagram: ""We have to make sure we're building society in a way that is not only socially and economically sustainable, but also environmentally sustainable."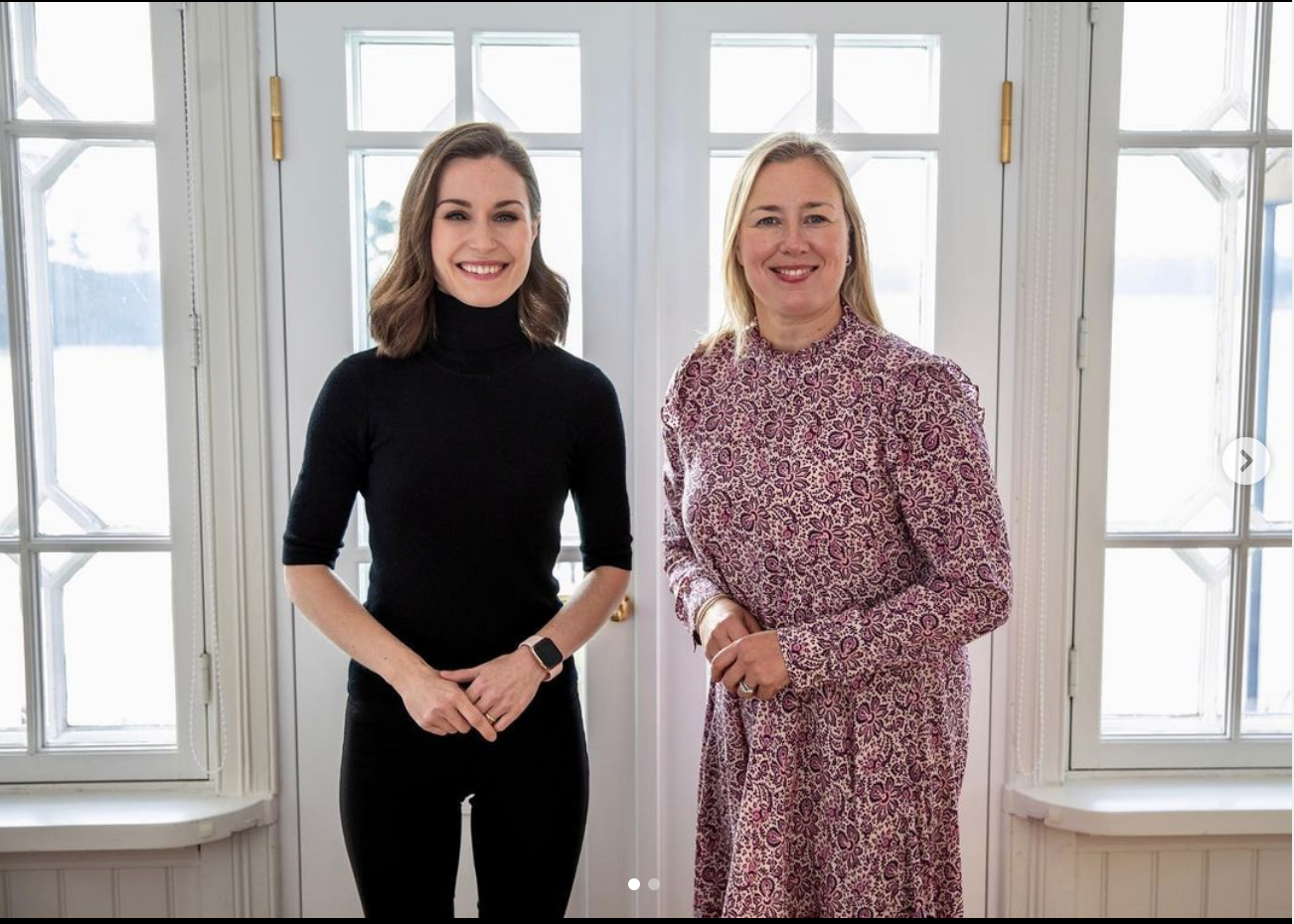 After she became PM, Estonia's interior minister ridiculed her for being a "sales girl". "I didn't get it," Marin muses. "Most young people work in shops or other low-paying jobs when they are growing up."
For more: Sanna Marin, The World's Youngest Female Prime Minister, Marries In Intimate Ceremony.
"Eight months after becoming Finland's Prime Minister, Sanna Marin has married her partner of 16 years, Markus Räikkönen. The couple married in an intimate ceremony with family and friends at their official residence in Kesaränta. Sanna, who wore an elegant long-sleeve silky dress by Finnish designer Anni Ruuth, shared pictures of herself dancing with her new husband on Instagram.
Alongside one of the snaps, which were taken by Helsinki-based photographer, Minttu Saarni, she wrote: "I am happy and grateful that I get to share my life with the man I love," adding: "We have seen and experienced a lot together, shared joys and sorrows, and supported each other at the bottom and in the storm."