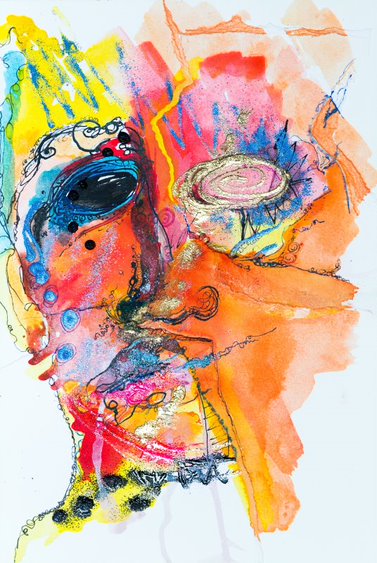 Today, when I reflect upon the past three years or so, I recognise and honour my transformation from worn-out teacher to artistic alchemist.
The pavement I walk, once graveyard grey, is now painted with splashes of the brightest colours, and holding my hand, is Art.
She walks by my side in her long silken robe, dyed the most serenest of sea-greens and a cloak of powerful purple. Her pale skin is almost translucent, her gentle face framed with waves of fiery red, her green eyes sparkle with possibility.
You see, Art came back to me in 2020 after a series of traumatic life events—one on top of the other. She picked up my broken pieces and stuck me back together with gold and glitter, colour and creativity. I was like a piece of kintsugi pottery.
I was renewed. Renewed and refreshed by creativity, colour, and connection. I twinkle under the stars and my heart sings with the birds at dawn.
Life Before Art
In July 2019, I was worn out, burnt out like the saggy grey elastic from a faded knicker-line. My mum had died in November of 2018. My 16-year relationship fell apart and my children got caught up in the crossfire of an acrimonious separation. I was making wrong choice upon wrong choice. Ultimately, I ended up emotionally and spiritually bankrupt. I was in a deep, dark, depressive place, isolated from support and wallowing in an ocean of self-pity.
Art has healed me in ways unimaginable. She has always been there like Mother Nature and the Universe. I just needed to activate my creativity, align myself with what mattered in life—love, laughter, inner peace, and self-compassion.
It could heal you too. Even if you do not feel like you have a creative bone in your body. Art can heal.
Reconnecting, Reigniting, Realigning
When I left my 18-year career as a teacher, I reconnected with my inner artist. Art has enabled me to reignite my passions, my purpose, and my values. It deepened my self-understanding as I realigned with my creative source. I found self-forgiveness as I expressed myself with paints and powders, papers and pens. I literally drew my way out of depression, coloured my way out of conflict, and mindfully meditated away from anxiety with playful patterns.
Art has helped me attract people who care and encourage and believe in my mission. I now wade in an ocean of turquoise and teal. I hear owls at midnight and blackbirds as the sun rises. A silver birch wood is my sanctuary. I am in total wonder of all that surrounds me from the natural to the man-made.
My inner artist has awakened and I see the magic in the ordinary.
The Great Calling
Last year, I felt a great calling. An inner voice was telling me that I had to bring creativity to others and show them that they could unlock the inner creative within, regardless of their artistic talents or abilities. Despite the stories and beliefs they had been holding in relation to their creativity, they could embody the artist within.
When something touches you so strongly, it is inevitable to want everyone to feel the benefits. And so I began a Facebook Group called Sparking Creativity to find and build a community of people who felt frustrated, fearful, anxious about their creativity. The aim was to reignite their creative flame and spark creative confidence as well as show that what holds us all back is our mindset not our skills.
You see, I believe we are all born creative, and in the words of Sir Ken Robinson, we "grow out of creativity rather than into it."
This moves me and motivates me to create courses for beginners to art.
Matisse said: "Creativity takes courage." Yes it does! It invites you to change. It invites you to be vulnerable. It invites you to be bold. And it is our courageous creativity that will heal not just ourselves, but the world we live in.
~