Elephant Journal has been serving many of you, and us, and them, for 19.9 years now (we turn 20 in June..!). We've reached many millions (a month) during much of that time. But over the last 5 or 6 years, Facebook (and others, but mostly Facebook/Instagram) have succeeded in blackholing (sucking up) media, blogs, independent communities. They're gone. Elephant has been a rare exception.
Even today, we have millions of readers—and the strongest, most experienced, and caring staff we've ever had.
But with Facebook and Instagram's algorithm having strangled most media, we can't go on forever without you.
To that end, if so inspired, we are asking you to help us keep Katie (some of you know her from Elephant Academy, our online school) and other key, skilled, caring, wonderful staff around. I've always been able to ask you, our farflung, caring readers, to help our mission. You've always responded. Even if you can only give $5, that's something, and means a lot. Please take the time. Please share a message, too, and include your name so we can see you and feel the community.
While we aren't a non-profit, we are sadly non-profitable, right now, for now. Not because our offering quality has changed—our writers and editors do amazing work, as well as our Academy and Partnerships as a whole—but because our ability to connect with you, our own community and readers has, like many others, been been throttled. Help us get through this no man's land to a place where we are a sustainable, strong community.
Give here, if so inspired—see who's given, and message us and the community, here: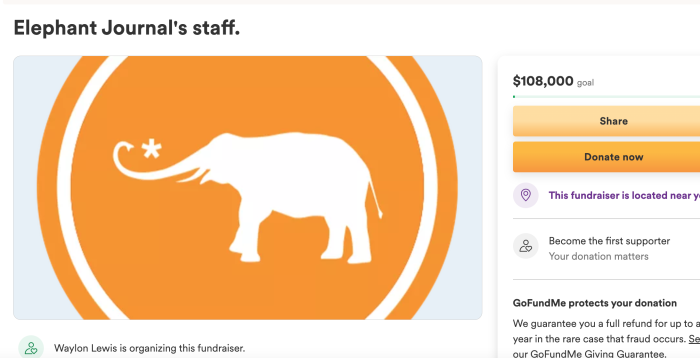 I'm hoping to raise around $50K per staff person. There are at least 3 in danger right now—if we seek to close our budget toward the new reality, we'd have to lay off four or five. So if we can raise $100K, that would help save two staff persons for one year. If we can raise $200K, I know that's a stretch, that would save four staff persons for one year. Every cent raised (after GoFundMe takes their small cut) will go to these staff jobs and securing them for the next year. None of it for me, for leaders at Elephant, for any purpose other than these wonderful staff persons who have given their all to community, and who hope to continue to serve Elephant and our world and our mission to be of benefit.
Every cent (and hopefully many dollars, please give generously if so inspired) for our community, our mission, our world that, more than ever, needs independent, vulnerable, helpful media and community.
If you can't give, please support by sharing. If you do give—share this link, too. Thank you so much and I am sorry to be in a position to have to ask, but this is where we are.
PS: some would say this makes us look weak. We are. We're also strong, and resilient, and won't give up, and have millions of readers, still.
But admitting we need help is vulnerability, and honesty. Both of those qualities makes any one of us strong, in a real way—if we have community who cares. I believe we do.
PS: if we don't make our goal, we will lay off good humans. I understand that may have to happen, but I do want to fight that. If we make any part of our goal, that will go toward securing one job, or two. If we don't even make one part of that, it will go to help ease these good folks' departures, so they can transition more slowly, and reduce hours more slowly.
Recorded for staff, but.