HThis article is written in partnership with Tantra & Hatha Yoga instructor Ashley Encantada and Certified Sex and Relationship Coach Trish Wright. They're bringing pleasure to new heights in an erotic retreat combining the exploration of tantra and BDSM. We're honored to work with them. ~ ed. 
~
A Tantrika and a Domme walk into the room.
They're good friends, giggling and wearing ear-to-ear grins when they walk in. You're in the room, too.
Wait…where am I? And why am I here again? Answers are coming friends. And so will you.
You're in a beautiful, spacious, comfortable home in Tulum. It's the late afternoon, some refreshing hibiscus water and luscious fruits are making their way around the room full of friendly internationals—all here for the same reason as you.
Tulum's climate and vibe have begun working their way through your body and you're already more in tune with your senses. You're relaxed and excited at the same time. There's a tinge of nervousness alive in your body as you start pondering which of the classes will be most interesting to you:
>> Erotic massage
>> Female ejaculation
>> Attuned Dominance & Submission
>> The Voice of Desire
Quietly, you're looking forward to the penis lengthening class to see if it's really possible. No matter what, you can't believe you're really here.
Whether you're on the edge of your seat or lounging on the plush furniture is of no importance. The tantrika, Ashley Encantada, instructs everyone to take a few deep breaths before she leads them into a trance meditation.
Just after, the kinkster, Trish Wright, asks everyone to stand up one by one to share one desire and one fear with her and the rest of the group, all the while, her whip in hand.
You can't back out, afterall, this is exactly what you came to Satisfy Me: A Retreat for Sensual Explorers for—an erotic breakthrough! Imagine the worlds of spiritual tantra and earthy kink blended together in one concoction meant to bring out the juiciest, most loving and soulfully complete version of you in love and in your life.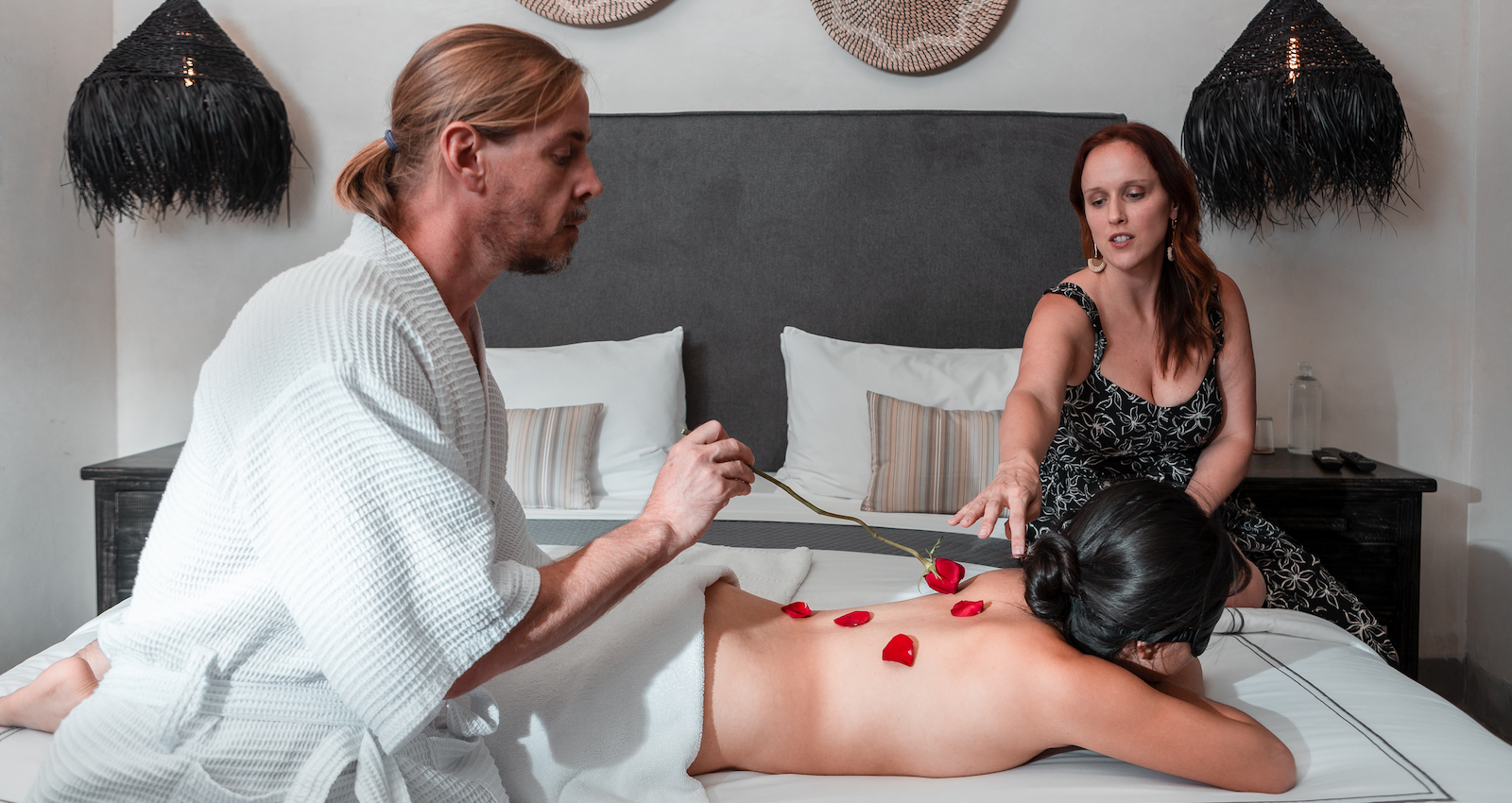 It's us! We're the Tantrika and Domme.
So, we know that you're not likely to attend a sexy and sensual multi-day retreat that pairs Tantra with BDSM kink practices without knowing exactly who you're going with. And that would violate BDSM safety basics anyhow. So, allow us to introduce…each other.
Meet your Tantrika. Ashley Encantada is a visionary guide, ordained minister, coach and transformational retreat facilitator who specializes in supporting couples and singles that want to bring their relationships with themselves and each other into a new paradigm of elevated, deeply connected love, pleasure and creativity. She radiates joie de vivre and kindness which makes a stellar match with her vast and intercultural life experience, making everyone feel comfortable, included and, essentially, right at home.
Meet your Domme. Trish Wright is a sex and relationship coach trained in various methods such as Holotropic Breathwork, Non-Violent Communication, BDSM, and Conscious Erotic Sexual Practices. Her heart-centered approach prioritizes cultivating deeper intimate connections. She is sharper than a tack, an exquisite and considerate communicator and has an unmatched amount of enthusiasm for helping you draw out your most authentic expression. She's giggly, fierce and beyond profound all in one emotionally intelligent package.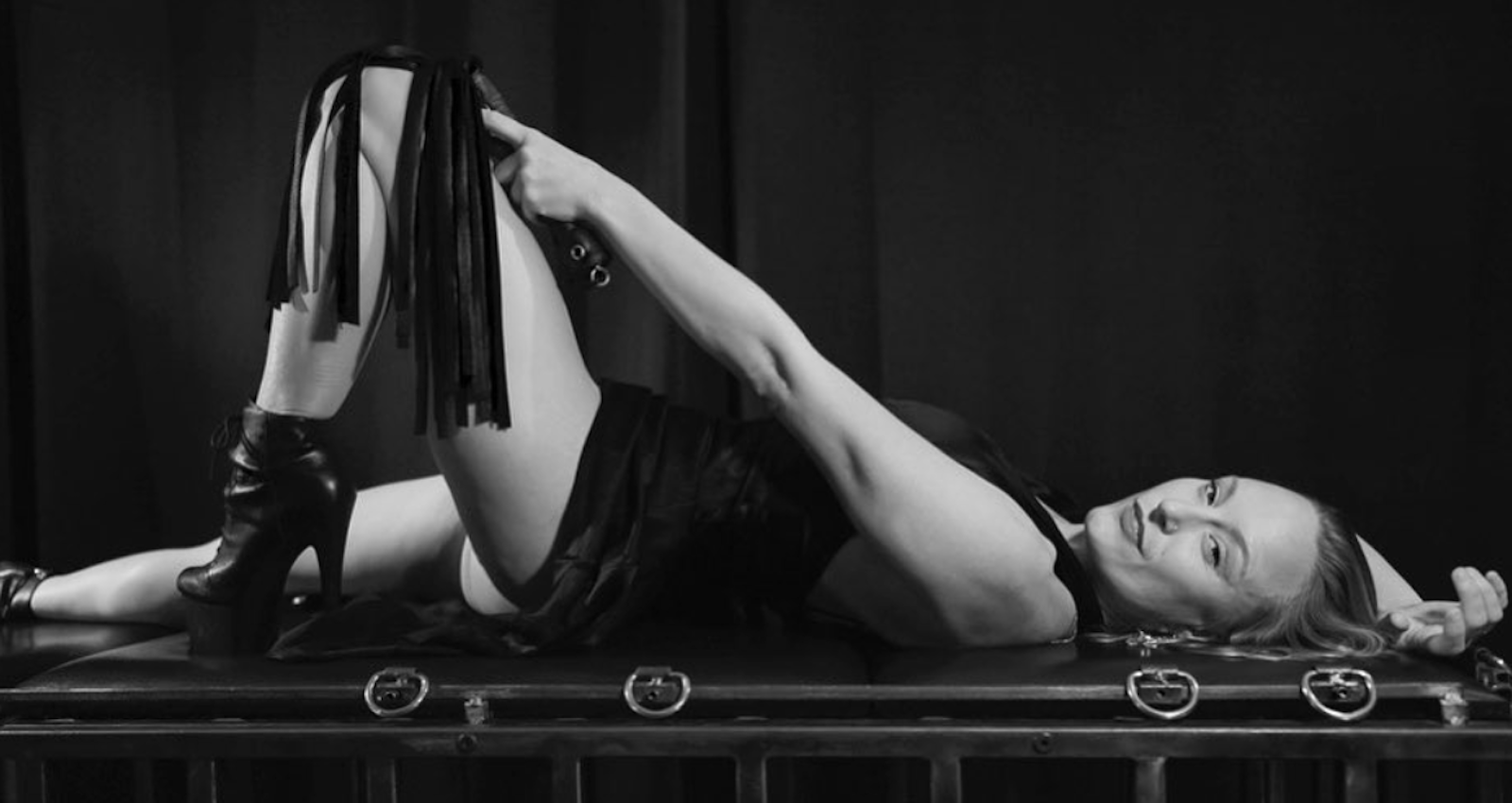 But, like, why Tantra and BDSM!?
Good question! Most people don't realize just how much kink and tantra have in common, not to mention the vast array of desires and adventures they incorporate.
Now, BDSM and Tantra are two seemingly distinct practices that have surprisingly similar underpinnings regarding their sacred nature and transformative potential. While BDSM is often associated with the exploration of power dynamics and pleasure through sensation and stimulation, Tantra is an ancient spiritual practice that focuses on harnessing sexual energy for personal and spiritual growth.
Soaking in the two together over the course of one exotic retreat is like riding an erotically charged roller coaster of your own life force energy that is so completely life changing. You may never want to get off.
But to make the connection between the two über clear…
Let's talk about this in the opposite order we would teach it. Reverse cowgirl, anyone?
In person, consent comes first so that everything else feels safe afterwards. Then comes arousal, because without arousal, great sex just doesn't exist and without great sex, we don't have…
Orgasm.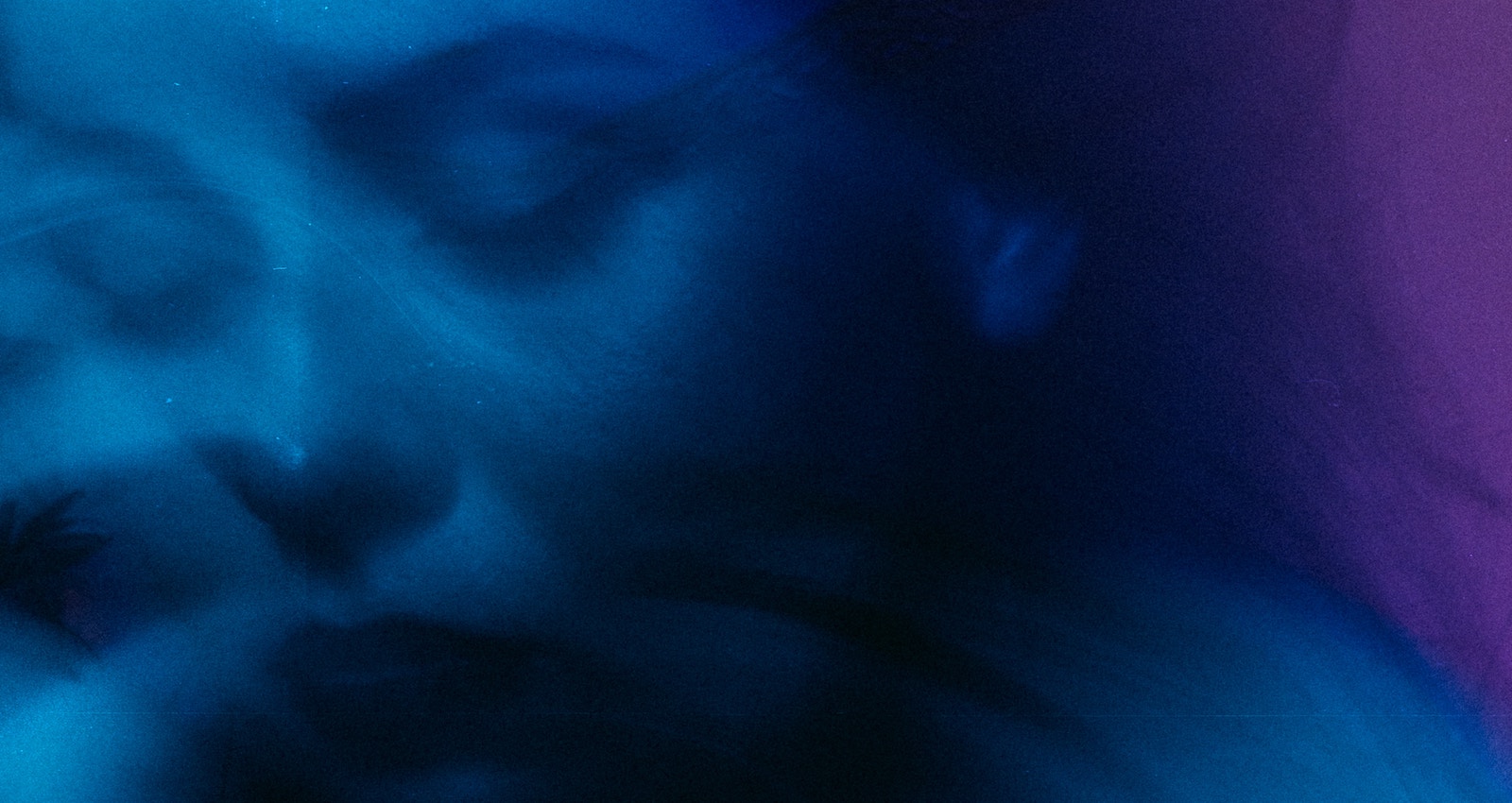 Both BDSM and Tantra teach how we can channel pleasure into means beyond a brief experience of orgasm.
Tantra can teach us how to harness the power and energy of an orgasm in order to bring us to higher states of consciousness and to develop ourselves spiritually, not only for experiencing more inner peace and better connection with all of life, but also for tapping into our own unique siddhis, or metaphysical powers.
Tantra, too, invites us to explore our sexuality, reconnect with our bodies, and embrace the totality of our being (energy bodies and power included), leading to deeper self-acceptance and self-empowerment.
BDSM can give us a greater sense of agency over how our body responds to certain sexual and relational dynamics, which helps further liberate us emotionally and sexually.
One way to accomplish that is through creating corrective experiences and through the transmutation of trauma through pleasure. For example, consciously choosing to relive an experience that we wish had gone differently, in a safe and healing container that we and our partner (or partners) create.
Another delicious way BDSM can support us in experiencing the totality of our sexual essence is through Sexual Shadow Work, which allows people to experience and play in the dark fantasy world with their shadow side, or the side of us that consists of anything the conscious mind does not want to embrace or accept about our nature, without shame.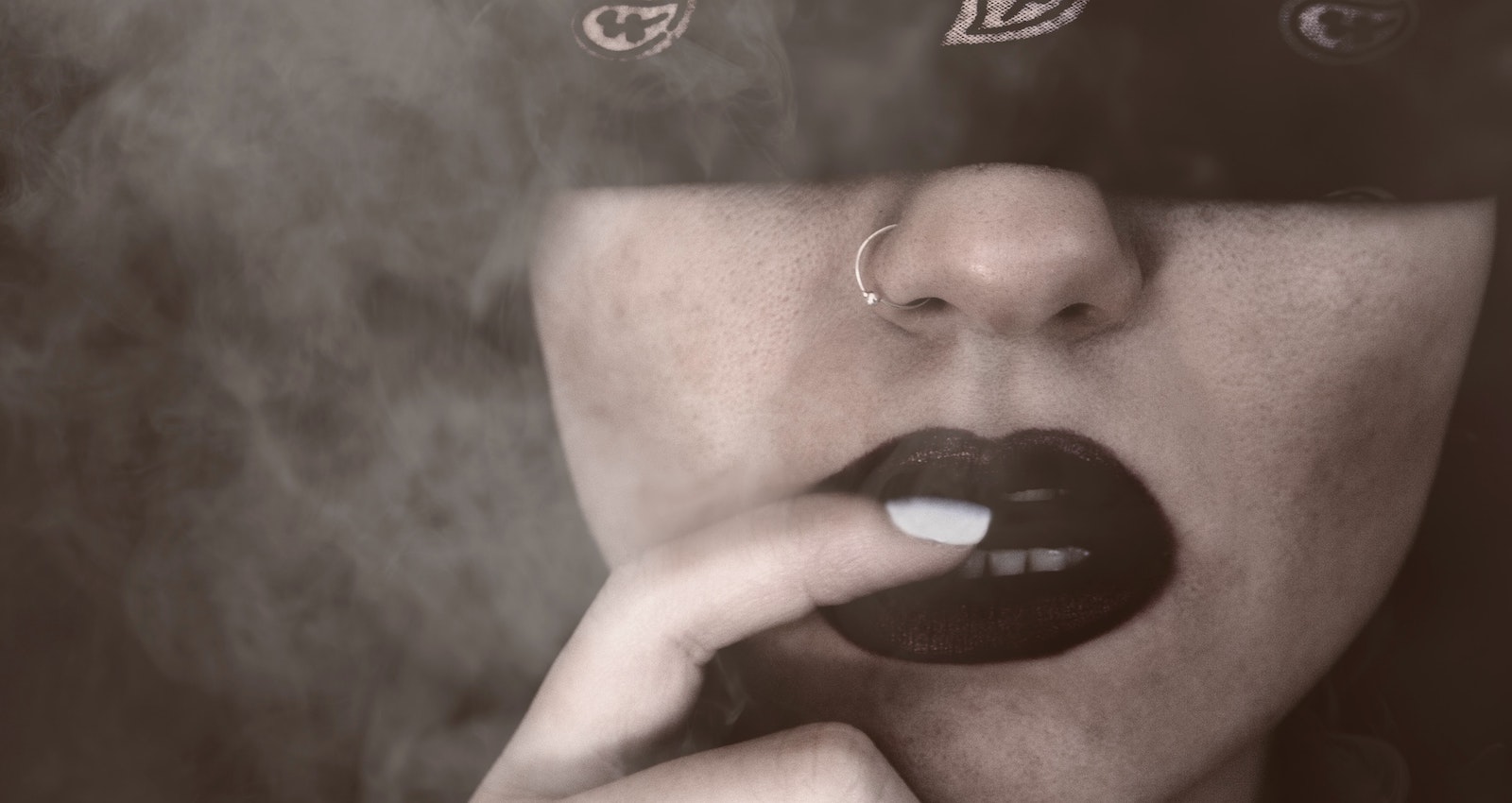 Sexually speaking, many of us lose our ability to experience deep, powerful arousal and connection because our shadow side does not have a seat at the table, so we therefore aren't showing up and expressing ourselves as fully as we can.
Combing Tantra and BDSM, we celebrate the sensation, the fantasy, or the experience that wants to happen, and in doing so, accept whatever turns us on. That acceptance allows the currents of pleasure (sound similar to that energy body that Tantra deals with?) to run through us more powerfully and more freely.
Want to feel comfortable giving up the need for control? Are you yearning to be a naughty girl but feeling like it's too taboo? Those might be tied to that totality of your being that Tantra can help you explore. So it's Kink and Tantra to the rescue, baby.
Even if you're only up for baby steps, you're totally safe in our world of conscious kink.
The next intersection?
Arousal.
You know that seemingly mystical process of getting your body, mind, heart, and soul from zero to one hundred when it comes to wanting sexual activity? Tantra and Kink want you to be so turned on, you are practically begging. And if you naturally run hot and are extra kinky, the combo just might actually get you on your knees.
Powerplay aside, tantra and kink prioritize your turn-on more than you can probably imagine. In Tantra, that's because the practice is about adding more fuel to the fire to essentially blow you wide open with physical, energetic, and spiritual orgasms that bring you to higher states of consciousness. Permanently.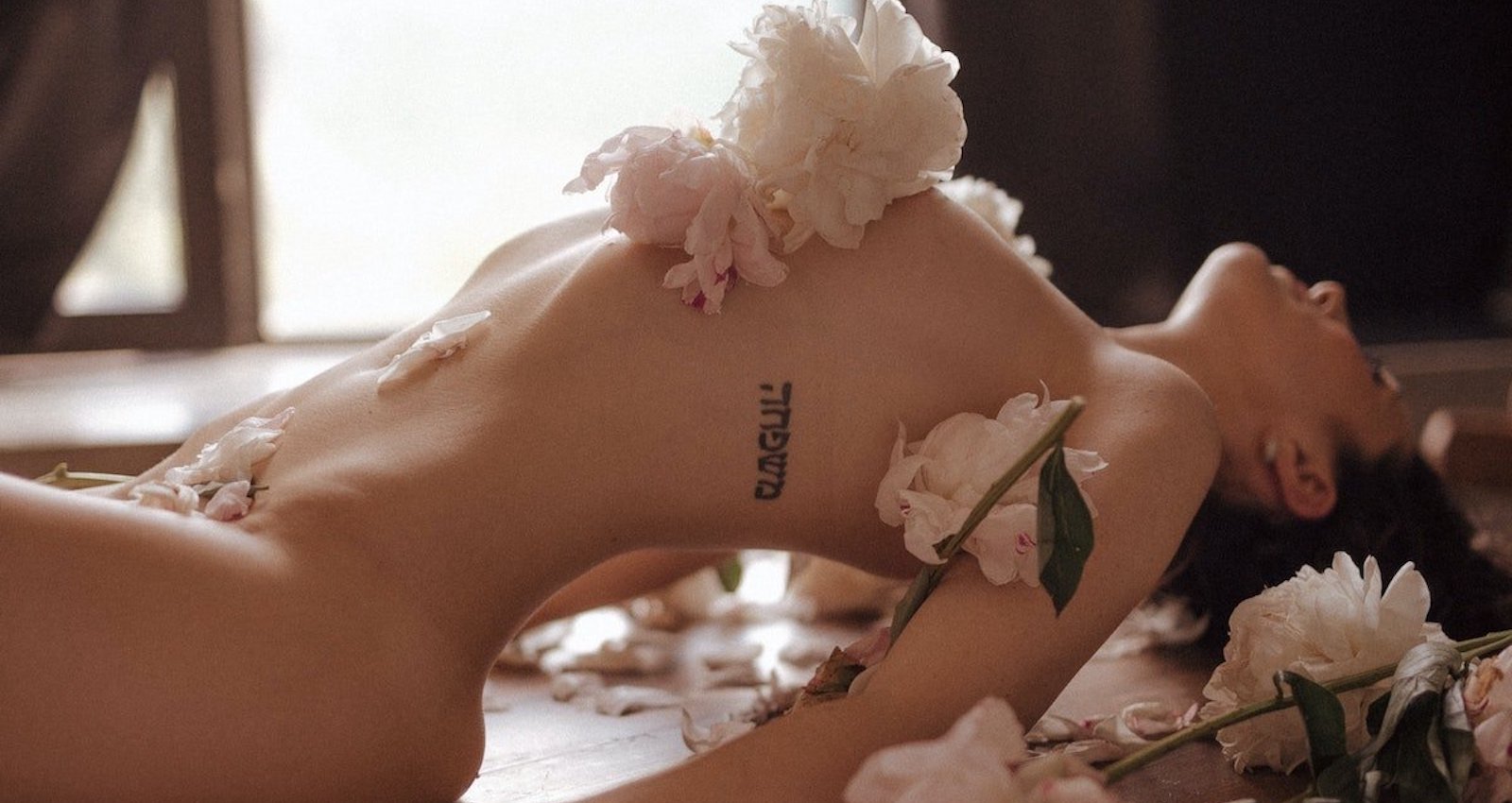 Now, imagine wanting that exact experience, yet being an undercover kinkster and not having all the switches and tricks you might benefit from in order to get you there. You want to feel hot, you want to drip with desire, you want to want sex more and more, but do you know what can take you there?
Maybe some spanking, playing the good girl, giving up control, giving up decision making power…or maybe, taking all your power back—consensually, of course. Which brings us to our next intersection.
Consent.
No matter what kind of sexual playground or frequency we're on, consent is always sexy.
BDSM in particular has taken consent to new levels of specificity in alignment with the ever-changing landscape of relating. Have you heard of the acronym RBDSMA?
R stands for Relationship.
Either your Relationship Status or Relational Impact (how a specified activity will affect your relationship[s]). Because discussing one another's expectations and how you intend for the play to impact the Relationship is foundational.
B stands for Boundaries.
Setting the container for safe and respectful play. What is on and off the menu for you and your play partner(s)?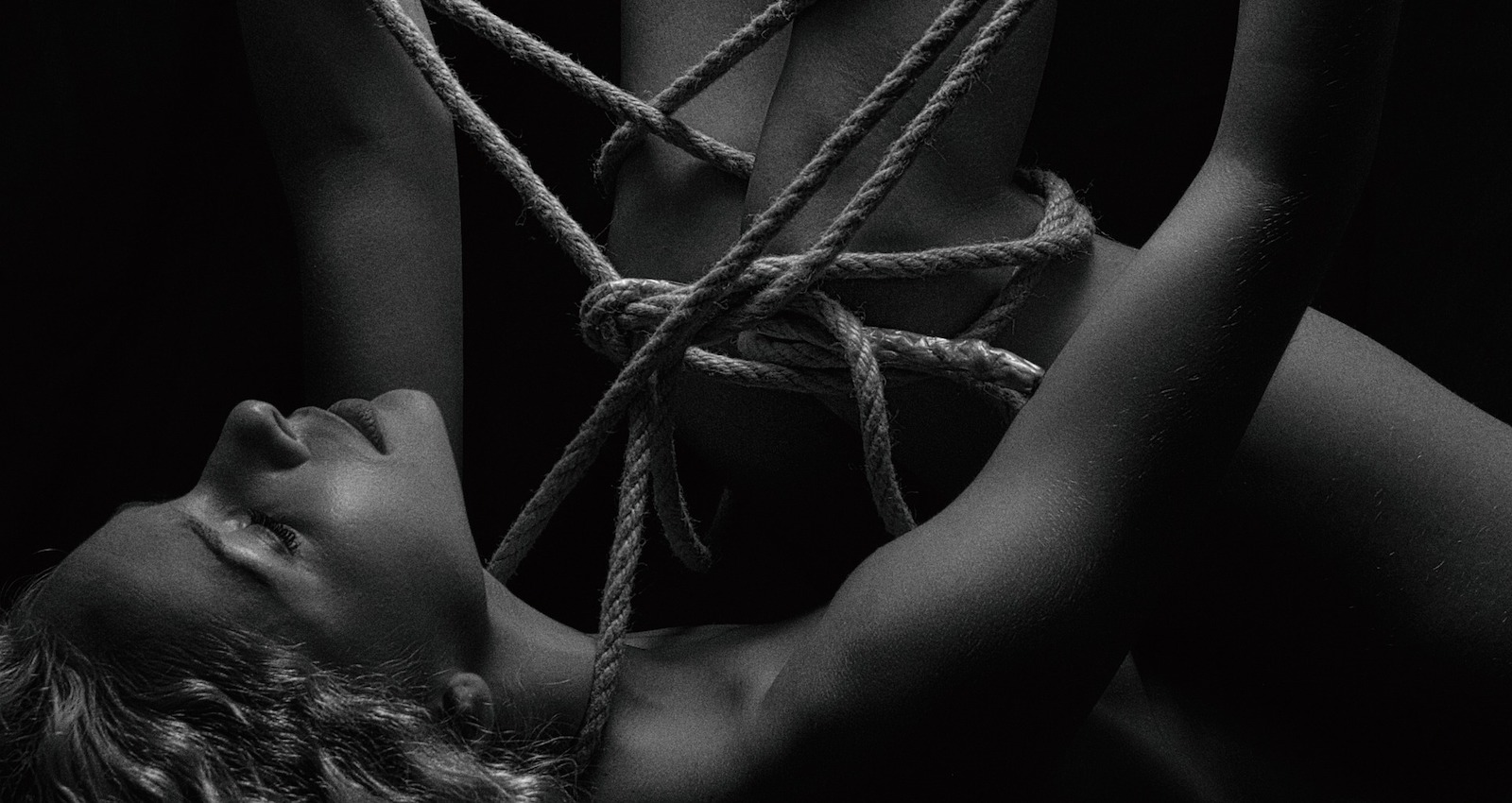 D stands for Desires.
Communication about what turns you on is necessary for mutual enjoyment. Don't know what turns you on? A Kink and Tantra retreat is the perfect exploratory playground for determining just that. We'll offer plenty of experiences to tune in with the felt sense of your fantasies, and those of others, before actually diving into play!
S stands for Sexual Health and History.
This will ensure that everyone is most informed to make the safest and healthiest decisions for themselves. When we talk about sexual health and history, we bring everything into the light: STDs, sexual trauma, gender-affirming surgeries. With transparency and vulnerability, everyone feels clear and safe to play.
M stands for Meaning.
Because playing in specific ways might have different meanings for different partners; ensuring you are on the same page is essential. Does this make us more than friends? Does what happened in Vegas stay in Vegas, or do we share a friendly hello and/or hug if we bump into each other outside of this container?
And, finally…
A stands for Aftercare.
Taking care of each other after the play is just as important as the play itself. Do you need a cuddle afterwards? What about a text check-in sometime the next morning?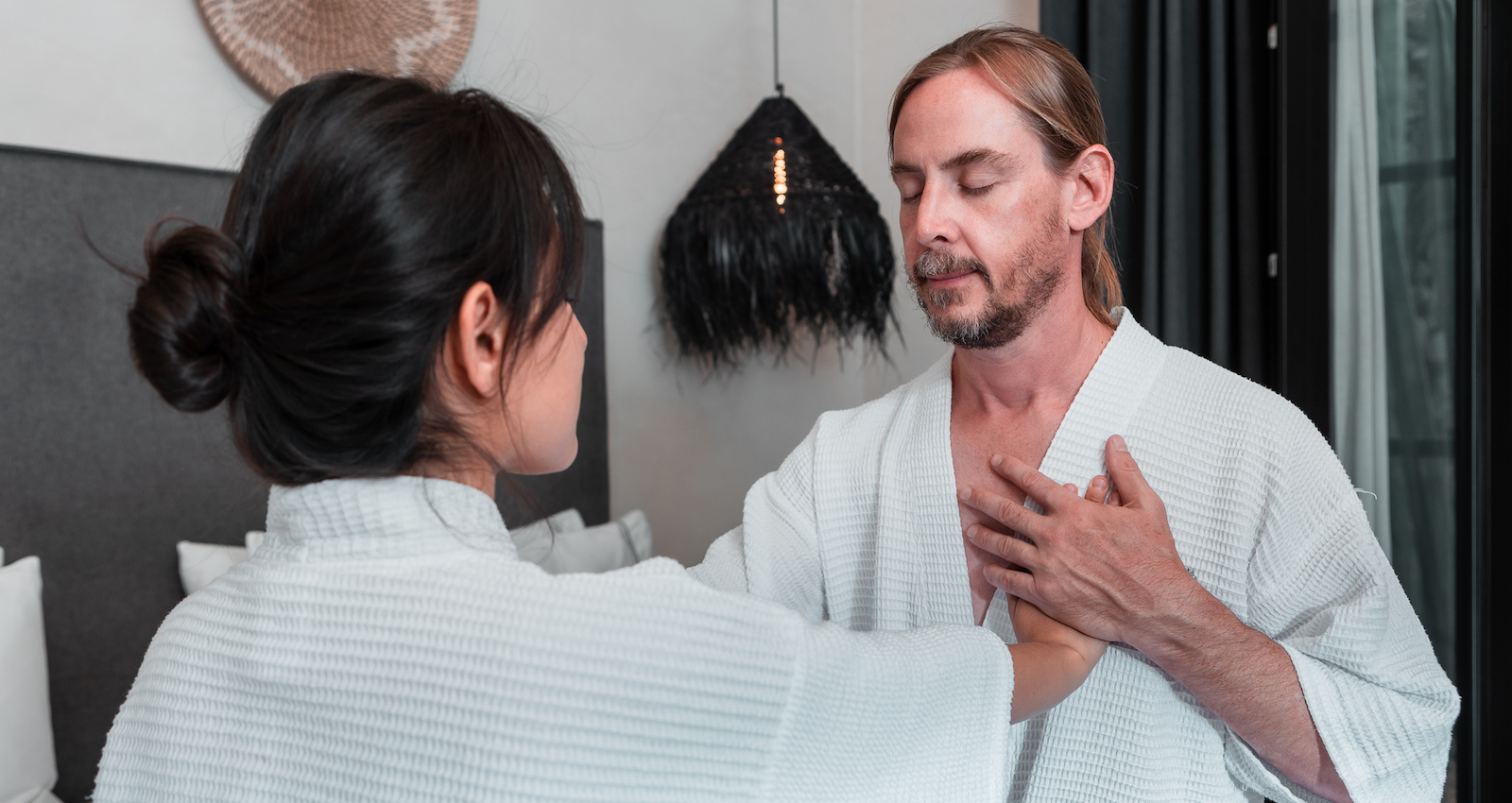 Understanding each other's expectations, setting boundaries, communicating desires, discussing sexual health histories, aligning meanings, and completing aftercare rituals are crucial to creating a safe space for deep, fulfilling play.
And when we tie Tantra into these same principles and practices we're more likely to ease into the energetics and the unknown aspects because we feel more secure, heard and clear on who we're exploring the sexual cosmos with.
Of course, we can't talk about tantra or kink without covering sensation play, energetics, and emotional attunement—but we have to leave something to be desired, right?
Now that you've had an introduction, are you hungry for more?
~