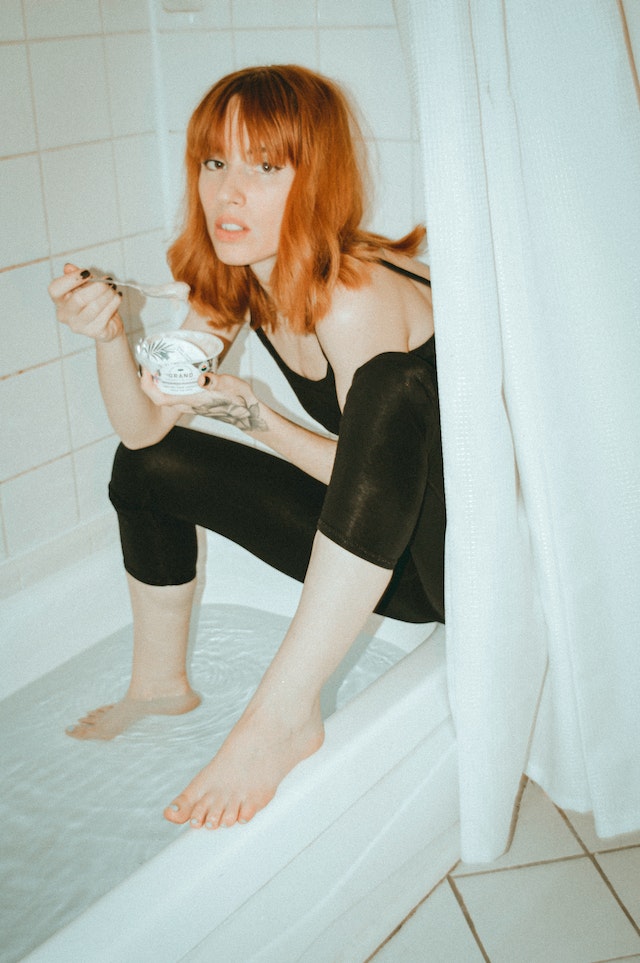 The Clean Girl Aesthetic. The Girl Boss. The Super Mom. The Corporate Baddie.
The women on our phones wake up before the sun to jog, journal, and meditate. They're running a 5 to 9 before their 9 to 5.
And the call is coming from inside the house. It's women telling other women that the secret to success is to grind and push and do more, always more, but also less—you have to know when it's less, not more, of course. Culturally, we've adopted these personas as if they were an outfit to wear and not another attempt from society to tell women who and how to be.
The Girl Dinner trend has gone in a thousand directions since it landed on my feeds. It finds its place somewhere among the #softlife and #cottagecore hashtags and, in a non-confrontational way, challenges other, more insidious and socially acceptable standards. I've also seen it used in reference to girls—ahem—devouring each other, but that's because my Twitter knows how incredibly gay I am. Aside from the always welcome lesbian memes, I think Girl Dinner speaks to something bigger culturally.
This is the idea: girls (defined as anyone who would like to identify as such) have universally recognizable experiences that are not necessarily taught or modeled. Away from the prying insistence of capitalism and girl bossing, we have our Girl Dinners. A bagel slathered with cream cheese eaten over the sink. An entire watermelon eaten on a balcony during a heat wave. Six crackers, a ball of burrata, and the remainder of the sliced ham in the fridge.
Girl Dinner is all about not going out of your way to do more than you were going to. It's about pulling the stuff out of the back of the fridge rather than whipping up the latest lemon pasta recipe you saw on TikTok. It's an exhale—the admittance that not only do we not want to be perfect, we enjoy our imperfection.
To have that private world, where we can fall apart with one another and know that at the very least, someone else understood, has been the rope thrown to me in an ocean of uncertainty.
In this private world, we eat chicken fingers and homemade poutine after the bar while stalking our crushes on Facebook. We roll joint after joint and walk through unfamiliar cities or sleep on opposite ends of couches or grind up magic mushrooms and make them into a tea. We bring each other clean socks and towels. We roll our eyes about the jobs we have and the responsibilities of our lives and know that even as we wander into our 30s, we will always sit in a tub together and eat macaroni salad when it's too hot to make something else.
We have fun together. We are bored together. We were girls together, and now we are women.
I remember walking out of my friend's bathroom with a positive pregnancy test at 20, crying my eyes out. She said, "It's okay…no matter what, it will be okay," and if I wanted to have the baby it would be the most loved baby on the planet. I knew then that even if I were a single mom, I wouldn't really be alone.
When the show "Girls" came out, I was in university and it felt like a sort of manual to being a 20-something woman.
A friend's mom would sometimes watch over her shoulder and once asked, "Is this really what being 20 is like these days?"
"Pretty much," my friend said.
"That seems awful," her mom replied.
But it wasn't awful—it was wonderful to see that friendships and relationships and work and making big decisions were supposed to be messy and painful. It meant we weren't all complete f*ck-ups if Hannah Horvath didn't get the guy in the end and briefly went to grad school but then quit because it wasn't for her.
And the Jessa-Hannah bathtub scene was a revelation for me. Jessa's rushed, seemingly perfect marriage had fallen apart, and she comes home to find Hannah in the bathtub. She strips down and climbs in and begins to cry and snot into the tub. Hannah holds her hand and consoles her and teases her, and suddenly the broken pieces of Jessa's life don't seem as jagged. The scene made me want to climb into tubs with my friends and cry on their shoulders and know that there was power in that—in being women together, regardless of what might happen in our lives.
We know that we could go out there and work and get things done, and we will, and we do. But we are still often unsure, and to revel in that is a relief. It has to be, or you could go a little crazy. A lot has changed since our university days, but a lot more has stayed the same.
What I love most about Girl Dinner is the permission to embrace exactly who I am in this moment. To stay in bed until noon, to start swiping on four different dating apps before deleting them the next day, to work extremely hard on something and then realize I hate it—this is what life is today. Dinner might be a homemade lemon pasta after all, but it could also be pickled beans and cake made from store mix.
I don't think I will ever become the woman I see shown to me on my phone, but I can keep falling in love with the women I see around me, and the woman I see in the mirror. And on the days I can't stand any of it, when the world seems to insist that realness and softness is nothing more than a straggler from adolescence that has no place in real life, I have at least one option.
I can get in the tub and cry with someone who loves me.
~
Please consider Boosting our authors' articles in their first week to help them win Elephant's Ecosystem so they can get paid and write more.
~