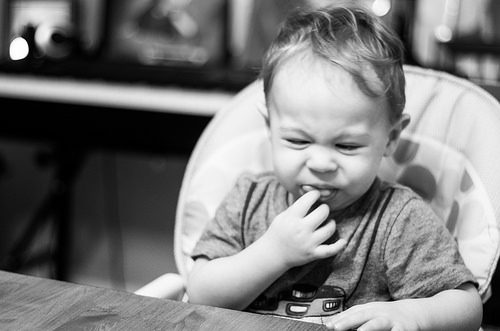 I've got a health problem.
And part of the problem is my family. How can I possibly make decisions that are healthier for me (and my planet) when the rest of the gang isn't on board?
Sure, it'd be easy to grab any old thing from the drive-thru and have an extra hour to… (ahem) catch up on Modern Family, but the reality is that we are worth the extra time spent on nourishing our bodies properly.
If I don't start helping my own children learn healthier habits, who will?
Of course time is something we all seem to be short on these days. So in my effort to make healthy choices a regular occurrence in our household, I found these things to be the most helpful:
1. Add some raw.
On the nights that we're tempted to make some of those quick but so-not-nutritious foods for our children, balance out the indulgent foods with raw foods. Snap peas, baby carrots, and even fruit added to the plate will up the fiber, vitamins and the overall nutritional value of the meal.
It's also a huge time saver: rinse and serve. Plus, the serving size of the less healthy item can be reduced. To encourage our children to eat these additions, we can choose what we know they love. It's best to save testing out new foods for a day when their meals are already on the healthier side.
2. Load up on good intentions.
Most of us know to fill our shopping carts with fresh, unprocessed foods. Shop around the perimeter of a store is a wise tip that many of us have heard.
Sometimes, though, we have no choice but to buy the odd canned or boxed ingredient. In that case, look for items that are organic or have shorter ingredient lists that don't require a science degree to figure out. Be wary of "Natural" on labels, as this (often false) claim doesn't require certification. Many grocery chains have begun to introduce healthier options, like the President's Choice "blue menu" in Canada; but they may not necessarily be the best choices.
The general idea is that we pay attention to labels—and beware of "HealthWashing"—so that when meal time rolls around, the cards aren't already stacked against us
3. Make dinner out of snacks.
Why does dinner have to be a big deal? Children love snacking and finger foods—not just little ones, teens too. Here's what that would look like in our house: two to three strawberries, celery with peanut butter, a sliced boiled egg, some cubed cheese, a small stack of pita chips, and one of my homemade banana chocolate chip muffins. There are a ton of healthy snack ideas out there to choose from and most take very little effort to prepare.
4. A steady stream of knowledge.
I confess this will take some time, but the results are unbelievable and will prevent plenty of arguments later.
In 2012, my family and I immersed ourselves in food, health and nutrition education and information. Documentaries, books, scouring the internet, discussions, searching for local and organic food options—you name it, we did it.
One year and three months later, these are just a few of the changes I've observed: they pay attention to what they eat and how their bodies feel afterward. They prefer homemade over boxed and packaged foods and understand why processed foods are gross. Soda hasn't been purchased in well over a year, and the best part: there's one lonely can of coca-cola that's been hiding at the back of our fridge for nearly a year and nobody wants to drink it.
Children will never make perfect choices all of the time, but I promise: they will understand what nutrition means and how it affects them if we simply take the opportunity to talk about it. Introducing healthier food options gets easier the more they're informed.
5. Encourage cooking instead of ordering.
This is one of the easiest, tastiest and most inexpensive meals that is on my weekly meal plan.
Instead of ordering pizza, we make it at home. I buy some naan bread or pitas, tomato paste (adding my own spices at home), preferred toppings and cheese. It doesn't take long to get the toppings chopped and the cheese grated. Then, I let them create their own and we bake them in the oven until the cheese is nice and melty—usually about 20 minutes.
The bonus is that baking a few extra means we can take pizza for lunch the next day too. It's healthier, a huge time-saver and is way less expensive than calling for delivery.
6. Meal Planning.
I confess: I'm a nerd and I love Excel. I've created a master spreadsheet for meal planning with three main tabs: frequently purchased items and their prices (I update using receipts when time permits), meal plans, and a shopping list.
Once a month, I spend about an hour and a half planning our meals. Busier days have lighter or easier meals planned. I also make double batches and freeze meals. This is what it looks like:

When I have the meals planned, I create my shopping list and add it to an app on my phone. Then, I estimate the cost of my groceries with the prices tab. (This is a leftover budgeting habit from my single mom days but I see no reason to quit now!)
Finally, I set calendar reminders for any time I need to prep ahead—for instance: chili requires that I soak the beans the night before and prep the crock pot in the morning. I've never deleted any of the meal plans so when I'm stuck for ideas, I can look back a few months.
~

It's no secret that eating healthy has been a struggle for me, personally.
As a child I was a picky eater and as a young adult I maintained a picky attitude when it came to food. If it looked different, smelled different or was at all unfamiliar I turned my nose up. What can I say? I'm not the adventurous type.
After I became a mother though, I realized nutrition was vital to the health of my body as well as my children's and for the first time in my life, healthy eating became a topic that hovered in the forefront of my mind on a regular basis.
What is healthy nutrition? There are so many opinions and studies out there saying what is healthy and what is not, that we could go for days and days trying to find out the ideal diet. One central theme among experts though is whole foods—food that comes from the source and not packaged, dehydrated, processed and refined. The closer to the source, the better in most cases.
But how do we incorporate this type of eating in a busy family with busy schedules and a variety of preferences and tastes? Not to mention, how the heck do we find time to actually cook and prepare healthy food in a day when life is constantly in motion?
7. Allow for craziness.
Life is going to be crazy from time to time. Give yourself a break when this happens. Who said a spaghetti dinner isn't healthy? Tomato sauce is full of healthy nutrients and lycopene—a natural antioxidant and spaghetti, whether gluten-free or full of gluten is a great source of grains. Many varieties of noodles are available, including whole wheat and spinach. This is a quick meal that is filling and usually a favorite in most households. Also, a fun naturally gluten-free spaghetti dinner is to use a spaghetti squash for the "noodles!"
8. Soup, soup soup.
I am not a soup lover. (I told you I was difficult) However, soup packs a powerful punch of vitamins in the way of onions, carrots, and plenty of other veggies. Whether you are vegetarian, vegan or omni a large array of soup recipes are available online. Soup can be frozen and re-warmed later on days when time is most valuable too. I prefer to cook my soup from scratch, but I do take advantage of veggie bouillon to make things easier. If a day comes up where we don't have a lot scheduled (like a snow day) this is a perfect opportunity to cook up your own stock for soup making in the future. I have also run across recipes for homemade bouillon.
9. Desserts are best made from home.
There are a lot of completely valid arguments that say sugar should be eliminated as much as possible from our diets. However, unless we are homeschooling our kids on a farm somewhere, keeping sugar completely out of their lives is almost impossible. One way I have found I can give my children healthy desserts is to make them myself. Yes, this takes a bit of work on my part, but I have found some fairly easy to make cookies, delicious pancakes, and other sweets that when made from home can be satisfying to a sweet tooth yet have a lot less sugar in them than their store-bought counterparts. Also, if I make them, I know what is in them, and many times the kids join me in he kitchen to help, making it family fun time, which is even better.
10. Make a little extra and freeze some for another day.
I have to admit this one is tough for me to follow through on. I have two teenagers in my house and anyone that has teenagers will know that they become eating machines. While many times my intention is to make more so some can be frozen, quite often not even a scrap of food is leftover after dinner. However, I have done this is the past, and occasionally get the opportunity to now as well and it can be a lifesaver to have an extra meal already cooked up and ready to be re-heated.
~
Here are two recipes you'll want to hang onto for dear life:
Child Friendly Five-Minute Dinner Wraps
Note: I hardly ever measure, so adjust these amounts to your own tastes
Ingredients:
Canned chickpeas: drained, rinsed and mashed (or fresh if you have them on hand).
2 tablespoons mayonnaise or vegan alternative (Vegenaise is what I've used in the past and tastes great.)
1 tablespoon of relish
pepper, garlic (fresh if you have it)
fresh veggie toppings: 1/4 diced red onion and 1/2 sliced green bell peppers (or any other toppings you prefer)
chopped lettuce
Directions:
Combine mashed chick peas with the next three ingredients, mix well, taste and adjust as you like. Spread a tablespoon or two on fresh naan. Add chopped onions, peppers and lettuce. Fold in half and chow down! Alternative for little ones: serve the mixture in a bowl and use carrots or fresh pita chips to dip.
Chocolate Zucchini Muffins
via Happy Herbivore
Note: You cannot taste the zucchini in these at all so this is perfect for kids that are picky about eating their veggies.
1¼ cups whole wheat pastry flour
¼ cup unsweetened cocoa
1¼ tsp baking powder
¾ tsp baking soda
½ tsp salt
1 tsp cinnamon
1 whole banana, mashed
½ cup raw sugar
½ cup unsweetened applesauce
¼ cup plant-based milk
1 tsp vanilla extract
1 cup shredded zucchini
½ cup raw sugar (optional)
Preheat oven to 350F. Grease muffin pan and set aside. If using paper liners, lightly spray inside of liners with cooking spray to prevent sticking. Whisk flour, cocoa, baking powder, baking soda, salt and cinnamon together. In another bowl, cream mashed banana with applesauce and sugar (use extra 1/2 cup for a very sweet, dessert-like muffin). Add in soy milk, vanilla, zucchini and any other optional add-ins you might like such as vegan chocolate chips or chopped raw walnuts. Stir until evenly combined. Add flour mix to wet mix in 3-4 batches and stir until just combined. Spoon batter into greased muffin pan and bake 18-25 minutes, or until a toothpick inserted into the center comes out clean.
Chef's Note: These muffins store well both in the fridge and freezer & the raw sugar in this recipe may be reduced to 1/2 cup.
Love elephant and want to go steady?
Editors: Catherine Monkman & Dana Gornall
Photos: Andrew Seaman/Flickr/ alsis35/Flickr