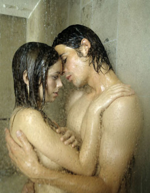 An Earth Day action Dems & GOP alike will love: Showerpooling.
A Green Tip even Climate Change Deniers will Love.
This Earth Day, take one for the team + save water by…showerpooling.
Installing a water-saving Shower Head is cheap and easy and will save 50% of your water, a precious natural resou….
Boooorrrrrinnng.
Showering with a loved one (or just a new friend) will also save you 50% of your water, a precious natural resource—and it's cheaper, easier and harder, if you know what I mean, than installing a low flow shower head.
"Take action, take your clothes off."
Via Axe, the best "green" video ever. I want to shower together with this woman's accent:

[slide]
~
~
Let's do some who's greener math: you use an average of 2.5 gallons of fresh water for every minute you shower. I'm taller than you, but that's irrelevant, so I use the same amount of water per minute. But I have shorter hair, so it's easier for me to keep my shower to a Boy Scout-approved 3 minutes. But then, I take at least a few baths each week, which is very naughty. But then, showering with a sexy stranger or loved one is even naughtier. So, all in all, I win.
This one's stupid:
Okay, here's an actually-helpful one: