Every year on and around my birthday, I take inventory. Whether I want to or not, this happens. So I've learned to roll with it. And this year, here's what inventory has yielded:

Limit and defeat are not synonyms.
As a writer, maybe you'd think I would have figured that one out before now. 🙂 But, as a person this actually comes as a bracing yet pleasant surprise.
Seriously, it's huge to know that recognizing my limitations is a sign of strength, wisdom, and courage – not weakness. This clarification serves me deeply, and will serve me well for the rest of my life I'm certain.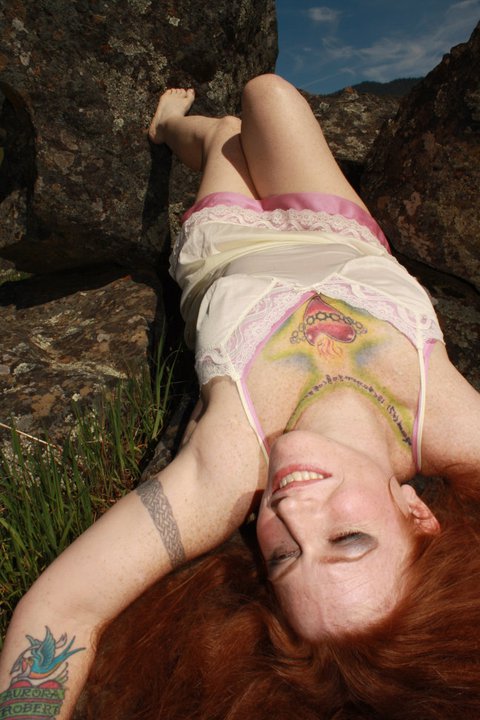 "Everything is OK" is a radical awareness.
Fact is, "everything is OK" wasn't usually true for me in my life, and OK certainly didn't seem like something to strive for. (Strive for OKness? If you're going to strive, isn't there something bigger, better, faster, more to strive for than OK?)
But, now that I've arrived at really, solidly OK, I can't actually think of anywhere more perfect.
I don't mean that in a defeatist way – defeat again, jeeze! WTF is my trip, right? I guess I was raised to be "strong" – No, what I really mean that being OK is absolutely sublime. Quietly, sweetly, beautifully, gently sublime.
More is not always better.
Back to the limit setting. Turning it down to a three or four, or even a one sometimes, instead of running at 11 on a dial that was made for 10 is a beautiful gift to self. Running in over-drive is a sure-fire way to burn out.
Again slow-dawning, but I know this deep in my bones now.
Learning to modulate my experience properly has been a God-send. More about this in Gratitude.
Drama is optional.
It used to seem that drama was purely a fact of life. Now that I have reduced (and in some cases fully eradicated) dramatics from my life, I see that a drama-less (or less-drama) life is totally achievable.
As drama has died down in my personal space, I find that I choose my friends differently. I choose friends who also have a low- or no-drama lifestyle.
I choose to surround myself with friends who are happily coupled or happily single. I choose to invest in friendships with people who value their health and well-being. I choose friends I can relax with and laugh with, talk about a beautiful future with, discuss politics and world events with – and not always have the same views, but always the same willingness to listen to and learn from each other.
Drama is a huge time-sink and downer. While it was a great distraction technique, I'm ever so grateful to have a life where I no longer need distraction.
Gratitude.
I am so grateful for my life. How it is now more than anything. It's not how I would have imagined it. It's more gentle, more quiet, more introverted, more careful. This care has made space for something new. This is far better than I could have foreseen.
I'm grateful for the gift of perspective. I'm grateful for love. I'm grateful for the awareness of choice.
I'm grateful for the abundant reasons that I became fully aware of and present in to accept things in a new way. Love, marriage, my beautiful daughters. I'm grateful that my desire to finally really show up to this fully only took until I was 37, not longer.
I'm grateful to the crash that ended all crashes – at least of that magnitude.
I'm grateful for the right meds, and the reasons – those listed above – to stay on them. I'm grateful for my health, and the absolute awareness that it's really in my hands. And for all the tools that I have to approach this responsibility in a gentle, profound, and comprehensive way. I'm grateful for the support I have. My therapist and my psych doc. My family.
I'm grateful for the amazing truth that I have found a life (and lifetime) partner who totally understands me. I'm grateful for love and trust. I'm grateful for my husband, who's been my beautiful and amazing teacher and ally in this; the reason for my growing into all of myself. The dark corners and the light ones. To fully inhabit all of it, without fear. Totally grateful.
I'm grateful for knowing what I needed. Knowing what I desired. And finding that they were absolutely the same in the end – not at odds as I had experienced desire and need at times.
I'm glad to know what crazy is, from the outside. Not that I'm not still crazy. Crazy is in me por vida. But now I really know how hard it rode me. And I know that being ridden by it was a choice I made out of attachment to the glory of a sense of wider range.
And I'm grateful that I released that attachment in exchange for stability.
I'm grateful. Grateful for remorse as well as joy at remembrance of my past. I'm grateful that I truly feel there is no impetus that will drive me to endanger those I love or myself. I'm grateful that the risk of doing anything I feel grievously ashamed by or of in this more stable future feels so unlikely that it's impossible to imagine what that thing would even be. And yes, this is partially because I have a husband who fully understands and accepts me, and daughters who understand what my kind of crazy means. (Thanks to my husband and kids for their wisdom and understanding.)
I'm grateful for the truth of ease. I said I wanted ease, and I got it. This "order" took a while to get here, but every wish is a prayer. And the more I prayed, the truer it became.
I'm grateful for my faith and my spiritual reality. For practices that bring me deeper and deeper into the sacred heart.
I'm so grateful for who and where I am now, and for who and what I have in my life. My husband and daughters. My larger family and community, local and global. I'm grateful for a happy home that is nest-like and sweet. For my path of service and offering, and my path of vocational expression. I'm grateful for the yield of these things on all levels.
And I'm grateful to all of you, who so graciously mirror back what my offerings bring to the world. You're my ballast in this, as well as my compass. Thank you.
I'm safe. And loved. And free. And whole. And aware of my ability to live in this with peace of mind and heart.
For all this and more, I'm very, very grateful.
The accrued wisdom of 40 years on planet earth.
Inventory at this threshold – the end of a decade, and the beginning of a new one – has been painless. It's been quietly blissful. I can imagine life getting easier and more beautiful. I can imagine growing old with my love, and watching our children continue to grow in their grace, beauty, and strength.
At the advent of this new decade, I see a beautiful and easy road ahead.