Photo: Peace and Paws Dog Rescue.
Classic & Vital & Fun Thanksgiving Videos.
Everyone loves Thanksgiving, in America, except ironically, and painfully, our Native American sisters and brothers. The myth isn't particularly true—that first Thanksgiving may have happened but it was one-way and there was already suffering and death if not genocide all around and we repaid that passing-on of knowledge and kindness one thousandfold with lies and murder.
But! And it's an important but! Or, and: Life is full of suffering and that this chapter of human hypocrisy has ended up as a day to honor family and sitting down around a table to eat and talk—things this fast food culture has fast forgotten—is an important and healthy thing.
Let's give thanks.
Thank you.
Without those of you who read, open this newsletter, or subscribe, we wouldn't be one of the world's biggest independent, mission-driven communities. And gosh knows this world of ours needs some sanity, stability, communication around tough issues, and empathy, right about now.
So let's honor the past, with a deep bow to our human tendency to hurt one another. And let us resolve to be kind.
And let's honor the present, with a deep bow to family and good food (if you eat meat, make sure it doesn't come from a tortured unhealthy drugged-up factory farm).
Enjoy these videos and images—they're the best I've found. If I missed an image or video that should be included here, leave it in comments. If it gets a few up-arrows, I'll add it in here.

Come Thou Fount of Every Blessing:
The BYU Combined Choruses sing "Come, Thou Fount of Every Blessing" arranged by Mack Wilberg from the album "A Thanksgiving of American Folk Hymns"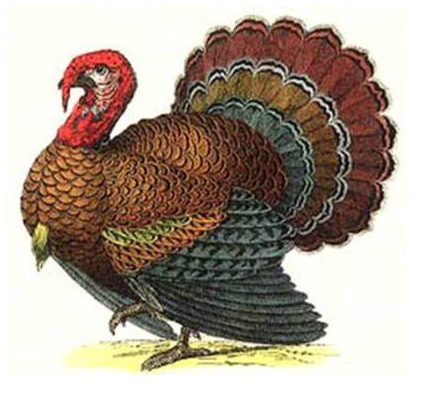 Wednesday Addams teaches us the true meaning of Thanksgiving.
What are you thankful for?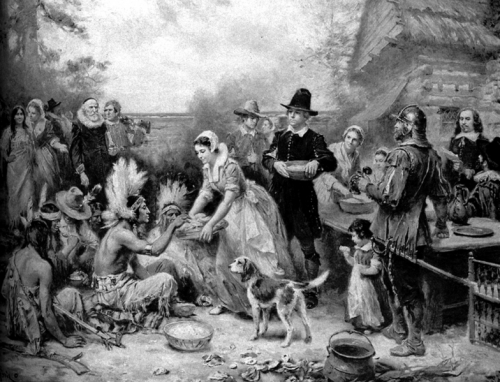 Charlie Brown Thanksgiving:
Alice's Restaurant (you can have anything you want—except Alice).
Macy's Day Parade—from 1939!
Found 8mm footage of the 1939 Macy's Thanksgiving Day Parade. Floats and balloons featuring: Pinocchio, Donald Duck, The Tin Man, The Scarecrow, Old King Cole, Uncle Sam, Gulliver, Acrobats, The Butcher, The Baker, and the Candlestick Maker, Santa, and more.
The history of Thanksgiving is full of atrocities, genocide, the worst of humanity.
And, too, the present ritual of coming together to Give Thanks is essential, now—a time for slowing down & reconnecting in this consumerist speedy gluttonous rapacious society.
We must be hone
st in our history, and grateful in our present.
Some history: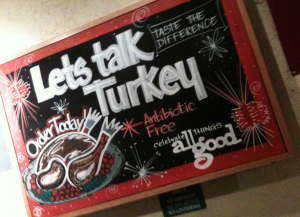 How we used to see Thanksgiving:
What it is:
Some true history:
Everyone knows the story of the first Thanksgiving, when a small group of Massachusetts's settlers celebrated making it through the year by feasting with their Native-American neighbors. But the story of Thanksgiving goes back much further, to ancient harvest festivals, and the holiday has been transformed over time into today's celebration marked by family, food and football. Discover how New York was the first state to officially declare a day of Thanksgiving, and how President Lincoln first made Thanksgiving a national holiday in 1863. Explore period accounts and art that bring Thanksgiving celebrations through the centuries to life, and find out the origins of traditions like the Macy's parade.
The First Thanksgiving:
A Native American view:
More: Thanksgiving: a celebration of genocide.
Bonus: What is wrong with America? Stores now open on Thanksgiving at midnight? Desperate to buy, buy, buy!?
Love and compassion are important to me. We need to be able to look at what we're doing, and change if we're not able to look: